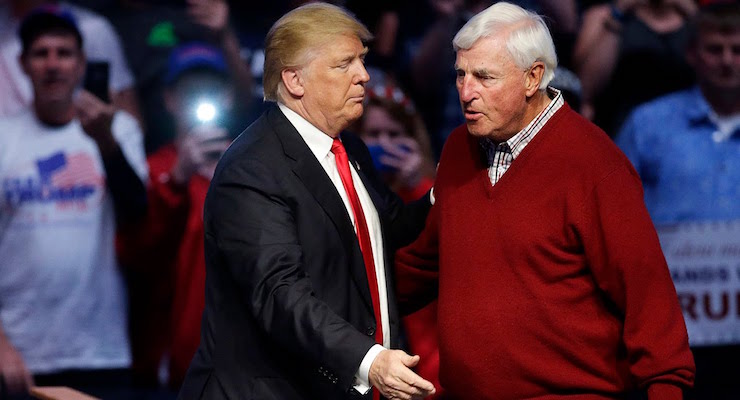 Texas Sen. Ted Cruz, who was once favored by many to win the Hoosier State, is now getting crushed by Donald Trump in internal Indiana primary polls. With just a few days to go before the votes are all counted, separate polling data obtained by PPD and conducted for the two campaigns show Sen. Cruz trailing Mr. Trump by double digits.
The Cruz campaign, which would not release their numbers as of today and did not respond when asked about the new figures, claimed Thursday he was down in the state by only 8 to 10 points. However, polling we have seen showed Sen. Cruz down by double digits over the weekend, which was prior to his poor performance on Tuesday.
On the hand, Mr. Trump clocked in over the 40% mark in each of the days the surveys were conducted. The Trump campaign's numbers paint a far rosier picture than recent public polling. As of Thursday, Mr. Trump led Sen. Cruz by 19 points, 51% to 32%. Ohio Gov. John Kasich, who refused to tell his voters to support Sen. Cruz, was polling at 13%.
Sen. Cruz had hoped to pretend the five-state sweep following Mr. Trump's big win in New York wasn't indicative of results to come; certainly nothing to suggest he was gaining momentum.
"Numerous anti-Trump super PACs knew the demographics gave them their best shot to stop the frontrunner. They spent millions, they had the lead and they lost it," said. PPD's senior political analyst Richard Baris. "Since then, Sen. Cruz has even taken the unprecedented step to name a vice presidential pick. I doubt an endorsement by Gov. Mike Pence, who isn't at all as popular as he once was, will change that before Tuesday."
"Besides, I'd take Bobby Knight over Gov. Pence if I had to choose."
Knight, nicknamed "The General," is the popular and former head coach at Indiana. He endorsed The Donald and hit the trail with him on Wednesday. For his part, Gov. Pence endorsed Sen. Cruz Friday afternoon.
(UPDATE: As reader noted, previously stated "State," which should have read U. H/T David)
As far as public polling, a brand new [content_tooltip id="38766″ title="American Research Group (ARG)"] finds Mr. Trump leading Sen. Cruz by 9 points, 41% to 32%. While ARG has posted mixed results this cycle, it appears even from the Texas senator's own polling that 31%-32% is a stubborn ceiling of support in what has become a must-win state for him.
A separate new survey conducted by Clout Research (R), which doesn't yet have a track record substantial enough to assess and grade via the PPD Pollster Scorecard, found Mr. Trump leading in a much closer two-point race, 37% to 35%. By all accounts, both from public and private polling, those results indicate an outlier.
"What we know is that voting is already underway and Sen. Cruz was trailing significantly during a duration of that time," Mr. Baris added. "When campaigns don't want to leak their polls is typically means bad news for them. The Trump campaign was all too eager to hand them out to reporters. All the polling firms agree that high turnout is bad news for Sen. Cruz. We'll only know for sure Tuesday night."
Meanwhile, overall, Sen. Cruz trails Mr. Trump by 6 points on the PPD average of polls.
UPDATE: A poll conducted by IPFW/Mike Downs Center for Indiana Politics shows Cruz leading by 16 points. The samples were not weighted, at all, and the interviews began on April 13. No information was provided for the results regarding the corresponding days, which makes it impossible to identify a trend in either direction.
"Like I said," Baris responded to the poll, "the Cruz campaign doesn't believe they are leading and admit they once had a lead. It was never this large. We never think it's a good idea to dismiss any poll as an outlier outright, but I am more than skeptical to say the least. Let's wait to see what the more reliable pollsters say this weekend."