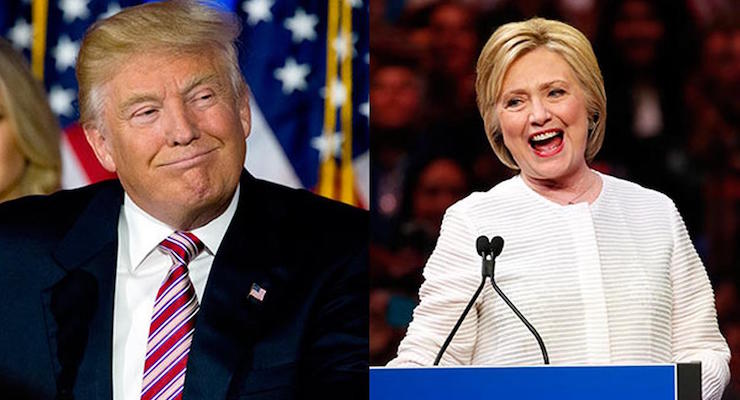 In head-to-head polling this week, Donald J. Trump lost ground to Hillary R. Clinton yet leads the new presumptive Democratic nominee in bellwether battleground counties. Axiom Strategies is tracking a select group of counties that have historically been indicators for statewide presidential election results and found the 2016 presumptive Republican nominee is running well-ahead of former Massachusetts Gov. Mitt Romney.
Gov. Romney, the 2012 Republican nominee, was of course defeated by President Barack Obama.
Mr. Trump leads Mrs. Clinton in five of the seven battleground counties in seven battleground states that have correctly predicted the statewide result in each of the last four presidential elections and most consistently matched the overall statewide result within a few percentage points.
Hillsborough County
President Obama bested Gov. Romney in this demographically diverse county by a nearly 5-point margin, or 52.71% (286,467 votes) to 46.04% (250,186 votes). But Mr. Trump leads with 41% to Mrs. Clinton's 39%. Libertarian nominee and former New Mexico Gov. Gary Johnson is polling at 6% and 7% chose "someone else." Mr. Trump holds a 7-point lead over Mrs. Clinton with independent voters and draws slightly more support from Republicans than Clinton draws from Democrats.
Year:
2012
2008
2004
2000
Office:
President
President
President
President
Candidate:
Obama
Romney
Obama
McCain
Kerry
Bush
Gore
Bush
FL STATEWIDE

50.01%

49.13%

51.03%

48.22%
47.09%

52.10%

48.84%

48.85%

FL Hillsborough

52.71%

46.04%

53.05%

45.94%
46.05%

52.81%

47.06%

50.17%

DIFFERENCE
2.70%
-3.09%
2.02%
-2.28%
-1.04%
0.71%
-1.78%
1.32%
Interestingly, the county is only 53.7% white, with Hispanics making up 24.9% and black voters 15.6%. Still, considering Mr. Obama only carried the state 50.01% to 49.13%, overall, based on the early polling, demographics and past voting results, Mr. Trump would likely carry the Sunshine State.
While both Mr. Trump (38%/50%) and Mrs. Clinton (38%/54%) are seen unfavorably by likely voters in Hillsborough County, the Republican is seen in a slightly more positive light. As far as scandals, more voters (47%) in Hillsborough County say Mrs. Clinton's scandals are more damaging than Mr. Trump's (41%).
Jefferson County
This once reliably Republican county in Colorado is one of only two battleground counties where Mrs. Clinton leads Mr. Trump. In 2012, the county went for President Obama 51.0% to 46.6% for Gov. Romney, while he carried the state overall by a 51.49% to 46.13% margin. Mrs. Clinton has a similiar 4-point lead over Mr. Trump in Jefferson County, which used to vote Republican before waves of legal and illegal immigrants turned it competitive. It's now 14.3% Hispanic and 79.9% white.
Year:
2012
2008
2004
2000
Office:
President
President
President
President
Candidate:
Obama
Romney
Obama
McCain
Kerry
Bush
Gore
Bush
CO STATEWIDE
51.49%
46.13%

53.66%

44.71%
47.02%

51.69%

42.39%

50.75%

CO Jefferson
51.21%
46.36%
53.60%
44.61%
46.60%

51.79%

42.88%

51.02%

DIFFERENCE
-0.28%
0.23%
-0.06%
-0.10%
-0.42%
0.10%
0.48%
0.27%
Independents are breaking 36% to 32% for Mrs. Clinton and Mr. Trump seems to have some trouble consolidating Republican voters, earning just 66% of their support. Mrs. Clinton draws a larger 73% from Democrats.
Gov. Johnson polls at 10% and "someone else" receives 7%.
Again, Trump (33%/57%) and Clinton (36%/55%) are both seen unfavorably by likely voters in Jefferson County, but Trump slightly more so than Clinton. However, even though she leads on the ballot, more voters said that Clinton's record (44%) was more scandalous than Trump's (39%).
Watauga County
While Trump and Clinton are both seen unfavorably by likely voters in Watauga County, the former secretary of state is really disliked here. Mr. Trump is only slightly underwater (41%/50%), but Mrs. Clinton is at -24 (34%/58%). That's why it was a little surprising to see Mr. Trump leading by only 4 points, 43% to 39%, while 7% chose Gary Johnson and 6% chose "someone else."
Just 5% of voters are undecided. Still, Gov. Romney only carried the county by 2.5 points, or 50.1% to 47.5%, and the state by 2.2 points, or 50.6% to 48.4%. Again, Mr. Trump is running ahead of Gov. Romney in the Tar Heel State, the only one the vocal critic was able to flip back to the Republican column in 2012.
Year:
2012
2008
2004
2000
Office:
President
President
President
President
Candidate:
Obama
Romney
Obama
McCain
Kerry
Bush
Gore
Bush
NC STATEWIDE
48.35%
50.39%
49.70%
49.38%
43.58%

56.02%

43.20%

56.13%

NC Watauga
46.98%
50.10%
50.67%
46.44%
46.70%

52.64%

42.51%

55.75%

DIFFERENCE
-1.37%
-0.30%
0.96%
-2.94%
3.12%
-3.38%
-0.69%
-0.38%
With a demographic makeup of 92.5% white, we do not anticipate Watauga County to ever lean toward Mrs. Clinton in tracking conducted by Axiom Strategies or PPD. Even though he trails Mrs. Clinton by 5 points among independent voters in the county, Mr. Trump makes it up with strong support from his own party and by taking her own voters away from her.
When asked about scandals and which is more damaging, the two candidates are roughly even.
Sandusky County
Donald Trump lost Ohio to the sitting governor during the primary season with more votes than Hillary Clinton won it with over Sen. Bernie Sanders. Now, he leads his Democratic rival in the battleground county by 5 points, 39% to 34%. While both presidential candidates are underwater, image-wise Mr. Trump (-10) is seen more favorably than Mrs. Clinton (-22).
Year:
2012
2008
2004
2000
Office:
President
President
President
President
Candidate:
Obama
Romney
Obama
McCain
Kerry
Bush
Gore
Bush
OH STATEWIDE

50.20%

47.25%
51.50%
46.91%
48.71%

50.81%

46.46%

49.97%

OH Sandusky

49.42%

46.75%

51.36%

46.72%
43.72%

55.92%

43.30%

53.21%

DIFFERENCE
-0.78%
-0.50%
-0.14%
-0.19%
-4.98%
5.10%
-3.17%
3.24%
This county moved slightly more Republican in 2012 than in 2008, as is the case with the vast majority of battleground counties. But Gov. Romney failed to motivate enough voters to swing it back into his column. Mr. Trump is nearly running ahead of Gov. Romney by double-digits, which affirms our assessment that the Buckeye State, as well as much of the Rust Belt, is leaning toward Mr. Trump.
Demographically, the county is 86.2% white, 8.9% Hispanic and only 2.3% black. With a per capita income of $23,236, it is a typical working class county where we've seen Mrs. Clinton grossly underperform.
Luzerne County
Case in point. The results in Luzerne County are a bombshell and have Democratic strategists absolutely frantic, with good reason. The county has gone for the Democratic candidate in the last four elections, despite President George W. Bush doing his best to flip it.
Now, Mr. Trump is running way ahead with a YUGE 17-point lead. Mr. Trump leads Mrs. Clinton and Gov. Johnson by 51% to 34% and 4%, respectively.
Year:
2012
2008
2004
2000
Office:
President
President
President
President
Candidate:
Obama
Romney
Obama
McCain
Kerry
Bush
Gore
Bush
PA STATEWIDE
52.08%
46.68%
54.65%
44.30%
50.96%
48.46%

50.61%

46.44%
PA Luzerne
51.68%
46.87%
53.63%
45.22%
51.15%
47.75%

54.36%

42.66%
DIFFERENCE
-0.40%
0.19%
-1.02%
0.92%
0.19%
-0.71%
3.75%
-3.78%
Again, as is the case in several counties in Ohio, Illinois and Michigan, Mr. Trump's overwhelming support from working class voters in this 88.2% white county is giving him an enormous advantage. Luzerne County is also the only county in the U.S. with a plurality reporting Polish as their primary ethnicity; the majority of Pennsylvanians report German or Pennsylvania Dutch.
Interestingly, Mr. Trump is above water with voters in Luzerne County, with 50% viewing him favorably and 39% viewing him unfavorably (+11). Mrs. Clinton, on the other hand, is upside down with 57% viewing her unfavorably and only 36% viewing her favorably (-21). His lead is fueled by strong support from Republicans, dominating among independents and more than a third of Democrats.
Loudoun County
Former Gov. Bob McDonnell, who was indicted and convicted on corruption charges, easily carried Loudoun County in his landslide win. Ken Cuccinelli lost it to Clinton ally Gov. Terry McAuliffe by roughly 5 points. Interestingly, Gov. McAuliffe is also under federal investigation for corruption, but was still able to give hundreds of thousands of felons their voting rights back in time to vote for his long-time politico buddy, who is leading Mr. Trump by 8 points.
Office:
President
President
President
President
Candidate:
Obama
Romney
Obama
McCain
Kerry
Bush
Gore
Bush
VA STATEWIDE

51.16%

47.28%
52.62%
46.33%
45.48%

53.68%

44.44%

52.47%

VA Loudoun
51.52%
47.03%
53.67%
45.42%
43.60%

55.69%

40.89%

56.12%

DIFFERENCE
0.36%
-0.25%
1.05%
-0.91%
-1.88%
2.01%
-3.55%
3.65%
The county is largely urban and suburban, but does have some rural areas that helped reduce Sen. Marco Rubio's margin of victory in Loudoun. In fact, Mr. Trump's strength in rural and other Virginian suburbs helped him overcome an overwhelming margin for Sen. Rubio in D.C. -dependent Fairfax County. Whether he can do something similiar in the fall against Mrs. Clinton remains to be seen.
With a median household income of $123,966, D.C. has made Loudoun County a very rich place.
Washoe County
In another once-reliably Republican county made up of 66% white and 22.2% Hispanic, Mr. Trump is out-performing expectations and prior GOP nominees. Being the second most populous county in the state, Mr. Trump's 12-point lead could very well be enough to enable him to overcome Mrs. Clinton's expected margin in Clark County.
Mr. Trump leads Mrs. Clinton and Gov.  Johnson by 46% to 34% and 9%, respectively.
Year:
2012
2008
2004
2000
Office:
President
President
President
President
Candidate:
Obama
Romney
Obama
McCain
Kerry
Bush
Gore
Bush
NV STATEWIDE
52.36%
45.68%

55.11%

42.69%
47.88%

50.47%

45.94%

49.49%

NV Washoe
50.79%
47.09%

55.22%

42.64%
47.05%

51.26%

42.59%

52.02%

DIFFERENCE
-1.57%
1.41%
0.11%
-0.05%
-0.83%
0.79%
-3.35%
2.53%
Mr. Trump's image is just barely underwater in Washoe County (-1), while Mrs. Clinton is again deeply unpopular (-25). By a nearly two-to-one margin (58% to 30%) voters say Mrs. Clinton's record is more scandalous.
While he isn't very strong among Republicans he makes up for it by dominating the independent voter and taking from Clinton's base, among which she is relatively weak.
Pundit's Take
The bottom line interpreting these numbers is a case I've been making for a very long time. Political coalitions in American politics are ever-changing and, while demographics and data journalism do tell an electoral story worth hearing, we have to be open to political realignments. With Donald Trump at the helm, it would appear that the Republican Party has an opportunity to shift to a more populous Rust Belt dominant party in the future, while ceding states like Virginia.
Face it, the Old Dominion is now the New Dominion in many ways, a transformation the GOP not only didn't prevent but actually allowed to happen. In other states, such as Nevada, they have the opportunity to claim back what was once very friendly territory. But the party needs to stop cannibalizing itself, which is something I'm not at all fully convinced they can do.