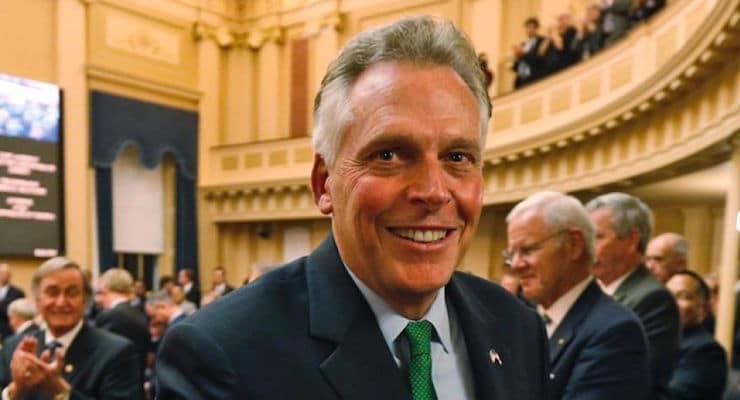 Here we go again in the Old Dominion. Federal officials at the Department of Justice are investigating Virginia Gov. Terry McAuliffe for potentially illegal campaign contributions in connection with his 2013 gubernatorial bid.
Fox News Monday reported the Democratic governor, a known and longtime Clinton ally charged with delivering the state to the likely Democratic nominee in November, is the target of a Justice Department investigation into whether he violated campaign finance laws.
The probe, which was first reported by CNN, followed up by Fox News and confirmed by PPD, is focusing on a $120,000 donation from Chinese businessman Wang Wenliang. Investigators believe Wang, who also "donated" $2 million to the Clinton foundation, funneled the questionable contribution through his U.S. businesses. U.S. election law prohibits foreign nationals to donate to political races.
Marc Elias, Gov. McAuliffe's attorney, said in a statement his office was not aware of the investigation, but would cooperate if contacted by federal law enforcement officials.
"We cannot confirm the CNN report," Mr. Elias said. "Neither the Governor nor his former campaign has knowledge of this matter, but as reported, contributions to the campaign from Mr. Wang were completely lawful. The Governor will certainly cooperate with the government if he is contacted about it."
Gov. McAuliffe now becomes the second consecutive governor in the state of Virginia to be investigated by the Justice Department. Former Republican Gov. Bob McDonnell was indicted and later convicted in 2014 of corruption charges involving more than $165,000 in gifts and loans from a wealthy businessman in exchange for promoting a dietary supplement.
The Supreme Court is currently weighing an appeal of the conviction, but federal law bars public officials from accepting money or gifts in exchange for "official acts." The court is expected to clarify what exactly constitutes bribery and what separates it from the routine actions that politicians often perform as a courtesy to constituents.