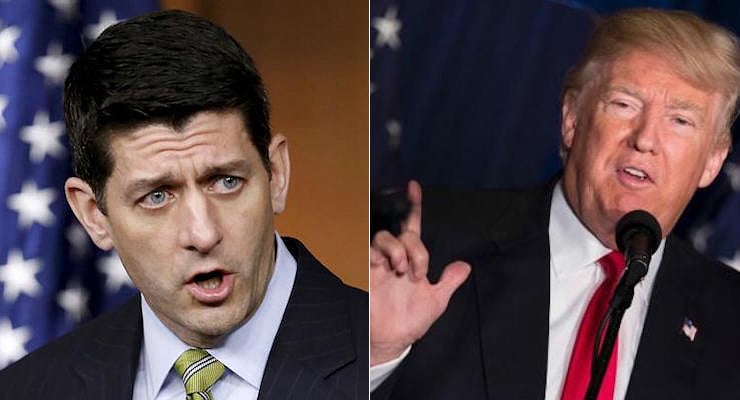 There has been a lot of talk about whether an electoral disaster with Donald Trump at the top of the ticket would trickle down-ballot and jeopardize the Republican majorities in the U.S. House and Senate. Alarmists on the Right and opportunists on the Left have been making this claim since the Republican primary got underway.
The truth is that Mr. Trump and Republican congressional candidates are enjoying the support of two similiar but nevertheless different voting coalitions. Further, the political impact is disproportionately beneficial to Republican House and Senate candidates. To put it simply, Republican candidates down ballot are getting more from the Trump coalition than Mr. Trump is getting from the traditional Republican coalition.
Let's take a look at some of the data and demographics.
Republican have a small edge on the generic ballot (in polling interviews conducted from July 31 to August 2), while Mr. Trump trails Mrs. Clinton by roughly 0.2 points. On the generic ballot question, there are far more undecided independents (29%) and the Republican edge is only about 7 points. On the other hand, Mr. Trump crushes Mrs. Clinton among independent voters 50% to 39%, with far fewer undecided voters.
Meanwhile, only a slim 3% of self-identified Republicans say they will vote for the Democratic candidate in their district, while roughly 7% say they will vote for Mrs. Clinton. But Mr. Trump takes roughly 11% of Mrs. Clinton's party juxtaposed to 4% defecting on the generic ballot, though that's down from 17% at the start of last week.
In other words, Republican lawmakers are getting more of their traditional party coalition (base) and a few less independents and Democrats than Mr. Trump. But they benefit on the margins among certain groups of Trump voters. Some of these voters may not have voted in the last ten years, yet now describe themselves as "Extremely Enthusiastic" about voting for Mr. Trump in November.
Who are these voters?
Not surprisingly, many are the working class white voters making less than $49,000 per year who either did not show up for Mitt Romney in 2012 or voted Democratic. Indeed, some say they haven't voted either since George W. Bush or before. But even this is too simplified and describes only a piece of the Trump coalition.
Consider some of these voters' primary choices. While Mr. Trump is enjoying the support of roughly 14% of voters who backed Sen. Bernie Sanders, the number of these voters backing generic Republicans on the generic ballot is statistically insignificant.
Consider race and ethnicity. Mr. Trump slightly outperforms Republicans on the generic ballot among self-described Hispanics, earning 32% of the vote to just 26% for generic Republican candidates. This is worth repeating in light of the media focus on his performance among minorities, specifically Hispanics.
The coalition is far more diverse than even I expected and indicates Mr. Trump could win by a larger margin than any of us anticipate if he and his campaign manage to attract more higher income, suburban Republicans and independents than he currently is now. Regardless, rhetoric again isn't matching reality. Polling data indicate the "Trump Effect," at least as a net negative to Republicans, is a lot of hype.
Of course this could change. But as of now, if the Republican Senate majority is no more after November, those who lost cannot blame their party's nominee. However, if they are able to come together in one broader, more powerful coalition it would be a political force to be reckoned with.