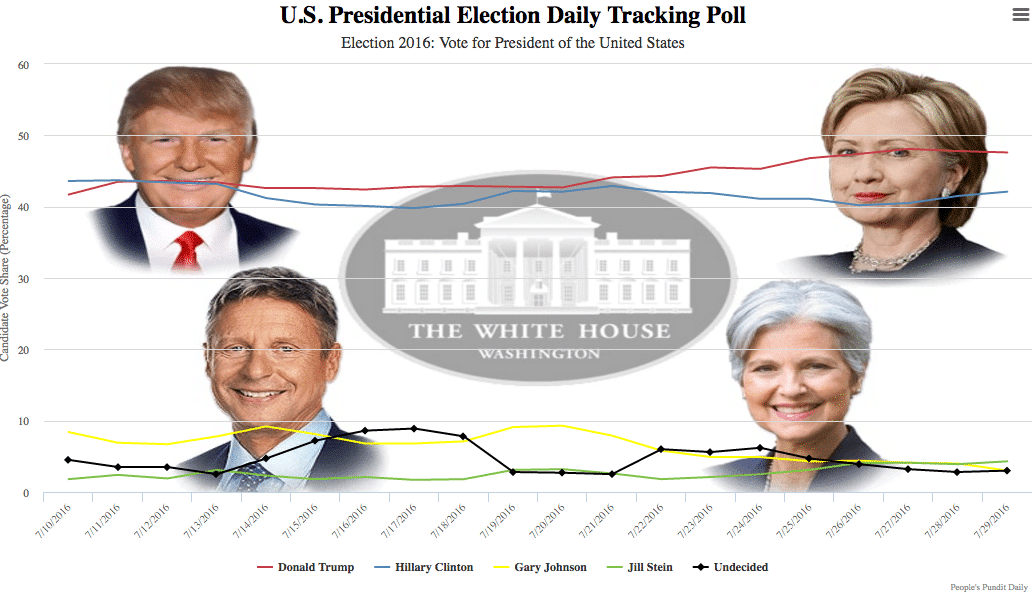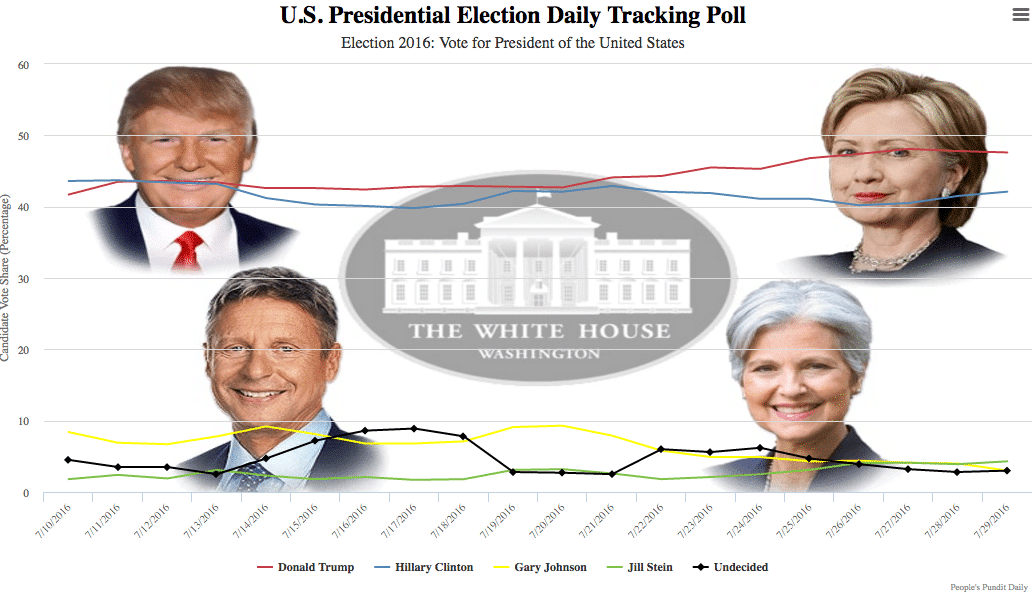 Donald Trump holds a roughly 5-point lead over Hillary Clinton two days after the Democratic National Convention. The People's Pundit Daily Presidential Election Daily Tracking Poll finds Mr. Trump at 47.6% to 42.1% for Mrs. Clinton, a lead that is largely fueled by a greater consolidation of the Republican base and a lead among independent voters.
Perhaps the biggest story regarding the post convention polling data is the shift toward Green Party candidate Dr. Jill Stein and the collapse of Libertarian Party candidate, former New Mexico Gov. Gary Johnson.
On July 19, the first day of the Republican convention, Gov. Johnson enjoyed roughly 9% support in the 4-way matchup, and Dr. Stein was polling at an usually high 3% (her support has ranged from 1% to 3%). Now, no doubt a result of the embarrassing WikiLeak release of hacked emails from the Democratic National Committee, Dr. Stein has increased to her highest level of support to date (4.3%).
Meanwhile, the decline of Mrs. Clinton's support began even before the conventions began, with voters turning markedly more negative in their views toward the former secretary of state in light of the statements made by FBI Director James Comey. She has struggled to recover ever since and would likely be far higher if a significant number of her own party wasn't opting for Dr. Stein, Gov. Johnson and even Mr. Trump.
Mr. Trump is drawing more Democrats (17%) than Mrs. Clinton is drawing from Republicans (9%).
Also worth noting, Mr. Trump was fairly successful at rehabilitating his image among a large number of voters who previously held a less favorable view of him, while views of Mrs. Clinton changed almost immeasurably after the convention.
One of the most praised speeches at the DNC was given by President Barack Obama, who has enjoyed historically high approval ratings in his final year. This week, the numbers got slightly negative with 46% approving and 48% disapproving. As we've repeatedly found, the intensity as measured by the percentage of those who say they disapprove or approve "a great deal," is disproportionately against the president.
Only 16.7% say they approve of the president "a great deal," while 38.2% say they disapprove with the same intensity.
Much has been made about the contrasting views of the state of the union and level of trust in government coming out of the two parties' conventions. Overall, most Americans believe that Mr. Trump is telling the truth about corruption and the government being broken, though his supporters are more likely to hold more negative views than Mrs. Clinton's voters.
When asked, "How much does the national government care about what people like you think?" 47.6% say "Once in a while" and 38.1% say "Never." Still, even half of Mrs. Clinton's voters agree with one of those assessments, while the other half says "Most of the time" (20%) or "About half the time" (30%).
When asked, "How often does the federal government do what most Americans want it to do?" 34.8% of Trump voters say "Never" and 47.8% say "Once in a while." That compares to only 8.3% of Clinton voters who say "Never," though a significant number (41.7%) say "Once in a while."
The Electorate
Gauging the likelihood of voting and past voting behavior, we have estimated the current electorate to be 46.15% men and 53.85% women, which one would expect to bode well for Mrs. Clinton. However, Rust Belt and New England suburban women have begun to warm up to Mr. Trump, despite what I personally believed to be a decent job by Democrats at their convention to reach out to them.
In terms of enthusiasm, Trump voters are measurably more excited heading into November than Clinton voters. Roughly 59% of Trump voters say they are "extremely enthusiastic" and 27% say they are "very enthusiastic," juxtaposed to just 50% and 20%, respectively, saying the same about the Democratic nominee. Voters 18 to 29 years old are the least enthusiastic about the November election, while
The decrease in Mr. Trump's margin is also somewhat reflective of the increased number of respondents who identify as Democrats. More voters than ever before self-identify as independent (32.8%), while 29.9% identify as Democrat and 27.9% as Republican.
The People's Pundit Daily U.S. Presidential Election Daily Tracking Poll results are based on 3,056 interviews from 7/22/2016 to 7/29/16 (95% confidence interval), are weighted based on demographics from the U.S. Census Current Population Survey and based on a likely voter model.