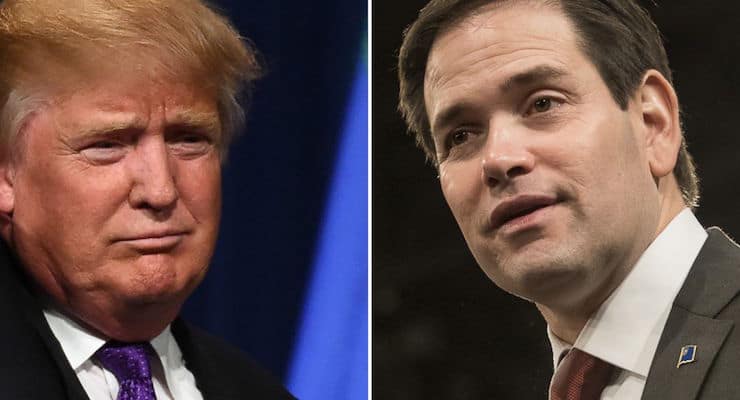 Republicans Donald Trump and Sen. Marco Rubio lead their respective Democratic challengers in the key battleground state of Florida, a new Florida Atlantic University Poll finds. Mr. Trump leads Hillary Clinton 43% to 41%, with Libertarian Party candidate Gary Johnson taking 8% and 5% undecided. In the race for U.S. Senate, the incumbent Republican leads Democratic Rep. Patrick Murphy 44% to 39%, with both men overwhelmingly the favorites in their respective party primaries on Tuesday.
Over the last two weeks, specifically, the New York businessman has sought to soften his stance on immigration and reach out to African American voters, a strategy most mediates ridiculed and mocked. However, according to FAU and our own daily presidential tracking survey, those who laugh do so at their own peril.
"The race between Clinton and Trump among Hispanics in Florida is closer than it is nationally," said Monica Escaleras, Ph.D., director of the BEPI. "Some of that is probably the Cuban vote. Trump's support among Latinos in Florida is helping him stay competitive."
Mr. Trump leads among white voters 49% to 33%, but trails among minorities by a smaller margin than his Republican predecessors. Among African Americans, Mrs. Clinton is only enjoying a 68% to 20% advantage, while she's leading with Hispanics 50% to 40%.
Regionally, Mr. Trump is carrying every part of the state except for the South, with his strongest regional support coming from the western Panhandle where he leads 52% to 34%. In the North, the Republican tops the Democrat 47% to 32%. The central region of the state, which is home to the swing-vote I-4 corridor, he leads Mrs. Clinton 44% to 36%. Mrs. Clinton's support is unsurprisingly the highest in South Florida, where she leads 57% to 30%.
The top issue for voters was dissatisfaction with government at 29%, which bodes well for the Republican nominee who is attempting to frame the election as a choice between outsider change and the corrupt status quo. The second most important issue to Floridians was jobs at 18%, followed by immigration (13%) and ISIS (12%). A better piece of news for Mrs. Clinton was the top quality for voters being experience (27%), followed by Commander-in-Chief (16%). However, they were followed closely by trustworthiness at 15%–a measure the Republican holds an advantage in–as well as focus on the economy (14%).
Wanting an outsider was the choice for 12% of respondents.
The survey no doubt will be welcome news to the Trump campaign after weeks of lagging behind Mrs. Clinton in the Sunshine State and other battlegrounds. After trailing in the People's Pundit Daily U.S. Presidential Election Daily Tracking Poll for weeks, Mr. Trump has retaken a small statistically insignificant 1-point lead nationwide. The race in the battleground states as well as nationally remains volatile, in part because of both candidates' favorability ratings.
Still, most other public polls do not show a race as close as the PPD tracking poll, with only Election Day left to be the decider on who is right or wrong. Kevin Wagner, Ph.D., associate professor of political science at FAU and a research fellow of the Initiative, said that despite the national numbers either way, the presidential race in Florida remains close and is within the survey's margin of error.
"The fact that both Mr. Trump and Secretary Clinton are significantly upside down in their favorability ratings could make it difficult for either to move substantially ahead," he said. "Clinton likely got a boost from the fact that Floridians chose experience as the top quality they are looking for in their presidential candidate. But, Floridians also chose dissatisfaction with government as their top issue, which likely favors Mr. Trump."
While both candidates are underwater, as they've been throughout the election cycle, Mr. Trump had a 41%/56% favorable/unfavorable rating, while Mrs. Clinton has 40%/58% favorable/unfavorable rating.
Also inline with the PPD tracking poll, Trump voters (94%) are more loyal in Florida than Clinton voters (90%), and independents are breaking for the Republican big. Mrs. Clinton trails Mr. Trump among this key bloc by a wide margin, 47% to 26%. The gender gap is also present, but not aiding Mrs. Clinton as much as previous weekly surveys have shown. Mr. Trump leads among men 46% to 36%, but trails among women by a smaller 45% to 41% margin.
The Florida poll was conducted Aug. 19-22. The polling sample was a random selection of registered voters. The Democratic primary consisted of 364 registered Democrat likely primary voters with a margin of error of +/-5.1 percent at a 95 percent confidence level. The Republican primary consisted of 327 registered Republican likely primary voters with a margin of error of +/-5.4 percent at a 95 percent confidence level. The General election poll consisted of 1,200 registered likely voters with a margin of error of +/-2.7 percent at a 95 percent confidence level.