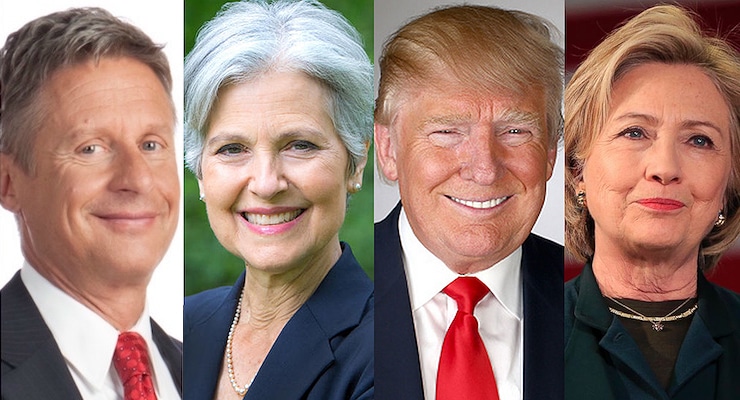 Republican Donald Trump widened and maintained his national lead over Democrat Hillary Clinton last week in the U.S. Presidential Election Daily Tracking Poll. Mr. Trump now leads 45.1% to 40.6%, while Libertarian Party candidate and former New Mexico Gov. Gary Johnson has rebounded slightly to 9.1%. Green Party candidate Dr. Jill Stein earns just 3.1% of the vote, holding on to disaffected former supporters of Vermont Sen. Bernie Sanders.
The movement has largely been the result of a combined improvement among minority voters and higher-income, higher-educated voters that were previously hesitant to support the Republican nominee. Of course, Mr. Trump continues to maintain his excited and highly interested base of support with a far higher level of enthusiasm than his Democratic rival, Mrs. Clinton. Further, it would appear that the new discipline displayed by the campaign has helped to make inroads with younger voters.
"While I do not agree with everything Donald Trump says, I believe he is the one who most strongly represents my views," said Bradley Whipple, a young and new voter of Lexington Kentucky. "I agree on the topic of strong border security, less interventionism overseas, making better trade deals, auditing the federal reserve, gun rights, less business regulations and better relations with Russia (and other nations in general) amongst other things. I believe Hillary Clinton is as corrupt as they come and would not consider voting for her under any circumstances."
Mr. Whipple, a previously undecided voter belonging to a key demographic central to the Obama coalition, said he also considered voting for third-party candidates. Ultimately, he settled on Mr. Trump for a number of reasons, strongly supports him and won't change his mind.
"While I like Jill Stein better than Clinton, she is still too progressive and socialist for me to vote for her," he added. "I consider Gary Johnson to be not a real libertarian and a joke, as is the rest of the current Libertarian Party, especially considering his recent 'What is Aleppo?' comment."
Turnout in a close election will likely decide the winner of the race and, even though Mrs. Clinton definitely has the larger GOTV operation, her supporters are markedly less enthusiastic than Trump voters. A whopping two-thirds (66%) say they are "Extremely Enthusiastic" about voting for Mr. Trump in November, while less than half (41%) say the same about voting for Mrs. Clinton. Another quarter (25%) of Trump voters say they are "Very Enthusiastic" juxtaposed to 30% for Mrs. Clinton.
Several statewide polls have shown Mr. Trump making gains in battleground states and subsamples of the PPD U.S. Presidential Election Daily Tracking Poll confirm that movement. Worth noting, the increase in support is among voters the media have deemed to be too turned off to the New York businessman. Over the past two weeks, particularly the last 7 days, these voters have begun to shift in his favor.
"For a long time a lot of people have said we needed a businessman to run the country since the politicians can't," remarked Michael Christman of Middleburg Heights, Ohio. "Finally one does run and people get worried he doesn't act like a politician. Get over it. We can't afford another politician."
Trump voters are also reporting a higher level of interest than voters supporting the former secretary of state. Nearly two-thirds (65%) say they are "Extremely interested" and nearly one-third (31%) say they are "Very Interested" in the election. Mrs. Clinton does not trail as badly as she does in the enthusiasm gap, but only 57% say they are extremely interested while an equal 31% say they are very interested.
The poll is not without concerns for Mr. Trump, though he clearly has the momentum against a rival in free-fall. He still only draws roughly 8 in 10 Republicans, but is making up for it in other voting blocs. He currently holds a wide lead among independent voters and is peeling off more of Mrs. Clinton's base than she is drawing from the GOP, something the Democratic candidate had hoped to reverse. Mr. Trump had longed claimed he would win "a lot" of voters who supported Sen. Sanders in the primary and it has become clear that he is.
"Bernie was a liberal populist, Trump more of a conservative populist," says Curtis Philips, a Democrat in Pacifica, California. "Had the DNC not been corrupt, we would likely have an election between two populists, the two candidates people were actually interested in. Instead liberals are given a deeply corrupt party selection by the Democratic Party. She can't be trusted to kill TPP permanently. She can't be trusted on any populist cause because she's in the pockets of corporations, foreign governments [Clinton Foundation] and Wall Street."
Mr. Philips, who did support Sen. Sanders in the primary, says he is still waiting for Hillary to release the transcripts from her Wall Street speeches and will support Donald Trump in November.
"Therefore, a conservative populist is better than another corporate elitist, despite his shortcoming. Oh, and an essential part of populism is protecting one's citizens from outsourcing and insourcing cheap labor. Only Trump, not even Bernie, sees that illegal immigration hurts working citizens and benefits only the cheap labor interests of the corporate elite and the members of the Chamber of Commerce."
The bright spot for Mrs. Clinton, which has been fading quickly, is that likely voters still expect her to win the presidential race, albeit by a much smaller margin. At the beginning of last week, by a 54% to 41% margin voters expected her to win in November. But that margin had tightened significantly since the prior week when it was 61% to 29%, and continues to do so. Now, only a slim 48% to 46% margin expects her to win, while the percentage saying they are undecided jumped to 6%.
As People's Pundit Daily has repeated pointed out, the "expectations" question has historically predicted the election outcome in a greater probability than the ballot question, itself.
The survey results represent a 3-day rolling average of 1501 likely voters via Internet panel. Responses are from interviews conducted from September 13 to September 15, 2016. Learn more about how we conduct interviews for the People's Pundit Daily U.S. Presidential Election Daily Tracking Poll and survey methodology here, which follows AAPOR standards of disclosure and WAPOR/ESOMAR code of conduct.