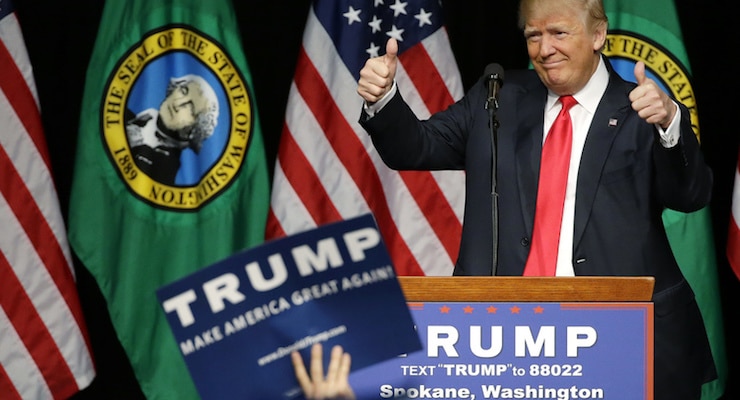 Following some terrifying polling data out of Minnesota, another traditionally blue state is too close for Democratic comfort. A new [content_tooltip id="38226″ title="Emerson College Polling University"] finds Democrat Hillary Clinton leading Donald Trump in Washington State by just 6 points, 44% to 38%. The poll, which was taken before the debate, finds Libertarian Party candidate Gary Johnson getting 7% of the vote and Green Party candidate Dr. Jill Stein getting 5%.
Six (6%) percent remain undecided.
Only 60% of voters who supported Sen. Bernie Sanders in the Evergreen State back Mrs. Clinton. Emerson College Polls, much like the PPD U.S. Presidential Election Daily Tracking Poll, repeatedly find Mrs. Clinton has yet to consolidate independent and Democratic voters who supported her rival. She received the support of just 7,140 caucus-goers to 19,159 for Sen. Sanders during the nomination contest, and only 27 out of the 101 delegates awarded in the state.
But Mr. Trump still has base issues, as well, winning 88% of those who voted for Texas Sen. Ted Cruz but only 28% of those who back Gov. John Kasich in the primary. Twenty-two (22%) percent of Kasich voters support Mrs. Clinton. The bright side for Trump supporters is that there weren't many Kasich supporters, though every vote will matter. The GOP nominee won roughly 70% of the vote in the Washington State Republican Primary.
In the U.S. Senate race in Washington, four-term incumbent Democrat Patty Murray leads Republican Chris Vance 48% to 41%, and 8% are undecided.
Worth noting, Emerson College, which was awarded a lifetime grade of an A on the PPD Pollster Scorecard, was one of the most accurate polling outfits in the country during the 2016 primary season. Emerson College released 16 surveys in 8 states and was correct 94% of the time (92% lifetime), with an average error of 7.2%.
Meanwhile, Mr. Trump leads Mrs. Clinton in Nebraska by 27 points, 56% to 29%, with Gov. Johnson at 7% and Dr. Stein at 1%. The Cornhusker State was a target for Democrats who were hoping their nominee might be able to peel away a few reliably Republican electoral votes. Like Maine, electoral votes are also awarded based on the winner of each Congressional District. However, the New York businessman leads among men, women, all age groups and all Congressional Districts. In the First and Third Congressional Districts, he leads by margins of 53% to 29% and 65% to 20%, respectively. In the Second Congressional District, he only leads by 9 points, 49% to 40%.
Nebraska is only the second state where Emerson College found Mr. Trump has a positive favorable/unfavorable ratio (50% to 45%). Mrs. Clinton is taking only 57% of Sen. Sanders primary voters, while Trump is taking 15%. That's larger than the percentage of Sanders voters who are going for the Republican nominee (10%) in Washington State, where Stein also takes 17%.
Emerson College Polling University: Washington, Nebraska General Election Polls
The Emerson College Washington poll was conducted September 25-26, and the Nebraska poll was conducted September 25-27 under the Supervision of Professor Spencer Kimball. Both samples consisted of 700 likely general election voters with a margin of error of +/- 3.6%. Data was weighted by 2012 election results, age, gender, region and party affiliation. It is important to remember that subsets based on gender, age and party breakdowns carry with them higher margins of error, as the sample size is reduced. Data was collected using an Interactive Voice Response (IVR) system of landlines only. The full methodology and results can be found at www.theecps.com.