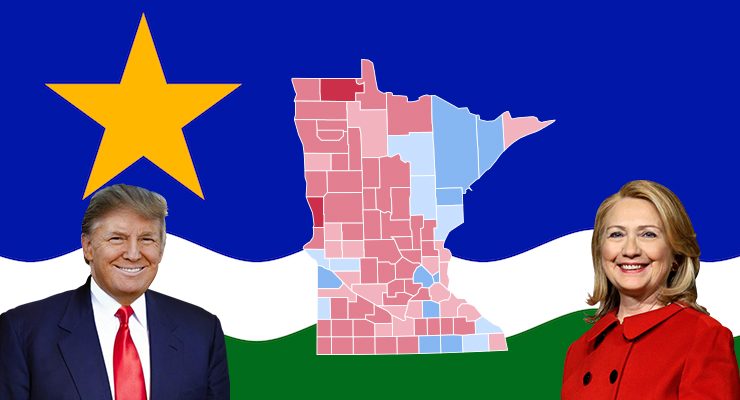 While most election forecasters did not consider it a battleground state in 2016, Republican Donald Trump has put Minnesota in play against Democrat Hillary Clinton. Two recent polls indicate the state could prove to be a sleeper, despite Mrs. Clinton's built-in partisan advantage and the fact Mr. Trump hasn't held a single campaign event there the entire campaign season.
However, regardless of the polls, which we'll discuss below, demographic voting patterns identified in the PPD U.S. Presidential Election Daily Tracking Poll and several turnout projections on the PPD 2016 Presidential Election Projection Model definitively suggest the state could flip in 2016.
Let's begin with some historical perspective and data–specifically, it's voting behavior and underlaying ideology.
The North Star State has only voted for the Republican candidate 3 times since 1932 and hasn't since 1976, even bucking the entire country in 1984. It stood alone as the only state to back Democratic candidate Walter Mondale, a native Minnesotan, albeit by the slimmest of margins. Former Vice President Mondale carried the state with 49.72%, or 1,036,364 votes, to 49.54%, or 1,032,603 votes for President Ronald Reagan.
In 2000, Democratic Vice President Al Gore received 47.91%, or 1,168,266 votes, while then-Gov. George W. Bush received 45.50%, or 1,109,659 votes. Worth noting, Green Party candidate Ralph Nader took 5.20%, or 126,696 votes, more than the 2% Dr. Jill Stein (Green) is receiving in the polls and roughly the same as Libertarian Party candidate Gov. Gary Johnson is getting in the polls.
In 2004, without a third-party candidate on the ballot, President Bush ran competitive in the state against then-Sen. John Kerry, taking 47.61%, or 1,346,695 votes. Mr. Kerry took 51.09%, or 1,445,014 votes.
Only President Barack Obama blew out his Republican rivals, beginning with Sen. John McCain in 2008. He defeated the Arizona senator with 54.06%, or 1,573,354 votes, to 43.82%, or 1,275,409 votes. In 2012, Mr. Obama carried the state with a slightly smaller margin of 52.65%, or 1,546,167 votes, to 44.96%, or 1,320,225 votes.
So, why then do we feel, regardless of the recent polling data supporting our analysis, Mr. Trump can carry the state?
Populism. Plain and simple, coupled with enthusiasm and the presence of third-party candidates on the ballot.
In the state of Minnesota, populism has long been a predominant political force. The success of the state's political parties depended upon it and the presidential voting preference shows this trend going back to 1860. Whether some in the Republican Party are willing to admit or are even aware of the truth, American populism took root in the GOP and President Reagan and President Bush both had populist undertones in their campaign's economic messages.
Populism is at the heart of Mr. Trump's economic and anti-establishment message. It's also the significant enthusiasm gap between Mr. Trump's very excited supporters and Mrs. Clinton's very depressed voters that could result in a big upset, despite what the polls show ahead of the election. The state, which consistently boasts higher voter turnout than the national average, is also known for its more-than-average politically active citizenry and the strength of political movements could be exacerbated by it.
Now, not including the expanded Minnesota subsample taken from the PPD U.S. Presidential Election Daily Tracking Poll, a Gravis Marketing Poll released on Monday finds the race tied at 42% and another recent poll from SurveyUSA finds a six-point lead for Mrs. Clinton.
"Minnesota is in play," Larry Jacobs of the University of Minnesota Humphrey Institute, told Patch. "Trump is only six or seven points behind and has not campaigned actively in Minnesota, whereas Democrats are counting on Minnesota and have actually put some money in. So, I think these are surprising results."
We agree with the former argument, but aren't particularly surprised by the other pollsters' results. The PPD U.S. Presidential Election Daily Tracking Poll conducted an expanded subsample of 771 likely voters in Minnesota from September 21 to September 23, which was weighted to reflect the above shift in demographics. It found Mrs. Clinton leading Mr. Trump by just 2 points, 44% to 42%, with Gov. Gary Johnson getting 5% and Dr. Jill Stein 2%.
Seven percent (7%) remain undecided, slightly higher than the national average.
Further, Mr. Trump's voters were far more loyal and committed (89%) than Mrs. Clinton's voters (77%), presenting a real challenge even if they switch to third-party candidates. We are watching the state closely, will poll it nearly every week and adjust the state's rating on the 2016 Presidential Election Projection Model when new data warrant a decision to do so.
Until then, the once-deep blue state of Minnesota will remain a BATTLEGROUND.