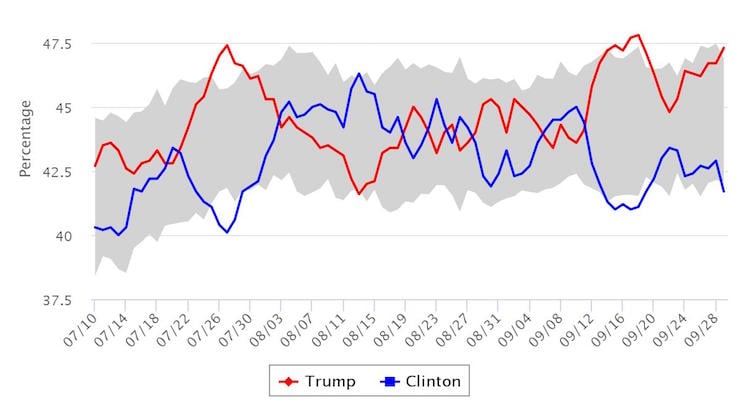 Republican Donald Trump widened his lead over Democrat Hillary Clinton in the 2016 USC Dornsife / LA Times Presidential Election Poll following the first debate. Mr. Trump leads Mrs. Clinton 47.3% to 41.7% in the Presidential Election "Daybreak" Poll, a model developed by the team responsible for the successful 2012 RAND Continuous Presidential Election Poll.
According to an update by the pollster, Mr. Trump's 5-point lead is statistically significant for the following reason:
Update: As of Monday September 19th, the Daybreak Poll's charts will reflect a change in the way we compute the "area of uncertainty" represented by the gray band in each chart. This change means that candidate votes that are about 5 or 6 percentage points apart will be shown to be statistically significant (depending on sample size and how much variation there is in the voting).
Previously, the calculations required an interval of +/5.5 percentage points for significance in our election forecast, which we have determined was too conservative. Still, "mainstream" media pundits have sought to play down the Republican's advantage in the LA Times Poll, something the People's Pundit believes is not yet a proven credible analysis.
"While the PPD tracking poll is markedly less pro-Trump than the LA Times Poll, there are two major reasons pundits and mediates shouldn't dismiss these results," said PPD's editor-in-chief Richard D. Baris. "First, they were right in 2012 while most were wrong and, second, they track the results for many of the same, or repeat respondents. If it's truly representative of the electorate, which we won't know until Election Day, then it gauges voters' views over time more accurately than other media pollsters."
The PPD U.S. Presidential Election Daily Tracking Poll, which surveys the 4-way race, currently shows Mr. Trump and Mrs. Clinton statistically tied. It's only the second time post Labor Day that the former secretary of state did not trail the New York businessman. Other polls, which went dark during a period that was undoubtedly a Trump surge, now show Mrs. Clinton leading, even though she hasn't since September 11, the same day she attended a memorial service in New York City for the terror attacks, at which she collapsed due to a medical episode.
But Baris said the PPD Poll and LA Times Poll are gauging the likelihood of people to vote in a manner that does not effectively remove silent "Trump Voters" from the survey results, which most other major media news outlets and pollsters have been doing. The other recent surveys also assume an electorate that consists of a Democratic advantage(D+11) upwards of twice what President Barack Obama enjoyed against Gov. Mitt Romney in 2012 (D+6).
Worth noting, the PPD U.S. Presidential Election Daily Tracking Poll, which doesn't assume anything but rather allows the electorate to dictate the party composition, currently reflects a D+6 party advantage for Democrats.