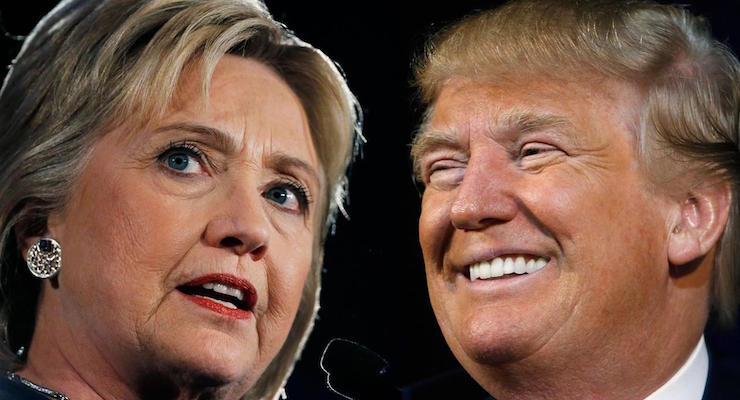 Bernie Voters in Two States are Coming Back to the Democratic Fold
Republican Donald Trump and Democrat Hillary Clinton are neck-and-neck in Florida, Nevada and Arizona, a new [content_tooltip id="38226″ title="Emerson College Polling University"] finds. In Rhode Island, where a previous Emerson College Poll showed Mrs. Clinton only leading by 3 points, she has opened up a 20-point edge over Mr. Trump (52% to 32%).
Her lead in largely due to voters in the state who supported Sen. Bernie Sanders coming back into the fold.
In Florida, Mr. Trump holds a slight 45% to 44% edge over Mrs. Clinton, with Nevada tied at 43%. In Arizona, Mrs. Clinton holds a slight 2-point edge, 44% to 42%. Neither third party candidate, as is historically the case in the state, seems to be getting much traction among Floridians. Libertarian Party candidate Gary Johnson and Green Party candidate Dr. Jill Stein are trailing far behind with 5% and 4%, respectively.
In two of the states, independent voters favor Mr. Trump while the other two lean toward Mrs. Clinton. He is up by 11 points in Nevada (47% to 36%) with independent voters and by 6 in Rhode Island (42% to 36%), while she has a 1-point edge in Florida (40% to 39%) and a 5-point margin in Arizona (42% to 37%).
Three of the battleground states have large Hispanic populations and Mrs. Clinton's lead among them varies. In Florida, her edge with Latino voters is only 19% (59% to 36%), which is almost identical to the PPD Sunshine State Poll, while Nevada (59% to 21%) and Arizona (54% to 40%) are both 22%.
Florida, with 29 electoral votes, was the only state among the four Emerson polled that has an African American population greater than 10%. Mrs. Clinton has an large lead with these voters, yet one that is far smaller than President Barack Obama enjoyed–77% to 18%.
Meanwhile, the Republican candidates have large leads in all of the states with U.S. Senate races. Arizona Sen. John McCain leads by 16 points, Florida Sen. Marco Rubio leads by 8 points and Joe Heck leads in Nevada by 4 points.
Emerson Polling Results: Florida, Nevada & Arizona
The Emerson College Florida, Arizona, Nevada and Rhode Island polls were conducted in English and Spanish from October 2-4, under the Supervision of Professor Spencer Kimball. The sample for Nevada consisted of 700 likely general election voters with a margin of error of +/- 3.6%; for Florida, Arizona, and Rhode Island the sample size of 600 had a margin of error of +/- 3.9%. Data was weighted by 2012 election results, age, gender, race and party affiliation. It is important to remember that subsets based on gender, age and party breakdowns carry with them higher margins of error, as the sample size is reduced. Data was collected using an Interactive Voice Response (IVR) system of landlines only. The full methodology and results can be found at www.theecps.com.