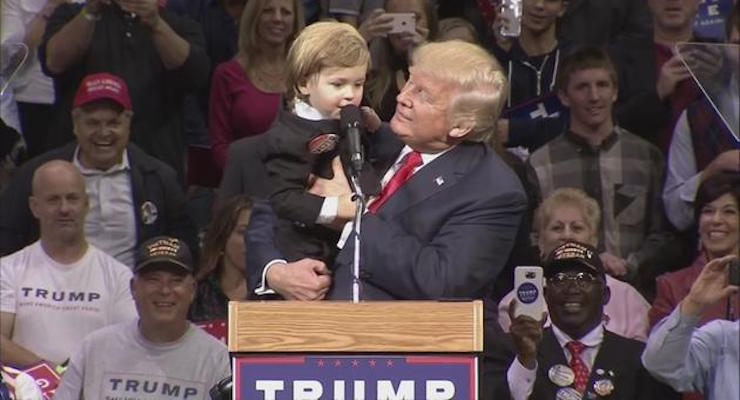 Generally speaking, the polls haven't been looking to good for Donald Trump, with the exception of PPD (Clinton +2), Rasmussen (Tie) and the LA Times Poll (Tie). Now, going into the final debate in Las Vegas, Nevada, the IBD/TIPP presidential tracking poll gives Trump a 1-point edge over Hillary Clinton.
It should be a welcome piece of polling data for the candidate who has spent the last week on the campaign trail saying he no longer trusts the polls and believes the election is rigged. It's certainly a true statement that not all polls are created equal–or, as the People's Pundit likes to say, there are "too many polls and not enough pollsters." That said, TIPP is overall the most accurate phone-based presidential election daily tracking poll, according to the PPD Pollster Scorecard.
After nearly two weeks of blistering attacks from Big Media, his Democratic rivals and even celebrities, Mr. Trump has pulled back ahead of Mrs. Clinton 41.3% to 40% in a four-way matchup. Libertarian Party candidate and former New Mexico Gov. Gary Johnson takes 8% and Green Party candidate Dr. Jill Stein 6%.
"From the results, it looks as if Gary Johnson and Jill Stein are drawing more support away from Clinton than Trump," said Ragavan Mayur, president of TechnoMetrica Market Intelligence, which conducts the poll.
As mirrored by the People's Pundit Daily Presidential Election Daily Tracking Poll and LA Times Poll, Trump voters are far less persuadable and far more enthusiastic than Clinton voters. In the IBD/TIPP poll, Trump scores higher on voter intensity, with 67% of his backers saying they strongly support him, compared with 58% of Clinton supporters who say they strongly back their candidate.
On the PPD Tracking Poll, roughly 60% of Trump voters say they are "extremely" enthusiastic juxtaposed to just 49% of Clinton voters. That's compounded by another 22% who say they are "very" enthusiastic about voting for the Republican nominee and 20% who say the same about his rival.
"If Donald Trump is right and there is a mass Big Media conspiracy to depress his voters, it isn't working yet," said PPD's editor-in-chief Rich Baris. "That may be the case if he falters tonight, but we've only seen modest and temporary decreases in voter enthusiasm for Mr. Trump, whereas, Hillary Clinton still has work to do exciting her base. The good news for her is that there are more Democrats than Republicans."
The results are the first in the IBD/TIPP presidential tracking poll. Daily updates start Thursday and will continue until the election.
For the results released today, TechnoMetrica Market Intelligence conducted the Investor's Business Daily/TIPP poll from Oct. 13 through Oct. 18, 2016. A total of 872 Americans age 18 or older participated in the nationwide survey. Of the 872 respondents, 825 were registered voters and 782 were likely voters. The story is based on the subsample of likely voters. The margin of error for the likely voters sample is plus or minus 3.6 percentage points at the 95% confidence level.