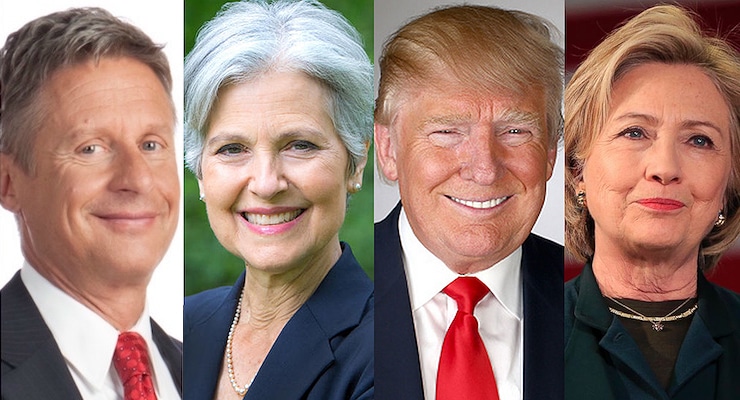 A new poll finds Democrat Hillary Clinton holding only a small lead over Republican Donald Trump and Libertarian Gary Johnson in New Mexico, once a safely Blue state. According to the poll conducted by Research & Polling Inc. for the Albuquerque Journal, Mrs. Clinton received 35% and Mr. Trump took 31%, with 24% of New Mexicans backing Gov. Johnson, the home state governor. Two (2%) percent chose Green Party candidate Dr. Jill Stein.
"The election is close in New Mexico," said Brian Sanderoff, president of Research & Polling Inc. "The bottom line is that New Mexico is more competitive than I expected."
The poll was conducted from September 27-29, with interviews beginning the day after the first presidential debate. Gov. Johnson is peeling off some Republicans still uncomfortable with their party's nominee, but really hurting Mrs. Clinton among younger voters and Hispanics.
"Johnson is picking up Hispanic support, and that is what is keeping Hillary Clinton down," Mr. Sanderoff said. "The Democratic candidate needs to be getting much more than 40 percent of the Hispanic vote to win New Mexico comfortably."
In a head-to-head matchup between Mr. Trump and Mrs. Clinton, the former secretary of state leads by 10 points, 44% to 34%. However, 11% said they wouldn't vote for either candidate in a head-to-head matchup, while 3% chose "other" and 8% were undecided or didn't know whom they would vote for. But the race is a 4-way race in the Land of Enchantment, and with the former two-term New Mexico governor taking 31% of Hispanics and Mr. Trump dominating by more than a 2 to 1 margin (52% to 20%) in the rural region, the state is now in play.
(Correction: The article has been updated to reflect G. W. Bush only carrying the state in 2004. Though it was close in 2000 against Vice President Al Gore, he carried it by 300 votes.)
Hispanics were singlehandedly used by Democrats to change a once-reliably Red state to reliably Blue. President George W. Bush easily carried the state in 2004 but Arizona Sen. John McCain lost it to President Barack Obama in 2008. Gov. Mitt Romney, the 2012 Republican nominee, didn't even attempt to make a play for the state and Mr. Obama won it handily.
"It is not surprising that Donald Trump would perform really well in this rural and conservative part of the state," Mr. Sanderoff added. "Eastern New Mexico has long been a bastion of support for Republican candidates."
The poll surveyed 501 likely New Mexico voters and contained a margin of error of plus or minus 4.4 percent. All of the poll respondents were questioned by live interviewers, with 52 percent of respondents reached by cellphone and 48 percent on land lines.