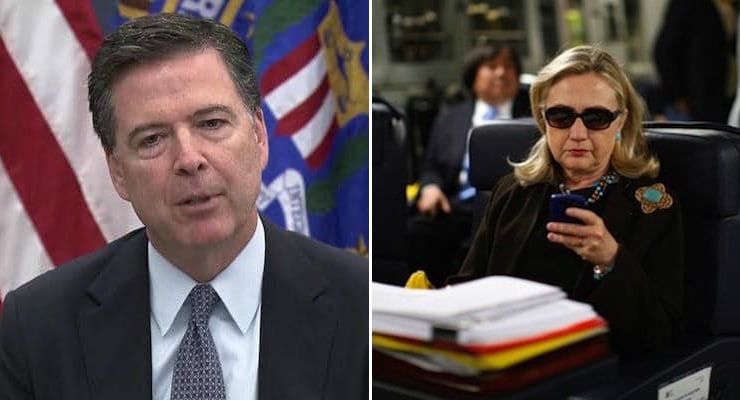 Last week, People's Pundit Daily reported multiple agents from the Federal Bureau of Investigation (FBI) are saying Director James Comey protected Hillary Clinton from prosecution relating to her mishandling of classified information. With two weeks left before Election Day, a majority of voters still say with the FBI should have indicted the former secretary of state, and even more rate the issue as important to their vote.
A new Rasmussen Reports Poll finds only 39% of likely voters agree with the FBI's decision not to indict Mrs. Clinton, while a far larger 53% disagree and believe the FBI should have sought a criminal indictment against her. As far as how it will impact their vote, 70% say her mishandling of classified information is important to their vote for president, including 49% who say it's "Very Important."
Twenty-seven percent (27%) say the issue is not important, but that only includes 9% who say it's "Not At All Important" to how they will vote.
Not surprisingly, though perhaps unfortunately, party affiliation greatly impacts how voters view the issue and its importance at the ballot box. While 85% of Clinton's supporters agree with the FBI's decision, 92% of Trump supporters disagree. Only 37% of Clinton voters say the issue is important to their vote, but 96% of Trump voters say it is. Most undecided voters and supporters of Libertarian Gary Johnson and Green Party candidate Jill Stein also consider this an important voting issue.
Most Republicans (85%) and unaffiliated voters (55%) disagree with the FBI's decision not to indict Clinton, while 22% of Democrats agree. A whopping 70% of Democrats agree with the FBI's decision. Seventy-seven percent (77%) of Republicans and 51% of unaffiliated voters say the e-mail scandal issue is "Very Important" to their vote in the upcoming November election, but only 23% of Democrats agree.
Meanwhile, according to two agents to two agents who have worked on corruption and security crimes, Director Comey "stood in the way" of the Bureau properly investigating former Secretary Clinton. Agents, which may or may not be the same sources for a separate report developed by People's Pundit Daily, told The Daily Caller their colleagues are furious Director Comey has led the Bureau into an era of politicization.
"This is a textbook case where a grand jury should have convened but was not. That is appalling," said one FBI special agent, who has public corruption and criminal cases under their belt. "We talk about it in the office and don't know how Comey can keep going."
Joe DiGenova, a D.C.-based attorney told WMAL radio's Drive at Five last week that agents "are starting to talk" and more will become public soon.
"People inside the Bureau are furious. They are embarrassed. They feel like they are being led by a hack but more than that that they think he's a crook. They think he's fundamentally dishonest. They have no confidence in him. The bureau inside right now is a mess," he said. "The most important thing of all is that the agents have decided that they are going to talk."