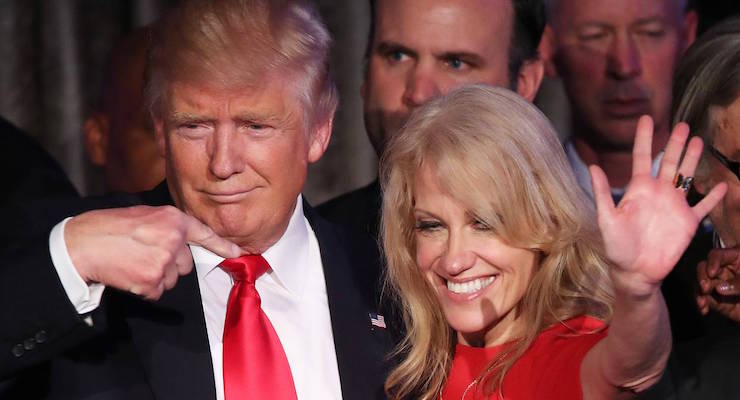 President-elect Donald J. Trump's favorability rating has risen above the 50-percent majority threshold ahead of Inauguration Day on Friday, January 20, 2017. The gain was fueled by his image among whites recovering to levels measured the prior week, as well as what has been a steady and continued improvement on the margins among minorities.
The PPD Poll, which conducted the most accurate surveys in 2016 on both the national and statewide level, finds 52% of likely voters now view the New York businessman favorably, while 40% continue to hold an unfavorable view of him.
This week, 61% of whites view President-elect Trump favorably, up from 59% in the prior PPD Poll. The percentage of black voters who view him favorably increased significantly from 10% to 17% this week, which had been down from 15% two polls prior, while the percentage viewing him unfavorably also increased to 72% from 69%.
A surprisingly different dynamic was measured among Hispanics, with Mr. Trump's favorability rating increasing from 31% to 37% at the same time the percentage viewing him unfavorably fell from 64% to 61%. That marks a 5-point improvement among Hispanics who view him unfavorably from two weeks ago.
Female voters appeared to be split somewhat on how they view the incoming president, with the percentage of women viewing him unfavorably increasing from 46% to 49%. But the percentage of female voters who view him favorably also increased to 44%, up two percentage points from 42% the prior week.
In the last PPD Poll, 56% of male voters had helped to prop up the Trump favorability gauge as other voting blocs ticked down by larger percentages. But this week men ticked back up to 60%, edging out the previous high measured three weeks ago by 1 point.
Throughout the campaign, PPD Polls repeatedly found voters had a more favorable image of the then-GOP nominee in the battleground states than voters had nationwide. For example, in the final PPD Sunshine State Battleground Poll, 45% of Floridians had a favorable view of the then-Republican presidential candidate, while 52% had an unfavorable view of him.
The PPD Poll follows level 1 AAPOR standards of disclosure and WAPOR/ESOMAR code of conduct. The survey was conducted from Dec. 29 to Jan. 4–excluding Dec. 31–and is based on 1786 interviews of likely voters participating in the PPD Internet Polling Panel.