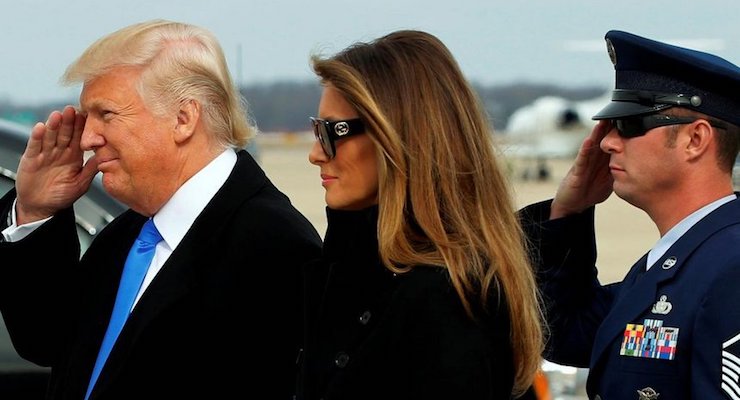 President-elect Donald J. Trump's favorability rating remained above 50% in the final PPD Tracking Poll taken ahead of Inauguration Day on January 20, 2017. Worth noting, despite the very public argument between him and Rep. John Lewis, D-Ga., gains made the prior week in his favorability rating among minorities held steady.
The PPD Poll, which conducted the most accurate surveys in 2016 on both the national and statewide level, finds 52% of likely voters now view the New York businessman favorably, while 41% continue to hold an unfavorable view of him.
The civil rights leader-turned-lawmaker last week said he did not believe President-elect Trump was legitimate, but Americans overwhelmingly disagree. Sixty-nine (39%) percent of all voters disagreed with Rep. Lewis and believe he "crossed the line" juxtaposed to only 17% who agreed and thought he was "being a patriot," including the vast majority of black voters.
This week, 59% of whites said they view President-elect Trump favorably, down from 61% in the prior week's PPD Poll. The percentage of black voters who view him favorably held steady (19%) after increasing significantly from 10% to 17% two weeks ago, while the percentage viewing him unfavorably decreased from 70% from 68%.
"Donald Trump's base on November 8 was undoubtedly white, but he is beginning to show broader appeal beyond that base," said Richard Baris, the People's Pundit and head of polling at PPD. "The working class message and headline economic news is giving the new president an opportunity to reach out to black voters, specifically male black voters between the ages of 35 to 54."
Among Hispanics, Mr. Trump's favorability rating increased slightly from 36% to 37%, after gaining significant ground from 31% to 37% two weeks ago. Meanwhile, the percentage viewing him unfavorably also ticked up from 61% to 63%, after falling from 64% to 61% the week prior.
Hispanics continue to remain the least undecided voting demographic, though also display a propensity to lead the way in the "mind-changers" category.
Female voters remain almost evenly split on the new incoming president, with the percentage of women viewing him unfavorably ticking back up to 47% from 46% the week prior. Still, this is down from 49% two weeks ago. The percentage of female voters who view him favorably held steady at 45% after gaining two percentage points from 42% two weeks prior.
The percentage of men viewing President-elect Trump favorably fell slightly to 59%, after hitting a high of 60% last week.
The PPD Poll follows level 1 AAPOR standards of disclosure and WAPOR/ESOMAR code of conduct. The survey was conducted from Jan. 12 to Jan. 18 and is based on 1719 interviews of likely voters participating in the PPD Internet Polling Panel and has a 95% confidence interval. The PPD Poll does not weight based on party affiliation (party ID), but rather for demographics outlined in the U.S. Census Current Population Survey such as age, sex, race, education and region. The sample identified a partisan split of 37% Democrat, 33% Republican and 31% Independent/Other. It uses a likely voter model based on responses to screening questions relating to prior voting history, enthusiasm and registration status etc.