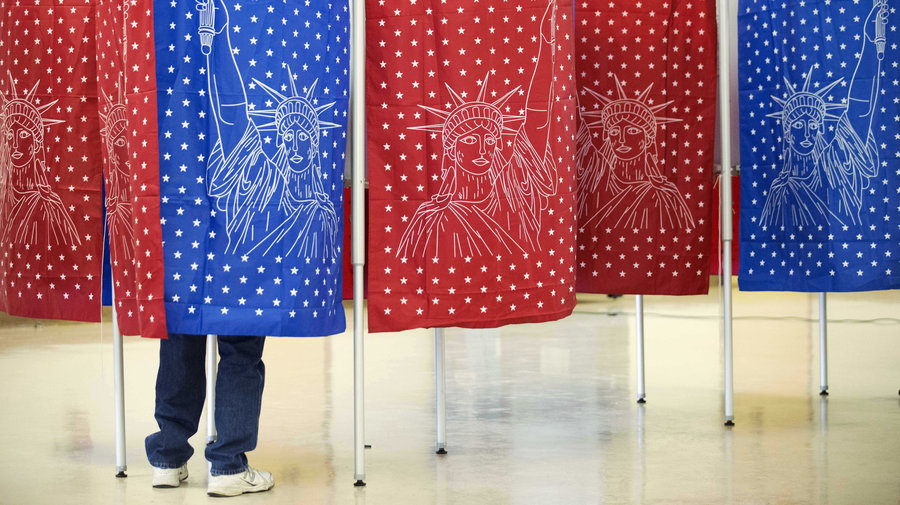 For the first time in years, self-identified Republicans slightly outnumber Democrats nationwide, according to the Gallup U.S. Daily Tracking Poll. Political junkies and news consumers would never know it if they simply watched network and cable news all day, but the results of Gallup's tracking are the latest set of data indicating the modern Democratic Party is in serious political peril.
In Jan. 2009 (9-11), right before former President Barack Obama was sworn into office after his landslide electoral college victory over Sen. John McCain, R-Ariz., a majority of Americans (51%) identified as Democrats when including leaners. As early as Feb. 1, Democrats still had a slight edge in party affiliation nationwide, 47% to 42%
Now, only 43% with leaners self-identify with the Democratic Party. Without leaners, it just 25% juxtaposed to 36% in Jan. 2008.
For Republicans, 28% excluding leaners self-identify with the GOP, up only 1 point from 27% in 2008. But including leaners puts them 4 points higher than 8 years ago at 44%. Still, the shift is largely from the loss of independents, who backed President Donald J. Trump by large margins in most battleground states in November against Hillary Clinton.
And this near-decade long shift has played out more significantly when we look at the state level.
Not only do Republican states continue to outnumber Democratic states, but every single shift in party affiliation over the year has benefited the GOP. According to Gallup U.S. Daily, 21 states are now classified as solid or leaning Republican, 14 are solid or leaning Democratic and 15 states are competitive.
That represents a monumental shift from a 30-state advantage for the Democrats in 2008 to a 7-state advantage for Republicans. Gallup's findings are largely in line with the latest results published on the PPD Battleground State Voter Profiles, which found only a slightly larger Democratic advantage in Virginia. However, independents continued to shift their allegiance toward the GOP, resulting in a state that is still very much competitive.
Electorally speaking, from 2008 to 2016, the Democratic Party has lost a net 9 seats in the U.S. Senate, 63 in the U.S. House of Representatives, 13 governorships, 949 state legislative seats and full control of 29 state legislatures.
Going into an election pundits proclaimed they were certain to win from top to bottom, they held full control in only 7 states. Now, they only hold only 5–California, Delaware, Oregon, Hawaii and Rhode Island–after the GOP tied it all up in the Connecticut state Senate.
"Democratic losses were exacerbated by what is at least a temporary end to split-ticket voting," said PPD's editor-in-chief and polling head Richard Baris. He said the data bode bad for Senate Minority Leader Chuck Schumer's aspirations to be majority leader in 2018.
"Take the U.S. Senate for instance. Direct senatorial elections began following the adoption and ratification of the 17th Amendment in 1913. During that period, in only three elections–1920, 1924 and 1948–has the percentage of states voting for the same party on the presidential and senate levels reached 90% or more."
"And never has it reached 100%, until 2016."
For Democrats to prevent Republicans from obtaining a supermajority in the U.S. Senate, Mr. Baris says they will have to defy the trend.
"That's certainly not impossible," he added. "It's just looking less and less likely given the radical turn they have decided to take post-election rather than conducting an autopsy."
[social-media-buttons]