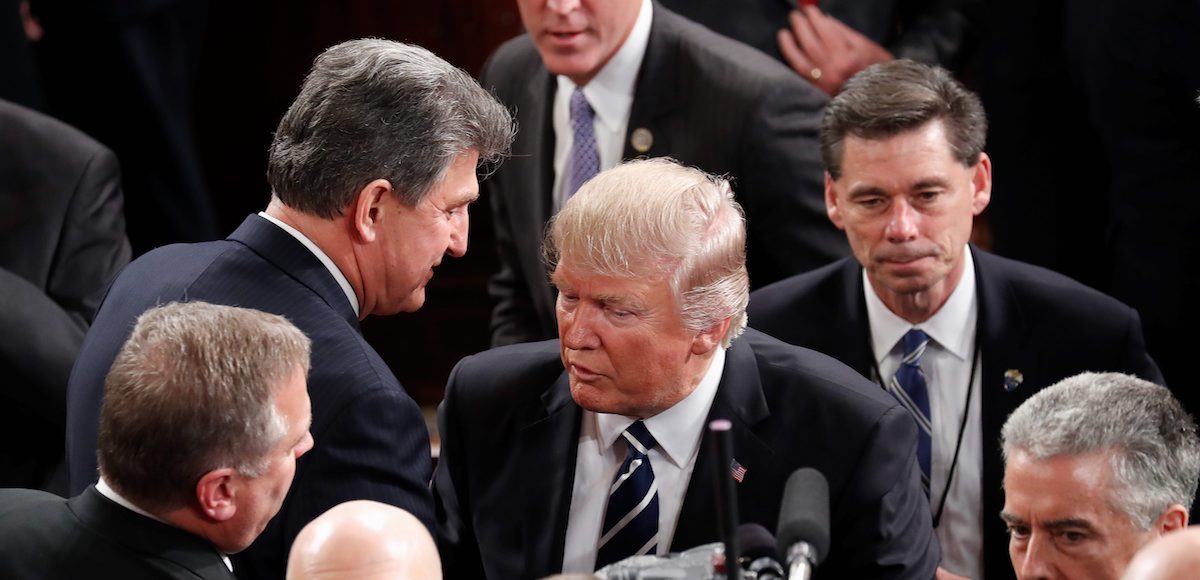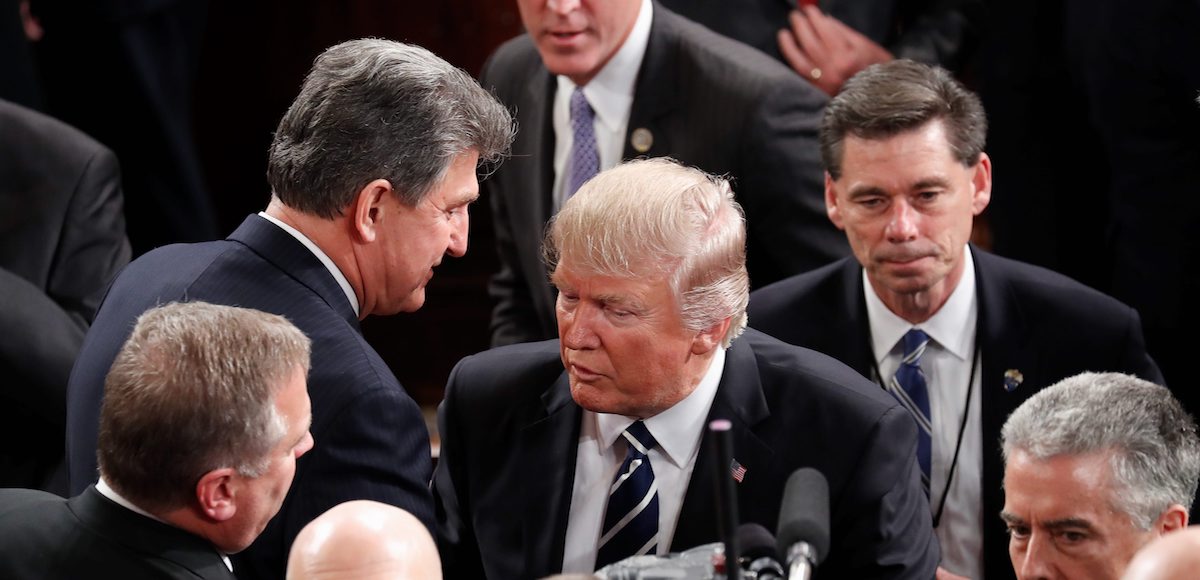 Democratic Sen. Joe Manchin still tops a generic Republican challenger in the latest West Virginia Senate Poll, though his lead is turning out to be very fragile. In June, the two-term governor and incumbent senator held a 9-point lead, 50% to 41%, over his inevitable Republican candidate.
Now, his lead has shrunk to just 5 points, 49% to 44%.
President Donald Trump trounced Hillary Clinton in the Mountain State 67.9% to 26.2%, making it a must-win race in any Republican plan to win a supermajority in the U.S. Senate. He remains overwhelmingly popular among West Virginia voters, with his approval rating climbing even higher from June to August-September. A whopping 67% of likely voters approve of the job he is doing as president, up from 62% in June.
Only 31% of voters in the state disapprove of the job he's doing as president.
"President Trump may just hold Sen. Manchin's fate in his hands," Rich Baris, editor and head of the PPD Big Data Poll said. "Voters want to see key aspects of his agenda get through Congress. Red State Democrats, particularly those in more conservative states like this, cannot straddle the fence forever."
PPD did ask about tax reform in the latest West Virginia Senate Poll, the results of which will be revealed on Tuesday. But the big takeaway is that both Sen. Manchin and Republican Sen. Shelley Moore Capito put themselves at odds with moderate and conservative voters by opposing tax reform. It has at least plurality support in all 5 income brackets surveyed and strong support across 4 of the 5.
Sen. Manchin's approval rating has taken a hit somewhat since June, when 56% of voters, including a sizable 23% of Republicans and 56% of whites, approved of the job he was doing in the U.S. Senate. Now, 51% of voters overall approve, including just 14% of Republicans and only 50% of whites.
"While he still holds a lead, we're starting to see some not-so insignificant slippage," Baris added. "It's still way too early to know for sure if this is a trend, but it definitely isn't statistical noise."
[wpdatatable id=95 table_view=regular]
The PPD Poll follows level 1 AAPOR standards of disclosure and WAPOR/ESOMAR code of conduct. All publicly released surveys are subscriber– and individual reader donations-funded, not sponsored by any other media outlet, partisan or political entity.
The 2018 West Virginia Senate Poll, or PPD Mountain State Battleground Poll, was conducted from August 31 to September 3 and is based on 612 interviews of likely voters participating in the PPD Internet Polling Panel. The Mountain State Battleground Poll, a subsample of the PPD Battleground Senate Poll, or the Generic Senate Ballot, was collected in a separate statewide sample.
The PPD Poll has a 95% confidence interval and is not weighted based on party affiliation (party ID), but rather demographics from the U.S. Census Current Population Survey–i.e. age, gender, race, education and region etc. Partisan affiliation is derived from a proprietary likely voter model following aforementioned demographic weighting, not the other way around.
The sample identified a D/R/I partisan split of 39% Republican, 36% Democrat, and 25% Independent/Other. Read more about methodology here.