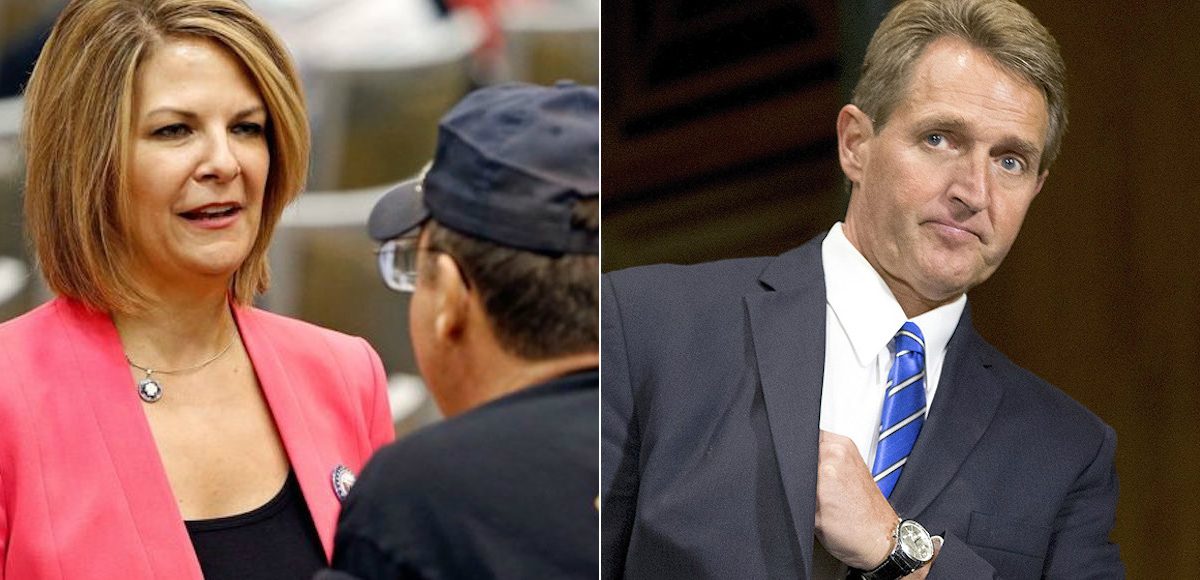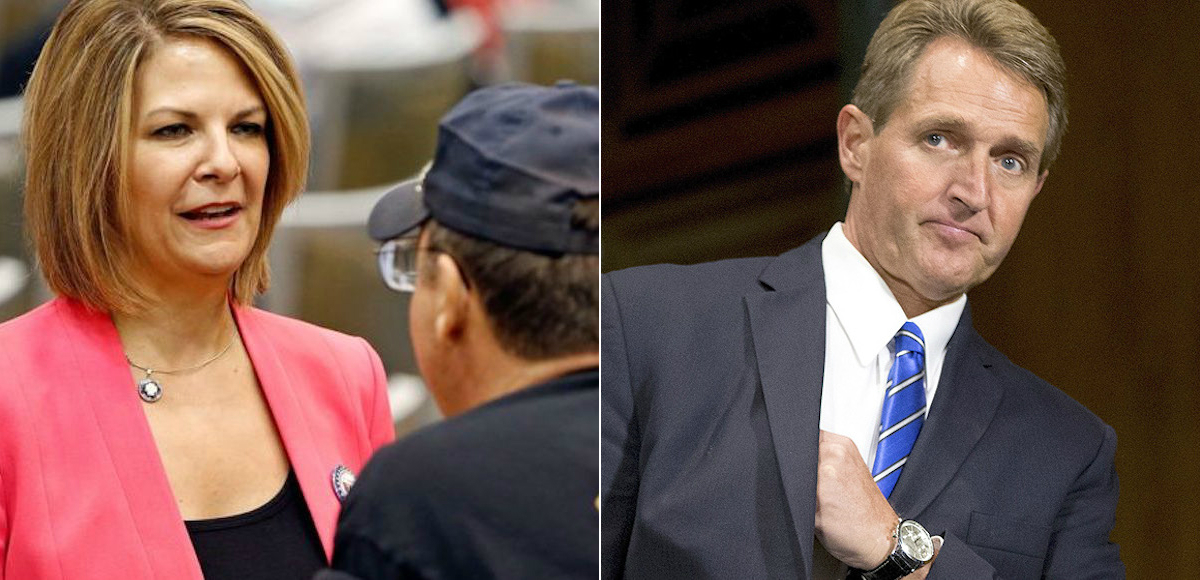 Dr. Kelli Ward holds a big 47% to 21% lead over incumbent Sen. Jeff Flake for the U.S. Senate in a new poll of the Republican primary voters in Arizona. Dr. Ward, a conservative and former state senator, supports the agenda of President Donald Trump while the liberal Sen. Flake has opposed him in D.C., and it shows.
The JMC Analytics Poll of 500 registered Republican voters finds only 22% say they want to nominate Sen. Flake, who 66% of Arizona Republicans view unfavorably. Only 22% view him favorably, compared to 43% who hold a favorable view of Dr. Ward. With 23% saying they have no opinion and 11% saying they've never heard of the state senator, she has a lot of room to grow if her campaign can seize the narrative.
Establishment Republicans have argued renominating Sen. Flake is the only way to be certain the party will hold the seat in 2018. However, he barely won his first term in 2012 with a 49% to 46% plurality, meaning he ran way behind Mitt Romney and slightly underperformed President Trump in 2016.
Dr. Ward enjoys big leads among nearly all demographic groups, including Asians (+56), blacks (+6), Hispanics (+11) and whites (+27). The latter is going to be the largest voting bloc in the Republican primary in Arizona, which presents an enormous challenge for Sen. Flake, one the PPD Election Projection Model finds he is unlikely to overcome.
His deficit among Hispanics is noteworthy given that he has bought in to the conventional wisdom, which holds a tough-on-immigration stance pushes away Hispanic voters. People's Pundit Daily (PPD) has thoroughly debunked this theory. There's also no difference in Sen. Flake's favorability rating among whites and Hispanics, both at an abysmal 22%.
Conservative talk radio hosts Sean Hannity and Laura Ingraham have both endorsed Dr. Ward and President Trump tweeted support for her campaign in mid-August.
"Great to see that Dr. Kelli Ward is running against Jeff Flake, who is WEAK on borders, crime and a non-factor in Senate," President Trump tweeted. "He's toxic!"
The JMC Analytics Poll mirrors another conducted and released by Highground, which is not well-known. It also showed Dr. Ward way ahead of Sen. Flake, 42.5% to 28.2%. In July, a Morning Consult Poll ranking senators by popularity found Arizona Senators John McCain and Flake behind only Majority Leader Mitch McConnell, R-Kty., as having the highest disapproval ratings in their state.
The survey was conducted August 26-27. The margin of error, with a 95% confidence interval, was 4.4%. The demographic breakdown of the respondents was 87-5-3% white/Hispanic/black (2% were Asian and 3% were "other"), while the geographic breakdown of the respondents was as follows: 12% from the Phoenix media market outside Maricopa County, 68% from Maricopa County, and 21% from the Tucson media market