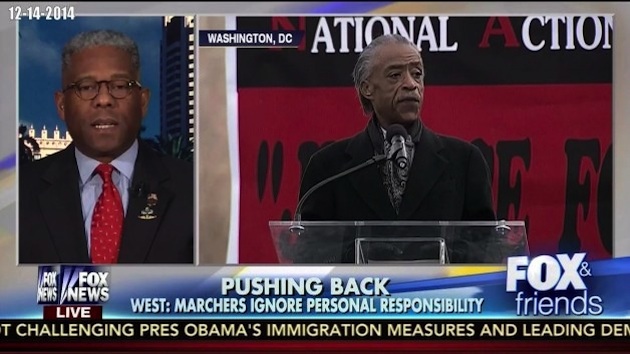 Lt. Colonel Allen West, the former congressman from Florida, slammed Rev. Al Sharpton for ignoring the "real issues facing the black community." West said that Sharpton and other self-proclaimed civil rights leaders on the left cannot discuss these real issues because they would have to confront the failure of progressive policy since the "Great Society" reforms.
"Al Sharpton is not talking about the real issues in the black community," West said. "And that's really what should lead the discussion. Michael Brown is part of a black teenage group that has almost a 45 percent unemployment rate. They're not talking about the failure of the public school systems in the black community. They're not talking about the decimation of the black family. And the reason they're not talking about that is because of the Democrats' policies."
Incidentally, witness testimony in the case of Ferguson Police Officer Darren Wilson shooting Michael Brown offered an explanation as to how and why pro-Brown witnesses embellished a story that turned into "hands up, don't shoot."
"You have to understand the mentality of some of these young guys," witness #14, an African-American witness told investigators. "They have nothing to do. When they can latch on to something, they embellish it because they want something to do. The majority of them do not work, all they do is sit around and get high all day."
Witness #14 said within minutes a crowd appeared and began to "embellish when the stepfather showed up."
(Watch Video: Ben Shapiro Unpacks Ferguson Grand Jury Evidence)
West went to cite the correlation between the "Great Society" reforms of the 1960s under Lyndon Johnson and "the decimation of the black family." He also said that the teachers' unions, which control the Democratic Party's platform on education, won't let them talk about school choice, or giving the parent's of black children in failing public schools the choice to send their children to better schools.
"It's the low hanging fruit," West said of Sharpton's and other leftists' focus on alleged racism. "If they were to confront this, they'd have to confront the failure of the Democrats' policies that caused this," he added. "It's their own policies that have created what is almost a 21st century economic plantation in the inner cities.
West also cited Booker T. Washington, a quote he has come to cite often in recent interviews over race, which talks about a certain group of black leaders who purposefully create and perpetuate grievance as a means to keep their station. If anyone fits that mold to West and other black conservatives, it's the so-called Rev. Al Sharpton.
Sharpton, who has made a great deal of money on racial grievance, apparently has trouble with the tax man — again — which West addressed in the opening of the interview.
"If myself or any other black conservative owed $4 million to the IRS, I doubt we would be leading marches in D.C. or anywhere else in the country or have our own talk show" West said. "Absolutely, I'd be in jail."