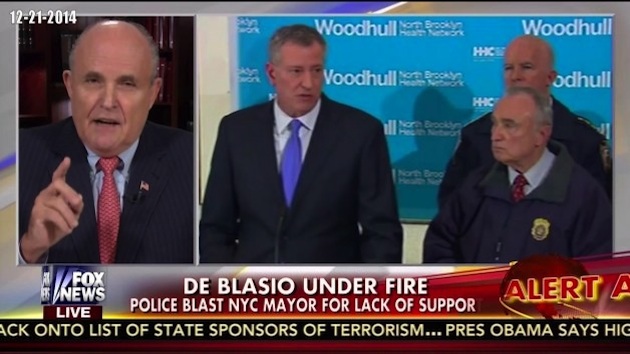 (Video H/T: RightSightings) Former New York City Mayor Rudy Giuliani joined Fox and Friends this morning to react to the execution style assassination of two NYPD officers Saturday. America's Mayor had few nice words for the current mayor of NYC, Mayor Bill de Blasio, who is taking enormous heat from the police unions.
NYPD officers sent a clear message by turning their backs on leftist Mayor de Blasio as he entered a Brooklyn hospital to pay his respects to two murdered officers — you're a mayor without a police force. The demonstration was captured by WPIX11 News, and even included the president of the Patrolmen's Benevolent Association, Patrick Lynch, and the Sergeants Benevolent Association, Ed Mullins.
Officers Rafael Ramos and Wenjian Liu were pronounced dead at Woodhull Hospital after 28-year-old Ismaaiyl Brinsley, shot and killed them execution style outside of the Tompkins Houses in Bedford-Stuyvesant around 3:00 P.M. ET Saturday as "revenge" for Eric Garner.