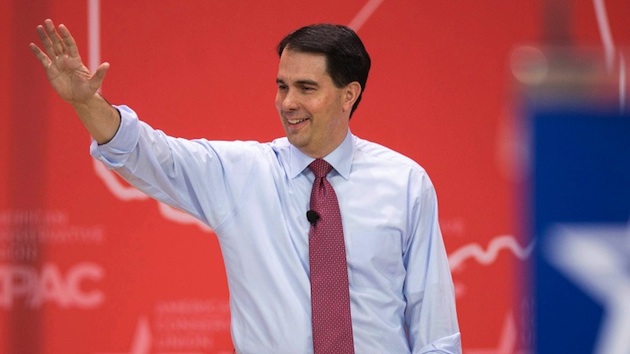 Wisconsin Gov. Scott Walker Thursday touted his experience taking on unions in his state, arguing he is prepared to take on challenges facing America. And the conservative activists in attendance ate it up, greeting him like a rock star outshining New Jersey Gov. Chris Christie, Dr. Ben Carson and Sen. Ted Cruz.
The likely Republican presidential contender made the comments — video below — on the first day of the Conservative Political Action Conference in National Harbor, Maryland.
The annual conference features more than a dozen potential Republican presidential contenders over three days hoping to win over conservative activists.
Asked how he would handle the Islamic State group if elected president, Walker said,
"For years I've been concerned about that threat, not just abroad but here on American soil," Walker said. "If I can take on 100,000 protesters, I can do the same across the world."
Walker is gearing up for a 2016 presidential contest in which foreign policy figures to play prominently. He also addressed the upcoming visit from Israeli Prime Minister Benjamin Netanyahu, who will speak to Congress next week.
"We need a leader who understands that when the Prime Minister and leader of our long-time ally asks to come to Congress to share his concerns about Iran, we should show him and his country our respect," Walker said. "We need to show the world, that in America you have no better ally and no greater enemy."
Walker's comments drew sharp reaction from defeated union leaders.
"It's disgusting that Gov. Walker would compare everyday heroes — educators — to international terrorists," said Betsy Kippers, a teacher and president of the Wisconsin Education Association Council.
Kippers and other union bosses will soon be forced to deal with right to work legislation, further degrading their long-time hold in a state where progressive labor got their start.
"Governor Scott Walker will sign legislation to make Wisconsin a "Right to Work" state, prohibiting employees from being forced to join a union against their will," the governor's camp told PPD Thursday. "It's the right thing to do for job creators and employees alike."