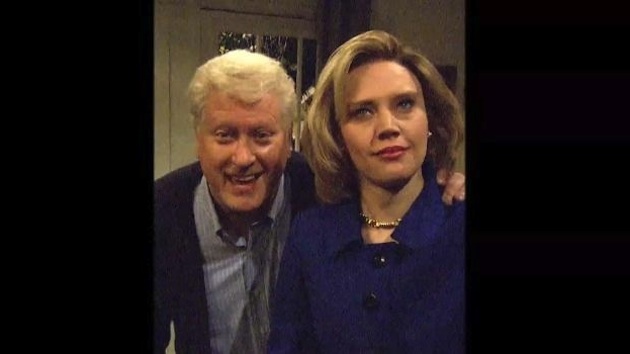 "Buckle up America, the Clintons are back!" was actress and comedian Kate McKinnon's closing message in a SNL spoof of Hillary Clinton's presidential announcement video.
The former Secretary of State and First Lady is expected to announce her candidacy for the 2016 presidency Sunday via social media. The anticipated announcement was spoofed by Saturday Night Live (SNL) during its cold open.
"Oh gosh I don't know if I have it in me. I'm scared," says McKinnon in portrayal of Clinton. "I'm kidding, let's do this."
The SNL spoof mocked the reputation of the Clintons for having adoring sycophants.
"You put the 'hil' in hilarious," the aide says.
McKinnon goes through a series of vocal warm-up exercises, saying "first female president, first female president, me, me, me, me, me me." Clinton then goes on to delete the bad takes off her phone.
"I know a thing or two about that right?" she joked in a clear reference to her deleted email scandal.
Enter Bill Clinton, who is played by show veteran Darrell Hammond.
"Hillary, isn't it crazy that phones can take videos now? If they could have done that in the 90s, (laughs) I'd be in jail," he quipped.