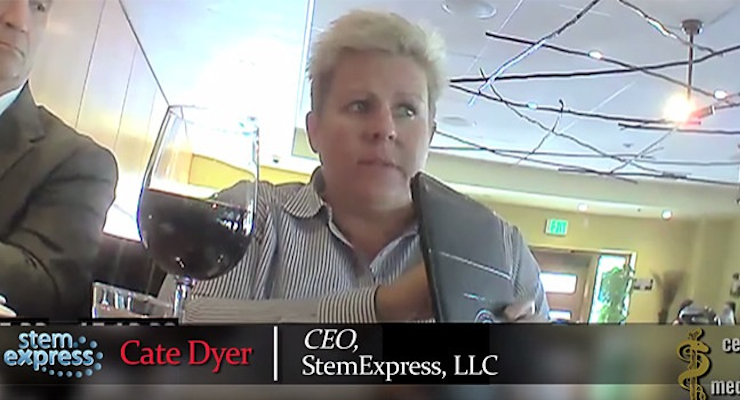 [brid video="13943″ player="1929″ title="StemExpress CEO Cate Dyer Admits to Buying "Intact" Baby Bodies From Planned Parenthood"]
StemExpress CEO Cate Dyer was caught in an undercover video admitting the biotech company buys "a lot" of "intact" baby bodies from Planned Parenthood. In the eighth video in an undercover series exposing the harvesting and sale of aborted baby body parts at Planned Parenthood, Dyer jokes about labs receiving packaged heads with the eyes open.
Dyer also laments that doctors at some PPFA facilities botch the abortion process to the point procurement is no longer possible, despite federal law prohibiting a physician from altering abortion procedures for the purposes of harvesting fetal tissue. –despite how "another 50 livers" wouldn't be enough to meet their demand.
"So many physicians are like, 'Oh I can totally procure tissue,' and they can't," Dyer said to the investigative journalists posing as potential buyers. When asked "What would make you happy?" she says "another 50 livers a week."
"We're working with almost like triple digit number clinics and we still need more," she says. "Planned Parenthood has volume, because they are a volume institution."
"StemExpress is the 'weakest link' that unravels Planned Parenthood's baby parts chain–they readily admit the profit-motive that Planned Parenthood and their proxies have in supplying aborted baby parts," notes David Daleiden, Project Lead for CMP. "Congress and law enforcement should immediately seize all fetal tissue files from StemExpress and all communications and contracts with Planned Parenthood. The evidence that Planned Parenthood profits from the sale of aborted baby parts is now overwhelming, and not one more dime of taxpayer money should go to their corrupt and fraudulent criminal enterprise."
StemExpress is a for-profit biotech supply company that–since its founding in 2010–partnered with roughly half of the Planned Parenthood clinics across the country to purchase human baby body parts. StemExpress' Medical Director, Dr. Ronald Berman, is an abortion doctor at Planned Parenthood Mar Monte, which has become quite the lucrative situation for him and the company. The Sacramento Business Journal reported in June that StemExpress has an annual revenue of $4.5 million.
In the video, StemExpress Vice President of Corporate Development, as well as Legal Affairs Kevin Cooksy and Procurement Manager Megan Barr, are discussing a potential partnership to supply extra fetal body parts to each other. The sale or purchase of human fetal tissue is a federal felony punishable by up to 10 years in prison or a fine of up to $500,000 (42 U.S.C. 289g-2).