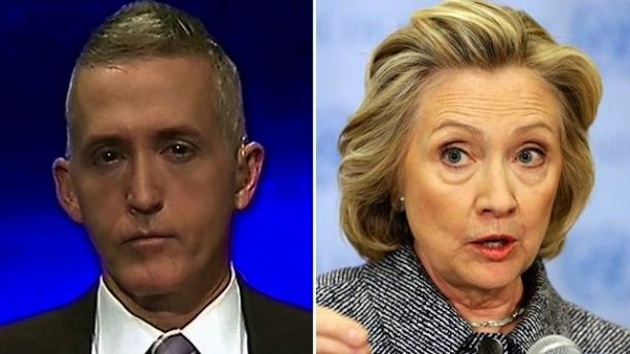 [brid video="18824″ player="1929″ title="Gowdy "It'd Be a Dereliction of Duty" If I Didn't Ask Hillary About Blumenthal Emails"]
Trey Gowdy, R-S.C., the Chairman of the House Select Committee on Benghazi, said "it'd be a dereliction of duty" if he didn't ask Hillary Clinton about her emails to and from Sidney Blumenthal. While appearing on "Meet the Press" with Chuck Todd on Sunday, Gowdy defended the amount of time he spent focusing on Blumenthal's role and influence on Mrs. Clinton, the former secretary of state and likely 2016 Democratic nominee.
CHUCK TODD, "MEET THE PRESS" MODERATOR:
Let me ask you, we did a little calculation here on the number of words that you used during the hearing. You said the word "Benghazi" 17 times, "Blumenthal" 35 times, "emails" 76 times. You have made a promise that you were keeping the focus on Benghazi. Do you feel as if you did as much or, you know, even some Republicans were wondering why you were going down the Sidney Blumenthal, what some call the rabbit hole.
REP. TREY GOWDY (R-SC): Well, I don't think it's a rabbit hole, Chuck, and I'll tell you why. I mean, I respect the fact that other people have different perspectives. But to me, those are not Sidney Blumenthal's emails. They are Secretary Clinton's emails to or from Sidney Blumenthal. And every one of them relates to Libya and Benghazi.
So I'm not reading Blumenthal emails about bridesmaids dresses or wedding plans or yoga. These are all about Libya and Benghazi. And to the extent that he was one of the more prolific emailers to her on the subject matter, how do you not ask? How does this person who has no formal role in government and no expertise in Libya or Benghazi, how does he have unfettered access to you, but the ambassador, there is not a single email to or from him? So I get that people want to refer to these as Sidney Blumenthal emails. They're Hillary Clinton emails that she received from him. And frankly, I think it'd be a dereliction of duty if you didn't ask about them.
TODD: Well, nobody is questioning whether to ask about them. I think it was the amount of time spent on it. It seemed like a larger portion of time was spent on that. For instance, I didn't hear as many questions that I expected to hear on the Libya policy in general. You know, the vacuum that was left that ultimately created the security situation that we had in Benghazi that led to the death of four Americans.
GOWDY: I think Peter Roskam and Mike Pompeo both ask, maybe all of their series of questions on the tick tock memo and I remember Susan Brooks having a stack of emails in 2011 versus 2012. And 2011, there was a heightened interest in Libya and Benghazi, in 2012, it appeared to dissipate at least according to the emails.
So, I mean, Chuck, as you know, but when you go into hearings, each of the seven members has his or her own lane. That's what they're going to ask on. And I do think it is relevant on two different levels. Whether or not his emails were solicited or unsolicited, you could certainly argue is irrelevant. But she said they were unsolicited. And I do think credibility is always relevant. If they were truly unsolicited, then she wouldn't have changed her testimony on Thursday.