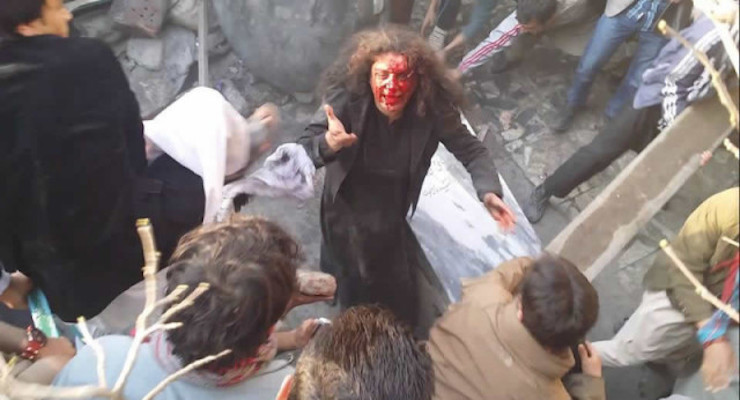 Video footage taken from various cellphones show the beating and burning of an innocent Afghan woman accused of burning the so-called Holy Quran. The New York Times video exposing the unjust, barbaric murder of Farkhunda Malikzada, a 27-year-old aspiring student of Islam, is just the latest evidence against the bogus moderate Muslim myth.
Worth noting, a few days later the religious authorities declared that she did not commit the alleged crime. Worse still, according to The New York Times, men using their male-dominant advantage given to them by Islam, killed Malikzada to cover up what they had done, themselves.
"Unlike so many abuses against Afghan women that unfold in private, this killing in March prompted a national outcry," the report said. "For Farkhunda had not burned a Quran. Instead, an investigation found, she had confronted men who were themselves dishonoring the shrine by trafficking in amulets and, more clandestinely, Viagra and condoms."
Another video obtained by PPD just a few weeks ago shows another Afghan woman being stoned to death in a brutal honor killing. In Afghanistan, a central front in the U.S. War on Terror, stoning has been declared illegal. However, it is practiced extrajudicially–clearly openly–and according to Sharia, or Islamic law. Rajm (stoning) is described as punishment in multiple hadiths–-Shi'a sayings can be found in Kitab al-Kafi, while Sunni sayings can be found in the Sahih Bukhari and Sahih Muslim-–but the method in the video is telling.
Farkhunda was also burned, as was the case with the Jordanian pilot captured, held and ultimately executed by the Islamic State (ISIS), because she is considered a believer and a traitor. That's the prescription for traitors in Islamic Law, whether it offends our sensibilities or the boundaries of political correctness, or not.
For those of you still willing to turn a blind eye or believe the crowd isn't representative of most Muslims in the Middle East, think again. In Afghanistan, 99% of Muslims support Sharia being the law of the land over secular law. In America, roughly 54% of Muslims in the U.S. agree, and would toss the Constitution in the garbage, where Farkhunda pleaded she found the Holy Quran. Here's how the rest of the Middle East stacks up:

"The numbers are right here for all to see. It's time for an honest conversation about one of the most important issues of our time," Raheel Raza, a female Sunni Muslim and true human rights advocate recently said. "By silencing the debate about radical Islamists' beliefs we abandon our own core beliefs of truth, free speech and tolerance. And we abandon human rights in favor of political correctness. Together we have begun the conversation. Now it's time for you to have your say."
Join the Conversation. It is, indeed, time for you to have your say.