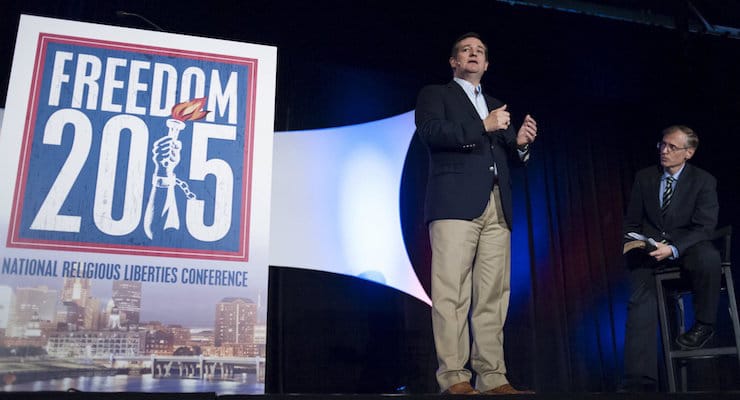 Wait, Didn't Ted Cruz Criticize Donald Trump for Hate Speech?
UPDATE: Twitter has removed this embedded in-tweet video because it is hate speech. What does that tell you? Anyway, the pastor's rantings are below.
Only minutes before he introduced Texas Sen. Ted Cruz at an event, Pastor Kevin Swanson advocated America adopt the death penalty for gays in a newly surfaced video. The footage was taken at the National Religious Liberties Conference in Des Moines on Nov. 6., but only recently found it's way online.
"Yes, Romans Chapter 1 verse 32 the Apostle Paul does says that homosexuals are worthy of death. His words not mine," Swanson screams. "And I am not ashamed of the Gospel of Jesus Christ! And I am not ashamed of the truth of the word of God. And I am willing to go to jail…"
Pastor Swanson, who also hosts a talk show on Generations Radio, acknowledged that he had been told he should choose his words carefully with presidential candidates attending the event, but decided against what appears to be disturbing discretion within some rightwing circles. He added that the time for the final solution to America's gay population problem was "not yet" upon us, though he does not fear speaking The Gospel, which of course means The Good News.
According to Swanson, Christians who hold his view (not too many) will have to wait for the nation to embrace the tenets of the one true religion, and gay people must be allowed to repent and convert. Ironically, that sounds a whole lot more like Islam and radical Islam than the Word of Christ.
[brid video="30223″ player="2077″ title="RWW News Kevin Swanson Says The Bible Requires The Death Penalty For Homosexuality"]
The event was organized by Swanson, himself. It hosted featured speakers to include Cruz's father, Pastor Raphael Cruz, and Bob Vander Plaats, an Iowa political king-maker who granted the "Most Wanted Endorsement of 2016″ (according to Conservative Review) to… you got–Ted Cruz.
The alleged man of God also dedicated an entire radio show just last week to condemning the Girl Scouts for supporting women's and LGBT rights, saying that the group's leaders are worthy of death. Whether Christians support homosexuality or not, it is certainly a fringe believe held and promoted by Swanson, though the media will no doubt portray it as mainstream when presidential candidates are in attendance.
If Sen. Cruz does become the nominee, we're going to assume this will become somewhat of a problem.
[brid video="30224″ player="2077″ title="RWW News Kevin Swanson No Death Penalty For Gays … Until They Have Time To Repent"]