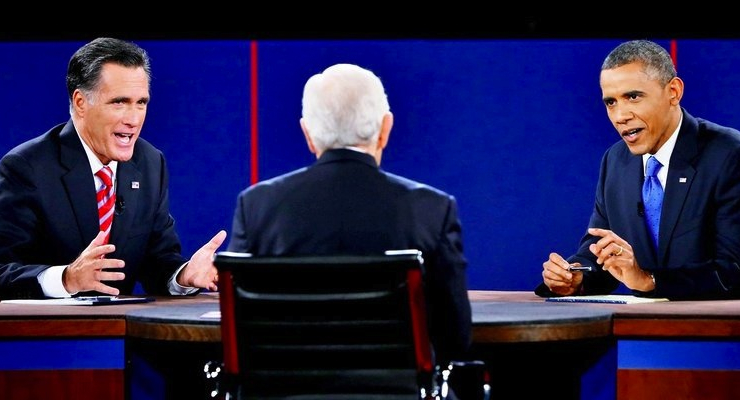 NYT Editorial Board Chief Andy Rosenthal Owes Gov. Romney, the Nation and Their Readers an Apology
Like it or not, Russian military operations in Syria this week served to vindicate Mitt Romney, the former governor of Massachusetts and 2012 Republican nominee. Romney was chastised by President Obama and The New York Times Editorial Board for calling Russia America's "No. 1 geopolitical foe," both of whom exposed their ignorance to basic international relations theory by citing a non-state actor (al-Qaeda) as an example of a far greater "geopolitical" adversary.
"Gov. Romney, I'm glad you recognize al-Qaeda is a threat, because a few months ago when you were asked what is the biggest geopolitical group facing America, you said Russia—not al-Qaeda," Obama said during the third and final 2012 presidential debate. "And the 1980's are now calling to ask for their foreign policy back—because the Cold War has been over for 20 years."
While it may have given the president's supporters–including his cheerleaders at the New York Times Editorial Board–a good chuckle at the time, nobody is laughing now. Exposed now are the faux intelligentsia who naively or ignorantly viewed Russia as a partner in a post-Cold War, post-Bush world order in which U.S. supremacy is no longer needed to stabilize what is and always will be the international state of anarchy.
"Two decades after the end of the cold war, Mitt Romney still considers Russia to be America's 'No. 1 geopolitical foe,'" wrote The New York Times Editorial Board headed up by Andrew Rosenthal. "His comments display either a shocking lack of knowledge about international affairs or just craven politics. Either way, they are reckless and unworthy of a major presidential contender."
Exposed indeed. A version of that editorial also appeared in print on March 29, 2012, on page A26 with the headline: The Never-Ending Cold War. It should've appeared with the headline: The Never-Ending War on Reality; or, The Never-Ending Pitcher of Kool-Aid.
The New York Times Editorial Board owes Gov. Romney, the country and their readers an apology. They're not members of the nation's intelligentsia, they're pretentious half-witted political hacks masquerading as intellectual elites. They carry the Democratic Party's water and ignore decades of proven foreign policy scholarship. Gov. Romney, juxtaposed to Andy Rosenthal & Co., didn't ignore the lessons and warnings from Mr. George Kennan, the architect of America's wildly successful policy of containment toward the Soviet Union.
Kennan, who joined the State Department in 1926 and was U.S. Ambassador to Moscow in 1952, authored what came to be known as the Long Telegram, or X Article. Formally titled The Sources of Soviet Conduct, Kennan, then-Deputy Chief of Mission of the United States to the USSR, correctly argued the nationalistic Russian nation-state was "impervious to the logic of reason," not to be confused with rational behavior, but "highly sensitive to the logic of force."
Worth noting, Kennan also warned that Russia would use sympathetic and controllable left-wingers in the U.S. and other capitalist nations as allies in their struggle. They view the likes of Andy Rosenthal & Co., who they see as an even worse group than the proponents of freedom, as feeble-minded and weak-willed "useful idiots," to borrow the term used by Vladimir Lenin. And in that group sits President Obama, whom Putin played liked a fiddle. Make no mistake, Putin and his generals were clanking the shot glasses of vodka the night after his speech in front of the U.N. General Assembly, toasting Obama as a man completely out of his depth on foreign affairs.
In the academic world, it is a rare phenomena indeed when the real world lines up with theory. But in the field of security studies and foreign policy that truly is the case, though you would never know it reading The New York Times or listening to other proponents of the debunked, disproven and failed theories of liberal internationalism. In the real world, absent propaganda from useful idiots like Rosenthal, there is no supplanting realpolitik with non-existent international norms and paper tiger institutions that lack the teeth needed to bite unruly nation-state actors. As Jack Levy put it in War in the Modern Great Power System, there is no "government over governments."
While there remains a legitimate debate among top foreign policy scholars between proponents of the various schools of realism, there is no empirical support for the democratic peace theory or leftwing theories of global cooperation. That simply isn't how the world works. Great powers blackmail, bait and bleed, bandwagon, balance and buck pass, all with the end of either survival or regional hegemony. That is, depending to which school (offensive or defensive) of realism you might legitimately subscribe. The pursuit of power is simply a means to either end.
"There are real threats out there: Al Qaeda and its imitators, Iran, North Korea, economic stresses," The New York Times Editorial Board hacks also wrote. "Mr. Romney owes Americans a discussion of the real challenges facing this country and his solutions to them."
We submit the American people are owed an honest and intellectual discussion of the issues during election cycles, whether on the presidential or local level. We believe, unlike pretentious elitists like Mr. Rosenthal, Americans are capable of participating in that intellectual discussion if they seek out or are given accurate information. Readers who feel they deserve one, as well, should vote with their wallet and allow the long-failing New York Times to finally fail.