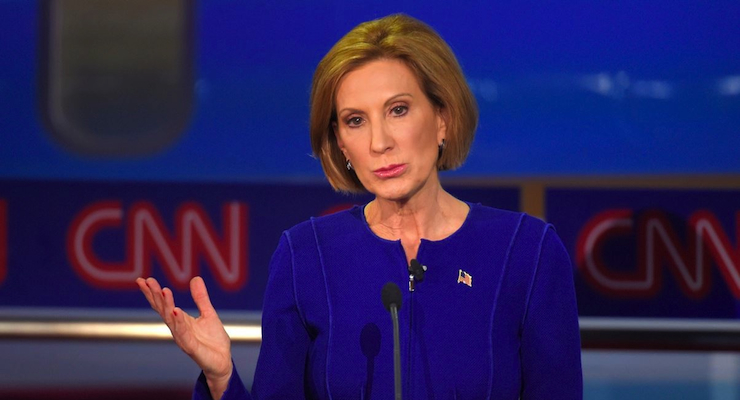 Following what was an impressive performance at the second Republican debate hosted by CNN, former Hewlitt-Packard CEO Carly Fiorina has caught the attention of network and cable news mediates and pundits. More importantly, for any presidential hopeful, Fiorina has caught the attention of Republican primary voters looking for an alternative to the party establishment and status quo, as well.
In the first three post-debate polls–Morning Consult, CBS/NYT and CNN/Opinion Research–Fiorina saw a +7, +4 and +12 rise in support, respectively. In the PPD Post Republican Debate Poll, Fiorina gained the most in terms of support and second-most in terms of likability, though there was a bit of danger for her buried inside the numbers.
"Despite Fiorina having an overall great night," noted PPD's senior political analyst Richard D. Baris, "she exposed a not-so likable side of herself in a few of the exchanges that didn't sit too well with some of the panelists."
However, having a stoic or even hardened personality isn't the primary reason Republican primary voters should proceed with extreme caution as it relates to Carly Fiorina. While we are extremely impressed with her personal story, which includes starting her career as a secretary and ending it as the first woman to lead a Fortune 50 business, the idea that GOP voters looking for a conservative outsider should support her campaign with this cycle's field of candidates, is an oxymoron.
Further, if voters who are otherwise inclined to support Donald Trump are looking for an alternative outsider, as the media have painted Fiorina to be, they would be sadly mistaken.Why? Because Carly Fiorina is neither a conservative nor an outsider, by any wild stretch of the imagination. And, while Donald Trump's conservatism can be honestly challenged and debated, Fiorina's history as an establishment candidate and long-history as an establishment go-to spokesperson, cannot be debate.
Let's take a trip down memory lane, shall we?
In 2010, Carly Fiorina also ran for U.S. Senate in California as a political outsider and made her very debatable career at HP a centerpiece of her campaign. In reality, Chuck DeVore was the grassroots outsider with all the big-name conservative support (save for Sarah Palin, see more on that debacle here), while Fiorina landed the coveted endorsements of Sen. John McCain, R-Ariz., Sen. Lindsey Graham, R-S.C., and the rest of the establishment-riddled National Republican Senatorial Committee.
Though most remember Fiorina won the party nomination, they obviously forget that she was trailing as late as May. She defeated DeVore and former Rep. Tom Campbell by playing the gender card on the former and accusing (unjustly) the latter of being anti-Semitic (oh, and a demon-sheep, no kidding). For a party that claims to despise the politics of race, identity and class, they sure seem quick to warm up to a candidate who repeatedly checks off two out of three.
Worth noting, her support from Sen. McCain conveniently followed her not-so outsider support for Sen. McCain during his failed bid for the presidency. Speaking of which, in a recently resurfaced video from 2008–that will undoubtedly be recycled if she is the GOP nominee–Fiorina felt compelled to admit she had "such great admiration and empathy for Hillary Clinton."
That's all well and good, but she said so simply because she is a woman and, further, took a Democrat-like offense to the attacks on Hillary, which she contributed to her simply being a woman.
In 2009, Fiorina told reporters that she agreed with the confirmation of now Supreme Court Justice Sonia Sotomayor, and that she "does not believe in litmus tests" for judges appointed on the high court. That puts her at odds with all but seven Republican senators who had voted against Sotomayor's confirmation, and inline with Sen. Graham. In 2010, Erick Erickson of Red State criticized Fiorina for what he called her "liberal views," including but not limited to her support for Justice Sotomayor:
From her praise of Jesse Jackson, to her playing the race and gender cards against DeVore, to her support for the Wall Street bailouts, to her qualified support for the Obama stimulus, to her past support for taxation of sales on the Internet, to her waffling on immigration, to her support for Sonia Sotomayor, to her Master's thesis advocating greater federal control of local education, to her past support for weakening California's Proposition 13, to her statement to the San Francisco Chronicle editorial board that Roe v. Wade is "a decided issue," Carly Fiorina's oft-repeated claim to be a "lifelong conservative" was only plausible in the universe of NRSC staffers who recruited her in the first place.
Fioria also said Kentucky clerk Kim Davis should resign if refused to issue "gay marriage" licenses, though purports to be pro-traditional marriage; supported federal funding of embryonic stem-cell research for "extra" embyros, though now rails against Planned Parenthood using sensationalized, pre-planned talking points to get a break out moment on the debate stage; agreed with the politically-motivated indictment of six Baltimore police officers, though claims to be pro-police; supported the California Dream ACT, though now claims we must secure the border first; and supported the business potential-killing cap-and-trade bill, though now repeatedly says a leader's primary job is to "unlock the potential in others" and laments how we are destroying more small businesses each year than we are creating for the first time in U.S. history.
And on, and on, and on. Shall we continue? Don't worry, we will. But, at least for now, these are the top reasons why Carly Fiorina is neither an outsider, nor a conservative.