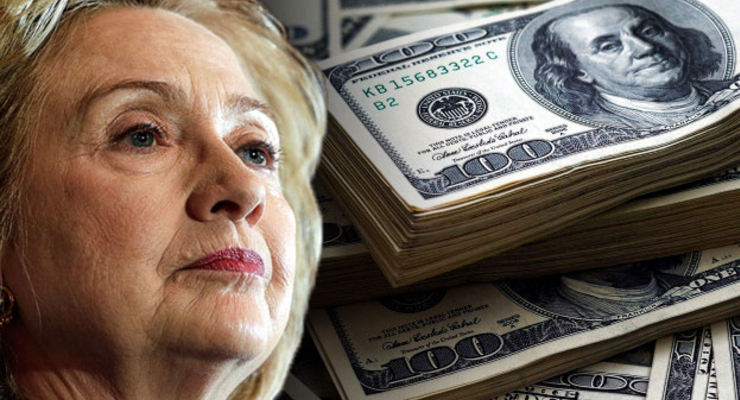 The 2016 presidential election has been an election of "firsts." The first female nominee of a major political party; perhaps the first female president; the first time a non-politician dispatched a record number of professional political candidates to win a major party nomination; and, the first time a Republican candidate ever received more than 13 million votes during a presidential primary.
Unfortunately, if elected in November, Hillary Clinton would be America's first illegitimate President of the United States. She will be the chief executive of a government stained by a crisis of credibility and it will most likely plunge the country into a period of civil turmoil she is wholly incapable of reversing. In an election of firsts, we make this first of a kind statement not with a vindictive intention to incite unrest but rather with a hope to avoid it.
This has been the first presidential election cycle in which Big Media finally dropped the false pretenses and phony claim to impartiality. Whether Donald Trump wins or loses, like the Old Guard in the Great Opportunity Party (GOP), their days are numbered.
Knowing what we know now, the election of Mrs. Clinton would fundamentally break the American social contract and put into question the very credibility of the U.S. government as a representative body of, by, and for the people.
The American social contract is predicated on equitable treatment under the law and, perhaps even more importantly, at least a minimal confidence in representative government. The vast majority of the citizenry must believe that the process of choosing who represents them in this government is fair. However, roughly half of Donald Trump's supporters not only believe the entire process is rigged, but will not except the outcome the powers that be have worked so hard to achieve.
In truth, people have felt the system is rigged against them for quite sometime and with good reason. Whether we agree with his tactics or not, Donald Trump has done this country a great service by exposing what many already knew to be the truth.
"Should Hillary get 'elected' she is immediately delegitimized," California RNC Committeeman Shawn Steel told the propaganda magazine Politico for a story meant to mock those with enough independent thought to see what is going on. "The 1% of Wall Street Bankers, Clinton Machine and [mainstream media] including your employer, Politico, is part of a massive Left Wing Conspiracy to rig this election."
For the first time ever, millions of Americans have a legitimate claim. Their grievance that the government and Big Media have been so corrupted that the system no longer works for them is viable–the system is rigged. We now know that Mrs. Clinton is being protected by what is unquestionably a totally corrupt Fourth Estate, which our founding fathers viewed to be the only viable alternative to revolution and civil war.
"[A despotic] government always [keeps] a kind of standing army of newswriters who, without any regard to truth or to what should be like truth, [invent] and put into the papers whatever might serve the ministers," Thomas Jefferson wrote in 1785 to Gijsbert Karel van Hogendorp, a conservative Dutch statesman. "This suffices with the mass of the people who have no means of distinguishing the false from the true paragraphs of a newspaper."
The election of Hillary Clinton would prove that Americans–albeit uninformed and misguided by a corrupt press–have opted to submit to what Marcus Tullius Cicero called "tyranny by popular support." But we fear greatly for such a future not only because of the realities of tyranny–whether by force or popular support–but because we recognize the true national identity still runs strong enough within the fiber of American society that millions will not stand idle in the face of it.
"This formidable censor of the public functionaries, by arraigning them at the tribunal of public opinion, produces reform peaceably, which must otherwise be done by revolution," Jefferson wrote to Adamantios Coray in 1823.
We now know that Hillary Clinton mishandled classified information in a manner that would result in any other American being prosecuted, potentially incarcerated and certainly prohibited from ever obtaining federal employment ever again, let alone hold a security clearance.
We now know that Hillary Clinton repeatedly lied to the American public, and repeatedly revised those lies with evolving lies regarding her grossly incompetent and reckless use of a private email server to conduct official State Department business.
We now know that Hillary Clinton designed and pushed a secret war in Libya that was not authorized by Congress. We now know she waged this secret war against a compliant ally in the War on Terror and, after he was toppled, allowed State Department officials and CIA contractors to remain in harm's way without adequate security, despite multiple requests, which resulted in the deaths of four Americans.
We now know that Hillary Clinton knowingly lied about the cause and circumstance of their deaths to protect her own political future. Rather than exposing those lies, Big Media at every turn helped to cover them up, even aiding in her shameful display during congressional hearings in which she flatly perjured herself.
How could the U.S. military faithfully serve such a leader with honor? They couldn't. How could they trust she would hold their best interests at heart? They couldn't. Of those we've spoken with, on both accounts they simply don't.
How far we've fallen from our beginning. George Washington was unanimously chosen to serve as the executive in a new national experiment in self-governance. Perhaps no leader in the history of representative governments ever enjoyed more legitimacy and credibility. Yet, Washington knew better, which is why he refused another term in office and retired with grace to Mount Vernon.
Hillary Clinton is no George Washington. She is the opposite in legitimacy and virtue.
We now know, thanks only to undercover videos taken by independent journalists, that the Clinton campaign coordinated with and funded groups that paid activists to incite violence at Trump rallies and conduct massive voter fraud operations. Again, even in the face of video evidence, the corrupt Big Media refuse to show the American people the truth.
It leads us only to one natural, simple conclusion.
Under President Hillary Clinton, America would become no better than Vladimir Putin's Russia, with power going to the highest bidder and one's status dependent on one's relationship with the queen. For million of Americans not in the good graces of the queen, a President Hillary Clinton will serve only as proof We the People are no longer in charge of our own government.
But for now we still are, America. And Donald Trump is right. It's time to drain the swamp.