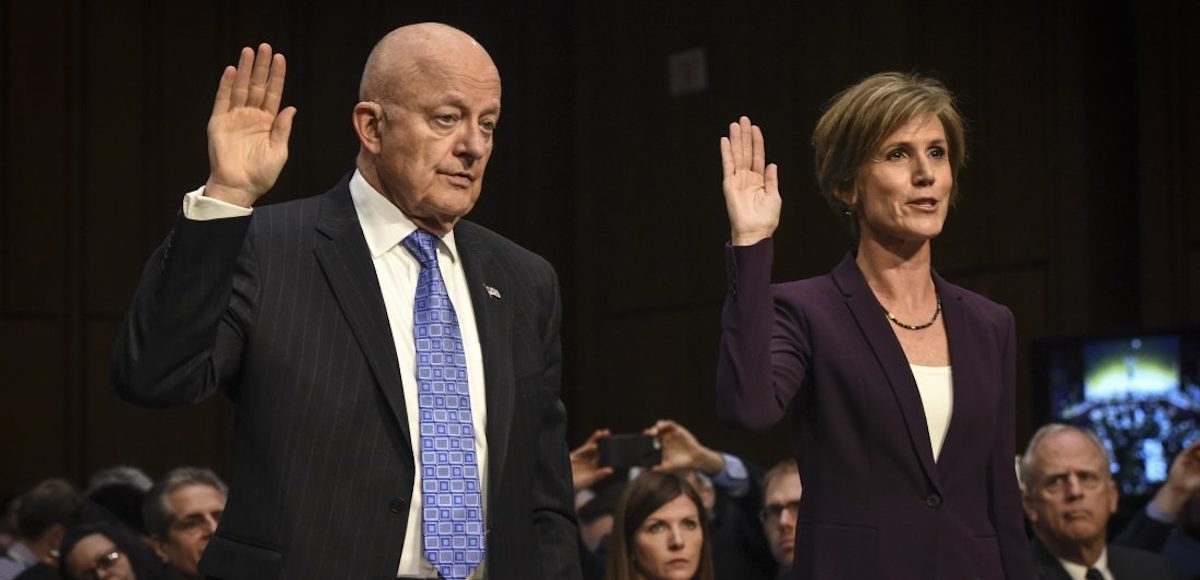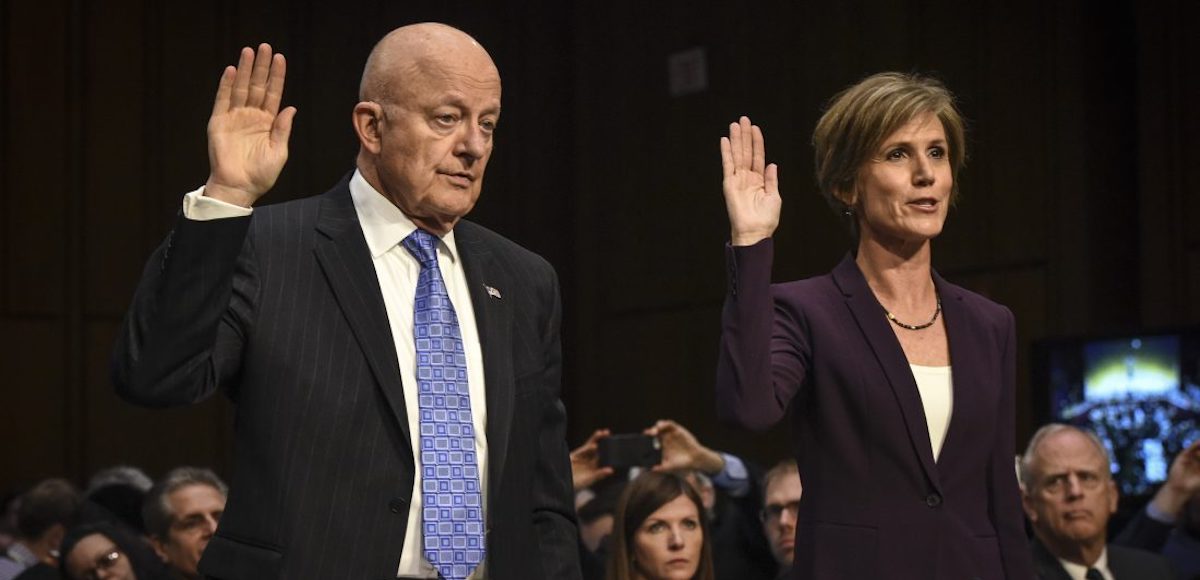 On Monday, James R. Clapper, the former Director of National Intelligence, and former acting attorney general Sally Yates testified at the Senate Judiciary Subcommittee on Crime and Terrorism.
It was a circus, a sideshow.
The House and Senate investigations into Russia meddling in the 2016 presidential election have officially become a total charade. In a very short time, it has done enormous damage to the nation and lawmakers should leave all further inquiries to the professionals at the Federal Bureau of Investigation (FBI).
Military-industrial complex Republicans are shamefully using it as a false Crisis and Leviathan to gin up support for making an already out-of-control surveillance state even more dangerous to U.S. citizens. Worse still, Democrats have failed to prove their grossly premature and outrageous claim there was collusion between President Donald Trump and Russian officials.
Sen. Sheldon Whitehouse, D-R.I., should be ashamed of charges he leveled against Roger Stone and others during his opening statement. There is something fundamentally anti-American about cowardly hiding behind Senate slander protections and trashing U.S. citizens who you won't even permit to face their accusers at a hearing.
As has been established, this claim Stone suspiciously predicted hacks and documents dumps is flimsy, irresponsible and beneath the history of the upper chamber.
The only crimes discussed during the Senate hearing were the illegal leaks of classified information to The Washington Post, and what is increasingly likely to be unlawful unmasking of U.S. citizens caught up in shady surveillance. Recent revelations that the Obama Administration may have used the cover of legitimate surveillance to spy on political opponents is an affront to the Fourth Amendment.
Yet, the person we know has knowledge of at least one of these crimes, Susan Rice, refused to appear before the subcommittee.
Americans would never know it from the media coverage, but the major headlines out of the hearing came from Mr. Clapper. America's former top spy who headed up the probe ordered by Barack Obama stood by his previous assessment that there is no evidence of collusion between President Trump and Russia during the 2016 presidential election.
If there's evidence, we want to see it. There's isn't any, which is why Sen. Dianne Feinstein, D-Calif., and Sen. John Cornyn, R-Texas, did not even bother to bring it up. They also sit on the Senate Intelligence Committee and have access to raw data, which he said helps to fill in the gaps, but what he really means is that it exposes
Feinstein admitted as recent as last week that the story is a fiction.
But Democrats just want us to forget their delusional allegations of treason and calls for impeachment over something that never happened. At this point, they are just throwing $h!t at the wall to see if it sticks.
Think about how crazy this is, America. This truly fake news story started with Democrats alleging the Russians "hacked the election," which they did not. At what point do we say they are no longer permitted to write and rewrite history? What will Democrats and the corrupt corporate media do with this hate and division that they have sown during their twisted search of facts to support their premature conclusions?
With the "collusion" claim blowing up in their face, Democrats are now trying to pivot to Lt. Gen. Michael Flynn misleading Vice President Mike Pence over his call with a Russian ambassador. Flynn, who was cleared by the FBI on this matter, is completely irrelevent to the current discussion. He's been fired, ousted, run out of town.
Yates pretended for hours at the hearing that her main concern was whether Mr. Flynn had been truthful to Mr. Pence.
Is anyone really that stupid to think Pence's ignorance was her top concern? Yates is an Obama loyalist who has the dubious distinction of being the first attorney general or acting AG ever to be fired for overruling the Office of Legal Counsel at the Department of Justice (DoJ). She didn't refuse to defend the President's executive order out of principle.
She's a partisan hack. Nothing more, nothing less.
This nation has become so paralyzed by politics we are now incapable of addressing any serious issue in the public forum in a bipartisan manner. Russia has long tried to interfere with U.S. elections and we have long done the same to them. Mr. Clapper was right to suggest the U.S. treat it's electoral system as "critical infrastructure," but that will never happen.
Ironically, Democrats have given Vladimir Putin exactly what he wanted.
Rival nation states seek to destabilize the domestic politics of their rivals and call into question the credibility of the regime.
To that end: Well done, Mr. Putin.