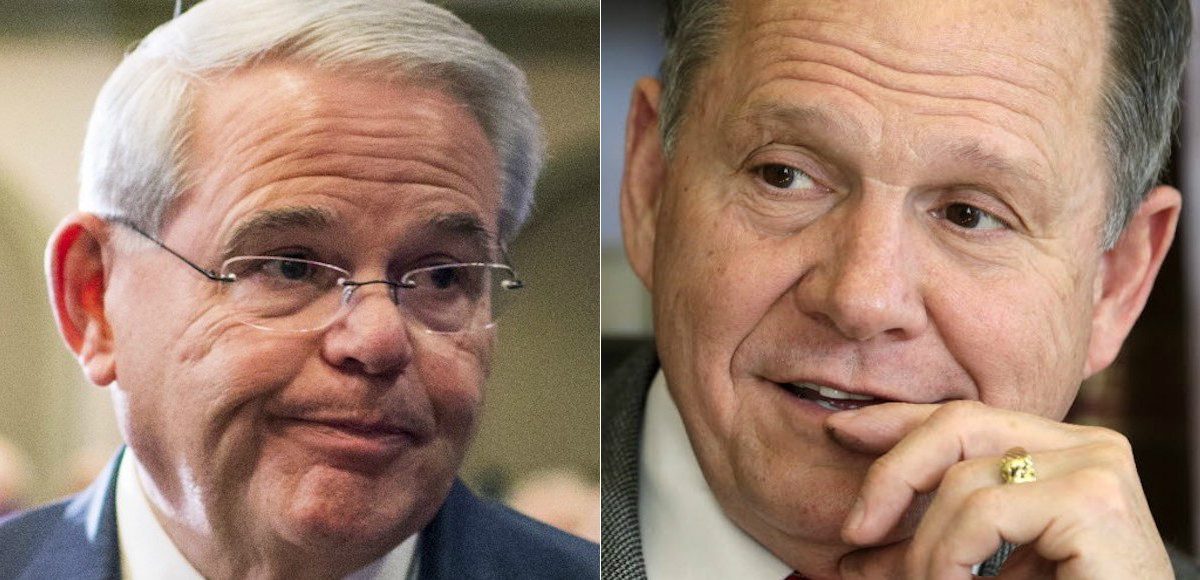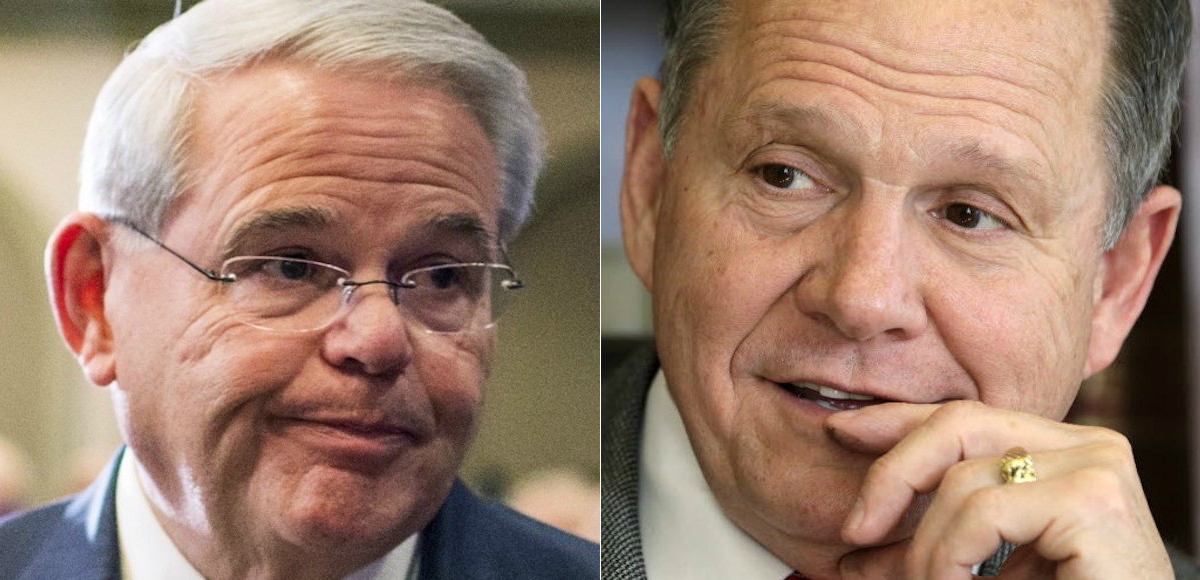 Roy Moore, the Republican candidate for U.S. Senate in Alabama, is vehemently denying allegations he made sexual advances to underage teenage girls four decades ago. The Washington Post ran a story citing on-the-record interviews with four women who claim that when they were teenagers Judge Moore — in his 30s at the time — attempted to court or date them.
While three of the women were above the age of consent, one claims she was 14. The other women, who the Post added in an attempt to add validity to the more damaging accusation, did not claim inappropriate sexual conduct.
The judge's supporters called the report a smear, published by a paper who endorsed his opponent and at a time conveniently coinciding with the deadline to replace him on the ballot. They pointed to the complete media blackout on coverage of New Jersey Democratic Senator Bob Menendez, who is awaiting a jury verdict in his corruption trial.
The criticism of the media blackout surrounding Senator Menendez is valid and, in truth, the two examples aren't comparable. For Senator Menendez, the Justice Department (DOJ) said they have corroborated the "serious and specific allegations involving child prostitution." That is not even close to being the case for Judge Moore.
Nevertheless, neither should be forced to resign until and unless there is overwhelming evidence and/or a conviction. If DOJ has "corroborated" those "serious and specific allegations," then why have they only charged him with bribery and corruption? In America, we have legal protections against those who bear false witness and we must never give it up.
Mitt Romney and John McCain, two failed GOP nominees who represent a wing of the party desperately trying to hold power, disagree.
Innocent until proven guilty is for criminal convictions, not elections. I believe Leigh Corfman. Her account is too serious to ignore. Moore is unfit for office and should step aside.

— Mitt Romney (@MittRomney) November 10, 2017
Senator McCain released a statement saying "the allegations against Roy Moore are deeply disturbing and disqualifying. He should immediately step aside and allow the people of Alabama to elect a candidate they can be proud of."
By their own logic, both Mr. Romney and Senator McCain should've made the decision to "step aside."
Murder is also an allegation "too serious to ignore."
Mr. Romney was accused of killing a man's cancer-diagnosed wife when his "Vampire Capitalist" firm Bain Capital took away her health insurance. According to The Washington Post, the very liberal outfit who ran the sexual allegations against Judge Moore, he was also a gay-basher decades ago and tortured poor, helpless dogs.
Corruption and extramarital affairs are also "deeply disturbing."
Media reports accused Senator McCain and a lobbyist of cheating on his wife, who reportedly runs a charity "plagued by scandal and corruption." So, why didn't he "step aside" and let Dr. Kelli Ward run in 2016?
From Hollywood to the halls of Washington D.C., an avalanche of sex-related allegations have dominated the headlines over the last few weeks. They're followed by a cascading number of public figures condemning and convicting the accused in the court of public opinion.
Some reactions, like those to the allegations surrounding Harvey Weinstein, are justified and backed by overwhelmingly evidence. Some reactions, like those in response to the accusations against Judge Moore, are dangerous.
We've noticed a disturbing pattern that demonstrates an increasing, blatant disregard for due process. If we allow this dangerous trend to continue, a simple salacious allegation will be enough to destroy anyone, anywhere, at anytime regardless of whether that allegation is true — including public figures.
No matter the target — whether they're a Democrat or a Republican — we should not and cannot allow political correctness and cowardice to replace the presumption of innocence. Putting aside longstanding U.S. tradition, the consequences to our civil society, the quality of our government and our way of life will be devastating.
The Fifth Amendment demands no State "deprive any person of life, liberty, or property, without due process of law; nor deny to any person within its jurisdiction the equal protection of the laws." The Fourteenth Amendment demands "no person shall be held to answer for a capital, or otherwise infamous crime, unless on a presentment or indictment of a Grand Jury, except in cases" of military jurisdiction and national security.
While these amendments apply to the State, not Big Media, Cicero said a society's laws are a reflection of its values. The presumption of innocence is apparently no longer valued by a frightening number of people. It's easy to dismiss the importance of bedrock principles when you're not the generation who fought and died to establish and preserve them.
That's not to say we shouldn't take accusations seriously, but especially as it relates to criminal allegations, Blackstone's formulation has always been an American value.
It is better that ten guilty persons escape than that one innocent suffer. — English jurist William Blackstone, Commentaries on the Laws of England

It is better 100 guilty Persons should escape than that one innocent Person should suffer. — Benjamin Franklin, Letter to Benjamin Vaughan

It is more important that innocence should be protected, than it is, that guilt be punished. — John Adams, Prepared Arguments in the Boston Massacre
Those are the values of those who value freedom and free, self-governing societies. Historically, authoritarians — like our Big Media and political establishments — use emotion and sensation in an effort to trick you into abandoning those values.
Otto Van Bismark, the pre-World War I German leader who believed a nation should be ruled by terror, is widely credited as saying "it is better that ten innocent men suffer than one guilty man escape." Pol Pot, the murderous leader of the communist Khmer Rouge, said it was better "to arrest ten innocent people by mistake than free a single guilty party."
Former Vice President Dick Cheney — GOP Establishment hero and ally of Mr. Romney and Senator McCain — had more in common with Pol Pot than our founding fathers. When asked about findings suggesting that 25% of those subjected to enhanced interrogation were innocent, he couldn't have cared less.
"I'm more concerned with bad guys who got out and released than I am with a few that in fact were innocent," Mr. Cheney responded. "I have no problem as long as we achieve our objective."
"I'd do it again in a minute."
If we give political establishments and Big Media a permit for character assassination and declare it open season, no decent man or woman will subject themselves or their families to this filthy game called politics. Indeed, there already is a chilling effect that has largely left us with the bought-and-paid-for dirtbags who have a corrupt, incestuous relationship with Big Media.
Unfortunately, our experience has taught us that good, honest people are the more frequent targets of smear and character assassination campaigns. Big Media and political establishments don't target their friends and allies, they target those who threaten the corrupt status quo.
And it'll only get worse.
Anyone, at anytime, can and will be destroyed. Is that the path we really want to take, the government we want to leave to our children and grandchildren?
From the Editor
People's Pundit Daily (PPD) was made aware of similiar (if not the same) allegations by allies of Majority Leader Mitch McConnell, R-Kty., shortly before and after Judge Roy Moore defeated his preferred candidate Luther Strange in the primary runoff. We were told the allegations were decades old and there would be no evidence to substantiate them.
Being that it was impossible to substantiate the allegations, we decided it would not be responsible to pursue the story.