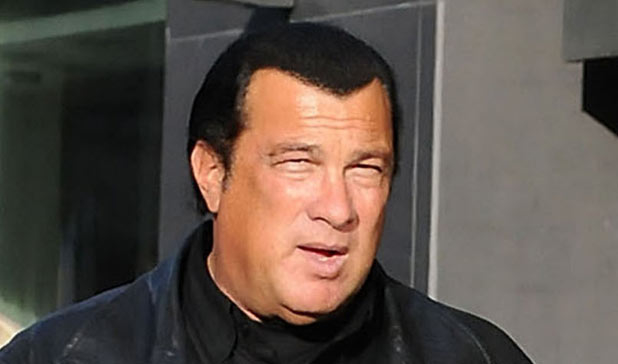 Speaking on the "Tonight Show," Senator John McCain says he likes the idea of action star Steven Seagal running for governor of Arizona in 2014.
The actor, 61, best known for his martial arts movies, told the local ABC affiliate that he in fact has discussed the possibility with Maricopa County Sheriff Joe Arpaio.
"Joe Arpaio and I were talking about me running for governor of Arizona, which was kind of a joke," Seagal said. "I suppose I would remotely consider it, but probably I would have a lot more other responsibilities … that may be more important to address."
Whether or not Steven Seagal is seriously considering a run or simply promoting his new reality TV show with Sheriff Joe Arpaio, is not at all clear.
He wouldn't be the first action movie star to run or win a governorship, with others such as Arnold Schwarzenegger Jesse Ventura opening that door already.
But Arizona Republic's Yvonne Wingett Sanchez reported that Steve Seagal might not even meet the residency requirement. He lived in Louisiana prior, where he filmed another law enforcement reality TV show.
Though some are sure to snicker, Seagal may have proven a talented campaigner. He has gained a late-in-life reputation for dedicating much of his time to serving his former community in Louisiana.
The 2014 Arizona governor race is rated "Leans Republican" on PeoplesPunditDaily.com, with Secretary of State Ken Bennett slightly favored.