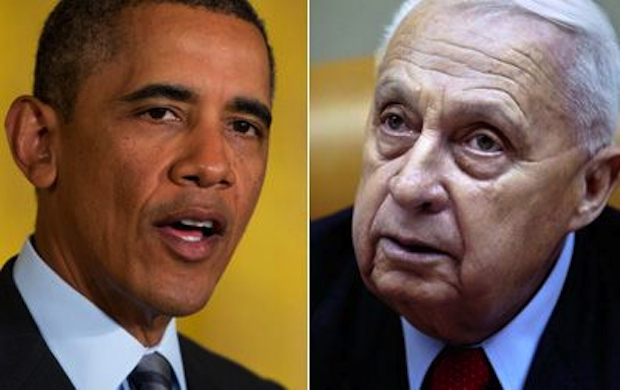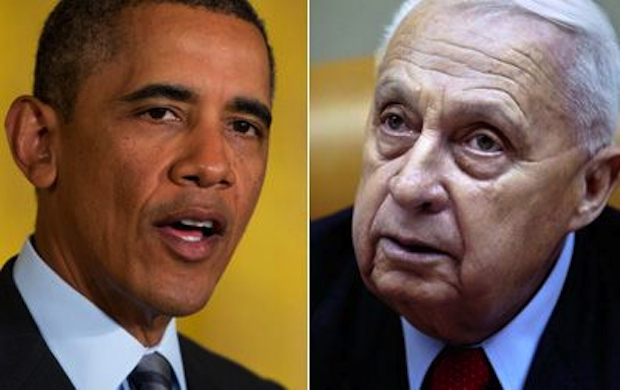 President Obama expressed sorrow Saturday over the news former Israeli Prime Minister Ariel Sharon died at age 85. Sharon was at the height of his power when he suffered a stroke in 2006 and fell into a coma he never recovered from.
Obama joined other U.S. and world leaders in reflecting on the life and passing of former Israeli general Ariel Sharon.
"On behalf of the American people, Michelle and I send our deepest condolences to the family of former Israeli Prime Minister Ariel Sharon and to the people of Israel on the loss of a leader who dedicated his life to the State of Israel," Obama said. "We reaffirm our unshakable commitment to Israel's security and our appreciation for the enduring friendship between our two countries and our two peoples."
President of the State of Israel Shimon Peres, who was a longtime friend and rival of Sharon, said he was "a brave soldier and a daring leader who loved his nation and his nation loved him." He added, "He was one of Israel's great protectors and most important architects, who knew no fear and certainly never feared vision."
Sharon died at Tel Hashomer hospital outside Tel Aviv, with his family gathered around his bedside after his vital organs began to fail from long-term deterioration.
"Ariel Sharon's journey was Israel's journey," Secretary of State John Kerry said.  "The dream of Israel was the cause of his life, and he risked it all to live that dream. … During his years in politics, it is no secret that there were times the United States had differences with him. But whether you agreed or disagreed with his positions … you admired the man who was determined to ensure the security and survival of the Jewish State."
Sharon fought in three wars before entering Israeli politics, and was elected prime minister of Israel in 2001. In January 2006, he suffered a stroke just when he was at the height of his political power. Though he never recovered, there was some hope that his condition would improve in 2011.
His son Gilad told the New York Times his father could move his fingers when he asked him to, adding, "I am sure he hears me."
Prior to his stroke, Sharon had shocked his pro-Israel political base by removing Jewish settlers from 21 Gaza settlements and from 4 on the West Bank. He also resigned as head of the Likud Party — the more hardline Israeli party — and founded a new "centrist" party called Kadima ("Forward").
The development led to now-Prime Minister Benjamin Netanyahu, who was Sharon's longtime rival, being elected as his replacement as head of the Likud Party.
Former President George W. Bush also offered his response to Sharon's death.
"Laura and I join our friends in Israel and around the world in mourning the loss," said the former president, commenting for both himself and his wife. "He was a warrior for the ages and a partner in seeking security for the Holy Land and a better, peaceful Middle East."
While Sharon was seen as a late-career compromiser, he was downright hated by most Palestinians who considered him an enemy. Palestinians see Sharon as someone who has dashed their hopes at independence several times, and organized military offensives against them in Lebanon, the West Bank and Gaza. After decisively being defeated by Israeli forces under Ariel Sharon, they began settlement schemes on the lands they want for their state.
The Palestine response to the former Israeli prime minister's death has been insinuations of happiness, saying they regret he wasn't held accountable for his actions when he was till alive.
"He wanted to erase the Palestinian people from the map," said Tawfik Tirawi, a Palestinian intelligence chief who served when Sharon was prime minister. His comments ignore the history of Palestinian aggression, and get worse with every comment.
"He wanted to kill us, but at the end of the day, Sharon is dead and the Palestinian people are alive."
Some militant figures in the Gaza Strip, such as Khalil al-Haya, who is a leader in the Islamic militant group Hamas, is less concealing about his views. He said Sharon was responsible for the suffering of generations of Palestinians.
"After eight years, he is going in the same direction as other tyrants and criminals whose hands were covered with Palestinian blood," he said.
Sharon's deputy, Ehud Olmert, was elected prime minister 2 months after Sharon was hit with the stroke.
Sharon was born February 26, 1928 in the then-British territory of Palestine. He was born and raised by a family of Lithuanian Jews, and by the age of 10 he had entered the Zionist youth movement Hassadeh, and then joined the Haganah, the military precursor to the Israel Defense Forces.
His military career was successful and fueled by his talent as a military strategist, eventually making his way up to a commander in the Israeli army. Ben-Gurion, legendary Israeli leader, called Ariel Sharon the "greatest field commander," he had known.
Following the conclusion of the Suez War, then-prime minister David Ben-Gurion wrote of Sharon in his journal: "The lad is a thinker, an original. Were he to be weaned of his fault of not speaking the truth in his reports he would make an exemplary military leader."
Ariel Sharon played a pivotal role in the 1956 Suez War, the Six Day War of 1967, the Yom Kippur War of 1973 and as Minister of Defense directed the 1982 Lebanon War.
Sharon joined the Likud party after retiring from the military, serving in a number of ministerial posts and then as party leader in 2000 before becoming prime minister from 2001-2006.
Sharon was married twice and widowed twice during his lifetime, and is survived by his sons Gilad and Omri.