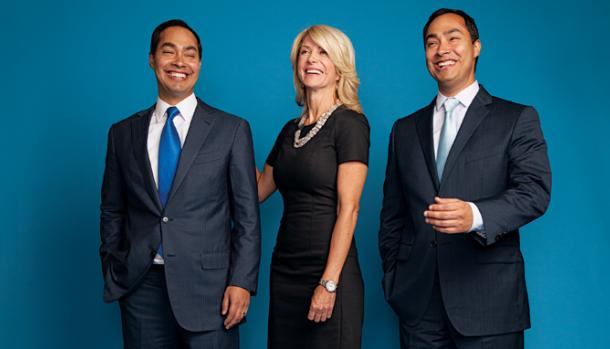 WARNING: The Real Wendy Davis Life Story contains adult language, resulting from direct quotes made by the individuals in the article. Reader discretion is advised!
Following a "puff-piece" by Wayne Slater, a "rabid partisan Democratic hack," as Ann Coulter correctly described him, the people of Texas have been trying to piece together the real Wendy Davis life story, sifting through half-truths and outright lies.
But the real Wendy Davis life story is more than a lie or a not-so unique politician's exaggeration, but rather it is a Battleground Texas and Castro brothers' creation. It's a story about users — some driven by ideology, some by power and some by both — all scheming against each other and the people of Texas with the shared long-term goal of exploiting a permanent minority underclass, which they believe will ensure Texas turns and stays blue.
Unbeknownst to the public, the real Wendy Davis life story stars an exceedingly ambitious woman who, in her near-infinite arrogance, failed to comprehend that she was being used by forces far more powerful than her. Out of pure hubris, Davis convinced herself the result would, in the end, prove those forces grossly underestimated her.
However, Davis is less the star of her own story and more a pawn, because the specific motivations behind other, more seasoned political players have had more influence on Wendy Davis' life story than the candidate, herself.
To be sure, the specific motivations behind each player can get a bit confusing, so let's list their names, motivations and the connection they have to each other.
The Castro Brothers
For the Castro brothers — Mayor of San Antonio Juliane Castro and his twin brother, Rep. Joaquin Castro — Wendy Davis is a small step they must take on a long journey they hope will ultimately deliver to them the power that comes from running the largest conservative state in the union. In 2012, lawyers and lobbyists made up the largest contributors to Joaquin Castro's overwhelming victory, which will come into play a little later.
While the two enjoy hometown popularity driven by increases in Texas' Hispanic population, both are well-aware of the rest of the state's political leanings. That is, for now, they realistically understand that demographic changes, which they tirelessly work to ensure will continue to benefit them, will take more time.
A source close to the Castro brothers (that's right, you guys have a leak) told PeoplesPunditDaily.com that they would describe the two as "ambitious, with patient overtones." In fact, they never believed Wendy Davis had a prayer in Texas, which is why Julian decided against running for governor, himself. For now, the Castro brothers' plan is not to try to win those "Anglo" voters, as they and others in the alliance soon to be discussed below refer to Texas' white population, it is merely to make sure they don't scare the hell out of them by alerting them to their extreme leftist positions.
In time, the Hispanic population, which they plan to turn into a monolithic voting bloc they liken to black voters for Obama in Virginia (we will hear more of this below), will grow enough that they won't have to worry about those "Anglo" voters, anyway.
Battleground Texas
Most know that Battleground Texas is a project populated by Obamaites tasked with turning the state of Texas blue. But what most people don't know, is that other groups such as Texas Democratic Trust and Progress Texas have been attempting to do the same thing. The difference between these other groups and Battleground Texas is money, along with Jeremy Bird, the techno-campaigning guru and national field director for Obama's 2012 reelection.
Now would be a great time to introduce Ben Barnes, a wealthy liberal lobbyist who frequently hosts quid pro quo meetings of the highest and most distasteful order at his Nantucket home. But on Nov. 30, 2012, spotting an opportunity after Obama's reelection, Barnes hosted a meeting with about a half-dozen donors at his lobbying firm. It was this meeting that spawned Battleground Texas, and when attendees would plant the seed that would grow into the Wendy Davis life story saga. The players included progressive activist Naomi Aberly, Austin realtor Kirk Rudy (part of the lobby that provided the second largest contribution totals to Jaoquin Castro), and Adrienne Donato, the Obama campaign's chief Texas fund-raiser.
The Texas donors felt emboldened from Obama's reelection and believed that Bird had the technological tools needed to change the political shade of Texas blue. Call it a bit of group think, but Bird, who had believed since 2008 that with enough money he could get the job done, left the meeting motivated to lay out his plan in more detail.
Five days after the initial Nov. 20 meeting at the lobbying offices of Ben Barnes, Bird pitched his new-age, technology-based attack plan for Battleground Texas to a large group of Texas donors, but apparently their excitement didn't result in the much-needed seed money. So, where would they get the seed money for this theoretical, yet improbable operation?
Steve and Amber Mostyn
Enter big liberal donors Steven Mostyn and his wife, Amber — two Houston-based attorneys who got filthy rich on litigation exploiting the hurricane-induced suffering of Texans. In 2008, the Mostyns gave nearly $1 million to the Texas State Democratic Party for statewide races, while giving only $100,000 to the national party. The Mostyns were basically the last wealthy Texas-focused Democratic donors to still give money to the state party.
Big Democratic donors, in and out of Texas, have long redirected the bulk of their resources outside of the Texas State Democratic Party. For the Mostyns, that pivot began after they dumped $10 million into statewide races in 2010, including a ton of money to elect Houston mayor Bill White, who was running against Gov. Rick Perry in the gubernatorial race. "The early votes are in on Harris County," he said to his wife Amber, who found him demoralized in his home office on election night at 7:45 PM. "We're fucked."
Mostyn characterized Texas as "an ATM for the national Democratic Party." And though they gave $9.8 million in 2012 to Democrats nationwide, that's pretty much how both Steve and Amber Mostyn felt regarding Democratic efforts in Texas. That is, until the morning of January 14, when Jeremy Bird and Adrienne Donato appeared at their home with an idea.
The Mostyns and their political adviser, Jeff Rotkoff, let Bird make his case for Battleground Texas, but Bird was requesting $250,000 in seed money. They were skeptical, to say the least, and the disconnect was two-fold.
The wealthy liberals wanted to know where they would find a candidate as charismatic as Obama, and didn't want to hear lectures about expensive delayed gratification. With the promise of providing a more detailed list of expenses and itemized battle plans for Battleground Texas, Bird left only to come back with it all a mere 2 weeks later.
Bird got a seed money check from the Mostyns, which served as a green light to other weary donors, including Naomi Aberly, longtime state Democratic activist Aimee Boone, and Houston attorney Carrin Patman (also part of the lawyer/lobby the Castro brothers tap at will).
Battleground Texas and those who hope to capitalize from their efforts in the future — the Castro brothers — now desperately needed a candidate who would satisfy the Mostyns, someone they saw as viable and at the same time would meet their own goals.
"It's about how we tell the narrative from the beginning, so that we're not setting people up to think we're going to win the Governor's Mansion right away," Jeremy Bird explained to a group he thought was filled with tight-lipped operatives. "It has to be realistic."
"If one of the Castros doesn't run, or there's not someone else out there that we're not thinking about right now, we've got a problem. I mean, we just can't run Kinky Friedman again," one operative said to Robert Draper, a Texas Monthly journalist recruited to tell a compelling Battleground Texas story to his state. Gone are the days of actual journalism.
He and other activists were concerned over the possibility the Mostyns could pull the plug on the whole thing. They, the Mostyns, did not share the strategy advocated by Bird and the Castro brothers, who felt laying the groundwork for future victories, including the running of unsuccessful candidates who would still convey the poll-tested message. Of course, the Castro brothers signed on to this strategy, so long as it didn't have to be one of them to suffer a premature defeat.
And here is where state Senator Wendy Davis comes into her own story, because she was the patsy used to expand the appeal of the Democratic Party. No one, including Bird or the Castro brothers believed she could win. In fact, the only person who did think she stood half a chance in this circle of deception was, Wendy Davis.
Wendy Davis
Enter pink shoe-wearing, "Anglo" suburban single-mom, Wendy Davis.
"As long as the Democrats continue to buy into the same bullshit that some of the Republicans are saying—'Oh no, it's Texas, it's hopeless'—and continue to act like it won't happen for six, eight, twelve, sixteen years from now, that perpetuates the problem." That was Wendy Davis speaking to Robert Draper one evening in late May over cocktails at the bar of the Four Seasons Hotel in Austin.
The meeting took place just one month before her June 25 filibuster, during which Draper asked, "So are you going to run for statewide office?" It was obvious "statewide" referred to the governorship, and Davis responded in a manner Draper characterized as "coyly," stating, "One day, someday."
The truth, is that Davis had already been approached by Battleground Texas and the Castro brothers. Bird took noticed to how Davis beat Kenneth Brimer Jr. in District 10 back in 2008 by 2.42 points. And the proven and tested "Anglo" candidate emerged, with little effort needed to convince the ambitious Davis.
Except, she wasn't truly proven and tested, but they ran with the idea of her without doing their homework. On June 26, San Antonio Mayor Julian Castro tweeted:
When Texas turns Blue, tonight may well be looked upon as the beginning. #standwithwendy #sb5 #gopextremism

— Mayor Julián Castro (@JulianCastro) June 26, 2013
But that was a rehearsed tweet long in the making, complete with the appearance of forward-thinking words that were, in reality, conceived months before the "Draft Wendy" signs and slogans filled mainstream media coverage. The Castro brothers and Battleground Texas were involved in what was a pre-planned charade, an effort to galvanize an essential part of the Democratic base and begin to attract suburban white women to the Democratic Party.
"Are you kidding me," the Castro source chuckled to us when asked about the possibility of the filibuster being staged. "Everyone was hoping the Virginia strategy could play out in Texas, too. You know, even if it is years from now, they are laying this all out now."
Which brings us back to those pesky "Anglo" people. Matt Angle, the political strategist for Wendy Davis, told Robert Draper, "The hardest thing for Democrats in Texas to win is the Anglo vote."
However, in their over-anxious state of mind, they failed to properly vet or corroborate the claims now being challenged from the obviously loose Wendy Davis life story. The Castro brothers, Bird and others at Battleground Texas overestimated their media protection, and despite the Wayne Slater piece on DallasNews.com attempting to help Davis get in front of the story, a less-than admirable picture is being painted of the real Wendy Davis and her real life story.
PeoplesPunditDaily.com recently reported on the temporary injunction granted against Wendy Davis, naming Jeff Davis the plaintiff.
In this Generation Texas video below, Wendy Davis hardly has a "need to be more focused on the detail." In fact, she lays out in intricate detail the falsehoods of the created Wendy Davis life story . "After I graduated I got married and divorced, and by the time I was 19 I was a single parent and I was living in a mobile home in southeast Fort Worth, and I was destined to live the life that I watched my mother live," Davis says in the video.
Unlike her mother, Wendy Davis gave up both of her children in her divorce to pursue her own ambition. According to her statements in the video, her mother has a sixth-grade education, except that was her grandmother. She repeated that claim when she met with Robert Draper of Texas Monthly magazine for barbecue in Austin just a few weeks before her filibuster, and also contradicted herself regarding the events that led up to her attending Tarrant County Junior College.
In the video, Wendy Davis claims a co-worker turned her on to the paralegal program, but she told Draper "by pure chance," she just "happened to notice a brochure" a nurse had left behind. "I picked it up and started looking at it, and they had classes that you could take to become a paralegal. I thought that might be something I would have an aptitude for."
Further, her family was neither working class nor was it a traditional broken family, because her father was present in her life and owned a luncheon and a dinner theater. In fact, it was at that dinner club, with daddy, where she pursued a man 14-years her senior, Jeff Davis — her second ex-husband — who was a frequent patron.
"I very willingly, as part of my divorce settlement, paid child support," she praised of herself to DallasNews.com. However, the fact is that she was ordered to pay it, because she was an alleged adulterer. She only agreed to pay in order to avoid the judge labeling her one.
Battleground Texas, their donors and the Castro brothers didn't even bother to look at all of these events or to view the video above. Perhaps, they just thought they would get away with it. A heavy emphasis regarding the Battleground Texas Democratic strategy was placed on messaging and laying the groundwork for future victories. Building the foundation of that blue base has, thus far, been built upon lies and Battleground Texas has been exposed as the deceptive organization they are by PeoplesPunditDaily.com, and now others.
Project Veritas, in the video below, has captured footage of Battleground Texas operatives mocking the disability of Greg Abbott, who is a paraplegic in a wheelchair.
Whether or not the campaign flop of Wendy Davis, as well as this information being exposed for all to see, will cause the Mostyns to run for cover is not certain. That would, however, almost certainly mean the end of or serious damage to Battleground Texas if they and other big donors did. Still, the one fact that is certain, is the fact the real Wendy Davis life story is both directly and indirectly a Battleground Texas creation.