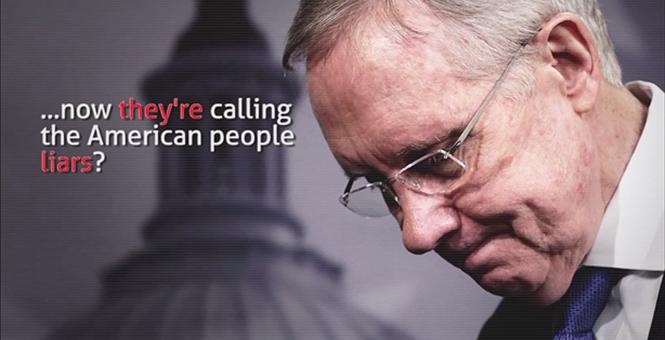 Democratic Senate Majority Leader Harry Reid drew staunch criticism after claiming that Americans appearing in ads citing how they have been hurt by ObamaCare are all lying, paid for by the "billionaire Koch brothers." However, while the response was immediate, it wasn't very coherent.
Now, the NRSC (National Republican Senatorial Committee) shared a new scathing ad with conservative alternative media site, Townhall.com. Not that I am citing any poll-tested to data to make this claim, but it is a good one. In fact, if I were Harry Reid I would be glad to know that I was not up for reelection again in 2014.
In the ad, Megyn Kelly, host of the "Kelly File" on Fox News, is depicted covering the comments made by Harry Reid, in which he called one woman's "horror story" patently "untrue." It is more than ironic to hear the Senate majority leader call anyone a liar, when his party's president and member lawmakers were literally awarded the PolitiFact "Lie of the Year" Award for claiming Americans would be able to keep their health plans and doctors under ObamaCare.
The Americans Harry Reid is calling liars are by majority those who were misled into thinking they could keep their plans and doctors, and typically tell their stories about being dropped and assuming large costs under ObamaCare. Reid has since walked back his assertion that all of the claims are untrue, now pretending he meant that "the vast majority are." He took to twitter to do what Harry Reid does best, shy away from his comments like a coward.
I can't say that all of the Koch ads on Obamacare are deceptive, but the vast majority are. http://t.co/hCbWIBVND6

— Senator Harry Reid (@SenatorReid) February 26, 2014
Perhaps Reid's comments were not explicit enough to assume he meant everyone, but judge for yourself:
Republican National Committee Chair Reince Priebus pounced on Reid in his own tweet responding to Guy Benson, the political editor at TownHall.com.
DIRTY ROTTEN LIAR … HARRY REID @guypbenson: Harry Reid, liar: http://t.co/fpjr35Odzg

— Reince Priebus (@Reince) February 28, 2014
Meanwhile, Senator Reid keeps on harping about the Koch brothers, who he claims are manipulating the political process because they have an infinite amount of money to do so. However, aside from the fact they have a constitutional right to try, according to OpenSecrets.org the Koch brothers do not even appear on their list of "Top Heavy Hitters" until number 59. The Koch brothers' placement is far behind other groups, such as Act Blue (#1), who donate only to Democratic lawmakers.