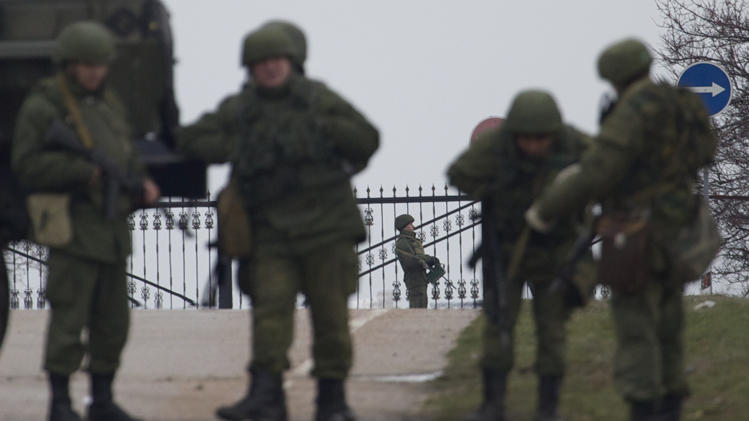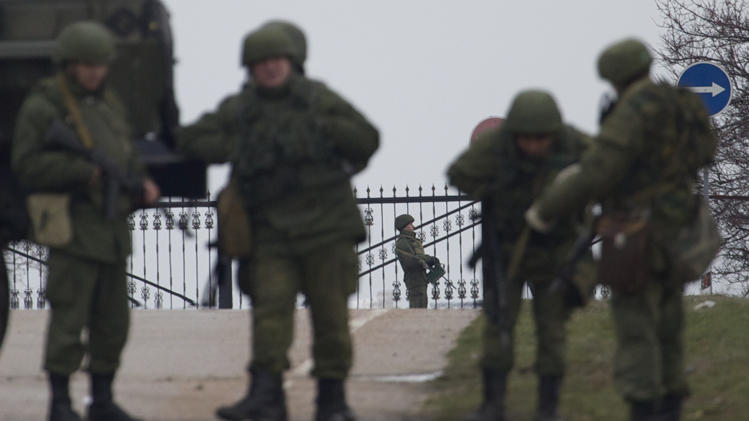 At least several hundred unidentified gunmen have arrived outside Ukraine's infantry base in Privolnoye in its Crimea region.
The Russian convoy reportedly includes some 13 troop vehicles with Russian license plates containing 30 soldiers each and 4 armored vehicles with mounted machine guns. The vehicles have surrounded the Ukrainian military base and are blocking Ukrainian soldiers from entering or leaving the base.
Ukrainian soldiers, in an effort to repel a Russian advance, have positioned a tank at the gate.
Ukraine's acting Prime Minister said Sunday that his country was "on the brink of disaster" and called for world leaders to take "real steps" to stop the ongoing crisis in the Crimea region as Russian troops appeared to be advancing toward the provincial capital.
Arseniy Yatsenyuk spoke after a closed session of his new parliament in Kiev, calling on Russian President Vladimir Putin to "pull back his military."
Earlier Sunday, Andriy Paruby, Secretary of Ukraine's Security Council, which is made up of Ukraine's top security and defense chiefs, announced that all military reservists were being called up to active duty and added that it was vital to ensure that the Ukrainian armed forces were combat-ready as soon as possible. Paruby also said that Ukraine's Foreign Ministry had been ordered to seek assistance from the U.S. and Great Britain in guaranteeing the country's safety.
A convoy of 12 troop-carrying military trucks, an armed Tiger vehicle, and two ambulances were traveling along the road from Sevastopol, the home of Russia's Black Sea Fleet, to the regional capital, Simferopol. There have been no reports of Russian troops meeting any resistance in either landing or moving through the Crimea region.
NATO's North Atlantic Council and the NATO-Ukraine Commission are set to meet on Sunday. NATO Secretary-General Anders Fogh Rasmussen said the allies will "coordinate closely" on the situation in Ukraine, which he termed "grave."
Ukraine is not a NATO member, meaning the U.S. and Europe are not obligated to come to its defense. But Ukraine has taken part in some alliance military exercises and contributed troops to its response force.
President Obama told Russian President Vladimir Putin in a 90 minute phone call  Saturday that sending troops into Ukraine is a "clear violation" of their country's sovereignty, and called on Russia to de-escalate tensions by pulling forces back to bases in Crimea, according to the White House.
On Saturday, Russian President Vladimir Putin received permission from parliament to mobilize the country's military in Ukraine. Parliament voted unanimously on the request and also recommended that Moscow's ambassador be recalled from Washington over earlier comments made by President Obama.
Meanwhile, the Kremlin released a defiant statement following the parliamentary vote.
"Vladimir Putin emphasized that, in the case of a further spread in violence in eastern regions (of Ukraine) and Crimea, Russia maintains the right to protect its interests and the Russian-speaking population that lives there," the Kremlin statement said.
Obama told Putin that he would support sending international monitors to Ukraine to help protect ethnic Russians. He said the U.S. will halt its participation in preparatory meetings for June's G-8 summit in Sochi, Russia, the site of the recently concluded Winter Olympics, warning that Russia's "continued violation of international law will lead to greater political and economic isolation."
French Foreign Minister Laurent Fabius agreed, saying on French radio Europe that planning for the summit should be put on hold.  France "condemns the Russian military escalation" in Ukraine, and Moscow must "realize that decisions have costs," he said Sunday.