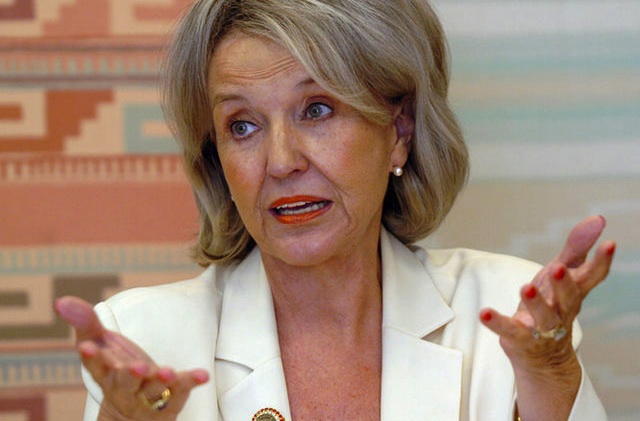 Arizona Gov. Jan Brewer says she won't seek a third term in office.
The decision ends months of speculation about whether or not the governor would mount a challenge to a provision of the Arizona Constitution that limits officeholders to two terms in office. Brewer completed the term of former Gov. Janet Napolitano when she took a job in the Obama administration in 2009, then won a full term in 2010.
Legal experts, however, had maintained it would have been a long shot to challenge the Arizona Constitution. Gov. Brewer made the announcement at a school where she touted her accomplishments on issues, including education and the economy.
In February, Gov. Jan Brewer vetoed SB 1062, a controversial bill that would've allowed religious beliefs as a defense for denying service to gays. The decision was praised by the left and many on the right, as well.
Host of conservative talk radio show Liberty Never Sleeps, Thomas Purcell, hammered Republicans in the state legislature for the passage of the bill. "Legislators set a low water mark for the political process when they passed Arizona SB 1062 and sent it to Governor Brewer's desk for signature," Purcell wrote on PeoplesPunditDaily.com.
Still, the Arizona Governor race is rated "Leans Republican" on our 2014 Governor Map Predictions. Actor Steven Seagal made headlines for weighing a bid for Arizona governor, but it is less than clear if he is serious or just promoting his new reality TV show with Sheriff Arpaio.
Democrat Richard Carmona barely lost to now-Sen. Jeff Flake last November for a seat in the U.S. Senate. Too bad for the Democrats, Carmona decided not to run. Now, ex-Arizona Board of Regents President Fred DuVal is the only viable candidate for Democrats, despite state House Minority Leader Chad Campbell.
The Republican side is pretty cut and dry. Now that Brewer won't be running, Secretary of State Ken Bennett, who announced early he has decided to run, is starting off as the favorite for the Republican nomination.
Bottom line, Democrats have been disappointed time and time again, overestimating the strength of the Latino vote in this state. Mitt Romney handily defeated Barack Obama by just under 10 percent.