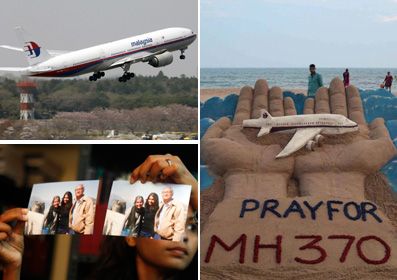 Malaysia Prime Minister Najib Razak said Monday new analysis of satellite data for Malaysia Airlines Flight 370 suggests the plane went down in the southern Indian Ocean.
Prime Minister Razak said during a news conference that he was briefed regarding the new data calculations by the U.K. Air Accidents Investigation Branch, which was conducted by Inmarsat, a British satellite company.
"Based on their new analysis … MH370 flew along the southern corridor, and that its last position was in the middle of the Indian Ocean west of Perth," Razak said. "This is a remote location, far from any possible landing sites. It is therefore with deep sadness and regret that I must inform you that, according to this new data, that flight MH370 ended in the southern Indian Ocean."
Razak's announcement didn't go over well with relatives of the passengers, many of whom were booked on charter flights to Australia. An emergency meeting between the victims' families and officials at Malaysia Airlines took place in Beijing, Razak said.
"For them, the past few weeks have been heartbreaking. I know this news must be harder still," Razak said. Sky News reporters said the victims' relatives were screaming and in tears as they were told the news and one person was seen being rolled out in a stretcher.
"Malaysia Airlines deeply regrets that we have to assume beyond any reasonable doubt that MH370 has been lost and that none of those on board survived," the airline said in a text message to the families. However, the Malaysian government, who owns a majority share of Malaysia Airlines, didn't disclose if they were any closer to actually locating debris from the plane.
In a statement posted on Malaysia Airlines' website, the company said it offers its "sincere thoughts, prayers and condolences to everyone affected by this tragedy."
Prime Minister Razak said authorities plan to hold another press conference on Tuesday in order to discuss further details about the satellite data analysis.
Earlier Monday, Australian and Chinese search planes spotted more objects in the southern Indian Ocean that were identified as possible debris from the missing jet, which was carrying 227 passengers and 12 crew members and was due to fly from Kuala Lumpur, Malaysia, to Beijing on the morning of March 8.
Australian Prime Minister Tony Abbott said the crew of an Australian P3 Orion plane had located two objects, the first of which was either gray or green and circular in shape. The second orange and rectangular. The crew was able to photograph the objects, but it was unclear whether or not they were actual pieces of an aircraft.
"They could be flotsam," Abbott said in Canberra. "Nevertheless, we are hopeful that we can recover these objects soon and that they will take us a step closer to resolving this tragic mystery."
Regardless of these reports of possible sightings of debris, there still has not been one single confirmed sighting of debris from the missing plane.
The U.S. Pacific command, or said Monday that it was sending a black box locator in case a debris field is located. The Towed Pinger Locator, which is towed behind a naval vessel at relatively slow speeds, can hear the black box pinger down to a depth of about 20,000 feet.
"This movement is simply a prudent effort to pre-position equipment and trained personnel closer to the search area so that if debris is found we will be able to respond as quickly as possible since the battery life of the black box's pinger is limited," said Cmdr. Chris Budde, a U.S. 7th Fleet operations officer.
There was no sign the move was made because of any break in the mystery, but rather was done as a preparation.
Australian Maritime Safety Authority's (AMSA) rescue coordination center said the search area was expanded from 22,800 to 26,400 square miles and that two Chinese Ilyushin IL-76 planes had joined the search from Perth, increasing the number of aircraft to 10 from eight a day earlier.
It said the weather in the search area, about 1,550 miles southwest of Perth, was expected to deteriorate with rain. On Tuesday, a cold front was expected to move through the search area from the west, bringing showers, more low clouds and less visibility. Tropical Cyclone Gillian, which is further to the north, will not impact the area.
The search was given added momentum when a French satellite detected potential debris on Sunday, after Australia and China earlier released satellite images identifying suspected objects.
Australian Transport Minister Warren Truss said the French radar data located the objects about 520 miles north of the current search area, and that "we need to check that out as well."
However, the French satellite only uses radar technology, which makes identification nearly impossible and merely speculation.
Australian authorities Sunday also had sent planes and a ship to try to locate a wooden pallet that was spotted on Saturday from a search plane, but the spotters were unable to take photos of it. When Air France Flight 447 went down in the Atlantic Ocean during a flight from Brazil to Paris in 2009, a wooden palette, which is often in cargo storage, was the first piece of debris observed by the search party.
An official with Malaysia Airlines said Sunday night that the flight was, in fact, carrying wooden pallets. The official spoke on condition of anonymity in keeping with company policy, but we have confirmed that lithium batteries were also on board. Lithium batteries have the capacity to catch on fire, and are never permitted on passenger flights in the United States.
The southern Indian Ocean is thought to be a potential area to find the jet because Malaysian authorities have said pings sent by the Boeing 777-200 for several hours after it disappeared indicated that the plane ended up in one of two huge arcs: a northern corridor stretching from Malaysia to Central Asia, or a southern corridor that stretches toward Antarctica.
Malaysian authorities have not ruled out any possible explanation for what happened to the jet, but have said the evidence so far suggests it was deliberately turned back across Malaysia to the Strait of Malacca, with its communications systems disabled. They are unsure what happened next.
Authorities are considering the possibilities of hijacking, sabotage, terrorism or issues related to the mental health of the pilots.
Malaysia's police chief, Inspector General Khalid Abu Bakar, again stated at a news conference Monday that all the passengers had been cleared of suspicion.
However, he did say the pilots and crew were still, in fact, being investigated. Yet he would not comment on whether or not investigators had recovered the files that were deleted a month earlier from the home flight simulator of the chief pilot. FBI investigators had taken possession of the simulator and were extracting deleted files over the weekend.
Malaysia Airlines chief executive Ahmad Jauhari Yahya said co-pilot Fariq Abdul Hamid had just graduated to the Boeing 777 from other commercial planes, and the missing Malaysia Airlines Flight 370 was only his sixth such flight.
"The first five flights, the co-pilot normally flies with what we call the check co-pilot. He actually passed the first five flights. We do not see any problem with him," Yahya told the AFP.
It is important to note that — though the widely expected declaration by the Malaysian Prime Minister is a new development — no new information was shared. Further, the evidence, or at least the evidence given to the media thus far, is far from conclusive. While we will await the suppose new satellite data to be released tomorrow at the press conference, our sources tell us a much different story.