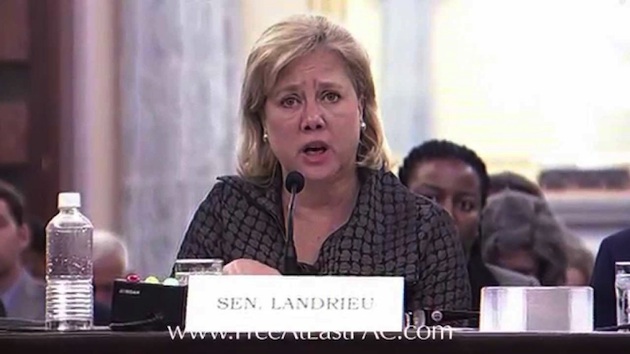 A new political ad starring Elbert Lee Guillory, a black Louisiana State Senator, has just moved to the top of PPD's list of best political ads of 2014. In the spot, which topped Republican Senate candidate in Oregon Monica Wehby's "Trust," Guillory gives a stunningly honest interpretation of the relationship between black voters and the Democratic Party.
And incumbent Democrat Senator Mary Landrieu was the unfortunate star of the production.
"You are not Mary's cause and you are certainly not her charity. You are just a vote – nothing less, nothing more," Guillory says in a somber yet authoritative and convincing tone." You are just a means to an end, so that she remains in power."
Elbert Guillory, a former Democrat who captured national headlines during the summer of 2013 with a viral YouTube video "Why I Am a Republican," announced in August that he would serve as honorary chairman of the Free At Last PAC. According to the group's website, the PAC was formed by several community leaders "as an effort to support black Republicans who run for federal office and also to educate black Americans about the values of the Republican Party."
"I believe that the values of the black community and the values of the Republican Party are one in the same," said Guillory. "But somehow the Democrat Party has created the illusion that their agenda is what's best for black people, and we intend to shine the light of truth on that falsehood."
In a recent interview, Guillory said every six years Landrieu comes back to black precincts for her "one-night stand" with black voters before vanishing, leaving impoverished black communities with nothing but empty promises. To be fair to Landrieu, according to Guillory, she is simply carrying on with what has become a decades-long tradition in the Democratic Party — making promises to black voters they can't keep just to stay in power.
"They tell us the schools are going to get better, they never do," he says as a matter of fact. "Then, she disappears until she comes back six years later for her next one-night stand. She has done absolutely nothing for our community, not about jobs, not about safety and not about education. She has done absolutely nothing."
When asked what drove him to turn away from the Democratic Party and Mary Landrieu, in particular, he pulled no punches.
"She promises she will turn our community into the Garden of Eden, and I am tired of it."
He also recently gave a speech at the DC March for Jobs, an anti-amnesty rally jointly organized by the Black American Leadership Alliance and various Tea Party-aligned groups, regarding the negative impact amnesty will have on the black community. Democrats, of course, support the president's plan to grant some ten million illegal immigrants amnesty, which economists largely agree will disproportionately hurt minority communities. He says black voters simply don't hear these facts because Republicans have been derelict in their minority outreach efforts.
"I recently attended the Republican Study Committee, as a guest of Chairman Scalise, and couldn't help but realize that I was the only black person in the room," said Guillory. "I thought, how can this be? What would Frederick Douglass think about this? We need to do something about this. We need more Black conservatives in congress."
Sen. Landrieu is already facing an uphill battle for reelection this cycle and, after spending months rated a "Toss-Up" by PPD's 2014 Senate Map Predictions model, now is slightly favored to lose her seat. Her opponent, Republican Rep. Bill Cassidy, leads Landrieu in the likely runoff election by various margins in recent polls. She trails Cassidy by over 5 points on the PPD average of Louisiana Senate polls.
Guillory's web video now has over 800,000 views.