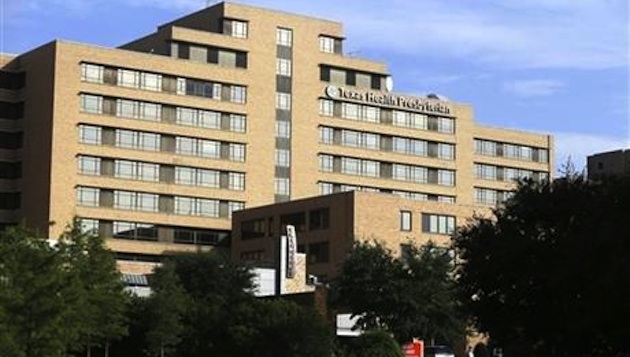 The Centers for Disease Control and Prevention (CDC) Director Dr. Tom Frieden insinuated Tuesday that the first-ever individual to test positive for Ebola in the U.S. is not an American citizen. The patient — who is a male — arrived in Texas on Sept. 20 to visit family living in the U.S. from Liberia earlier this month and allegedly showed no symptoms while on the plane.
"It is certainly possible that someone who had contact with this individual, a family member or other individual, could develop Ebola in the coming weeks," Frieden said Wednesday at a news conference. "But there is no doubt in my mind that we will stop it here."
But North Texas is home to a Liberian community approximately totaling 10,000 members, and they're not buying into the CDC's optimism.
Stanley Gaye, the president of the Liberian Community Association of Dallas-Fort Worth, said the risk of exposure to the virus has spread throughout their country is higher than officials are letting on. A combination of flaws in the travel procedures and frequent gatherings, which are characteristic of the Liberian culture, have made for a dangerous combination.
"We've been telling people to try to stay away from social gatherings," Gaye said at a community meeting Tuesday evening.
"We need to know who it is so that they (family members) can all go get tested," Gaye told The Associated Press. "If they are aware, they should let us know."
The association's vice president is attempting to prevent alarm in the community while encouraging individuals to visit a doctor. But she expressed concern some potentially infected members may avoid taking the necessary steps.
"We don't want to get a panic going," said vice president Roseline Sayon. "We embrace those people who are coming forward. Don't let the stigma keep you from getting tested."
Passengers leaving Liberia must pass through a screening procedure health officials and airport authorities characterized as "rigorous." CDC officials are present to aid staff at Monrovia's airport, where plastic buckets filled with chlorinated water for hand-washing are placed throughout the airport. Passengers are questioned about recent travel history, but no real system to verify those answers is in place.
However, the procedural checks, as we've learned from the Texas case, offer no guarantee that an infected individual won't get through the imperfect series of checks. Even more concerning, according to Binyah Kesselly, chairman of the Liberia Airport Authority's board of directors, airport officials have no way of preventing someone not showing symptoms from boarding a plane.
Further, while passengers are checked as they board the passenger aircraft, it takes approximately two days to reach the United States from Liberia depending on the destination, at which point the passengers are not forced to pass through further screening upon entering the country. In the two-day period, a previously cleared passenger may have become symptomatic and no one he or she had contact with on the plane or on the trip from the airport, would ever know.
This is the danger facing the Lebanese community, Gaye and their other leaders, as well as the entire country.
Ebola symptoms include fever, muscle pain, vomiting and bleeding, but they can appear as long as 21 days after exposure to the virus. The disease is not contagious until symptoms begin, and it takes close contact with bodily fluids to spread. But the U.S. doctor exposed to the virus in Sierra Leone, who is now under observation at the National Institutes of Health in Washington D.C., wasn't even assigned to the Ebola ward. According to officials, it was during the period before the patient determined they were symptomatic that the doctor was exposed and infected.
Liberia is one of the three hardest-hit countries in the epidemic, along with Sierra Leone and Guinea.