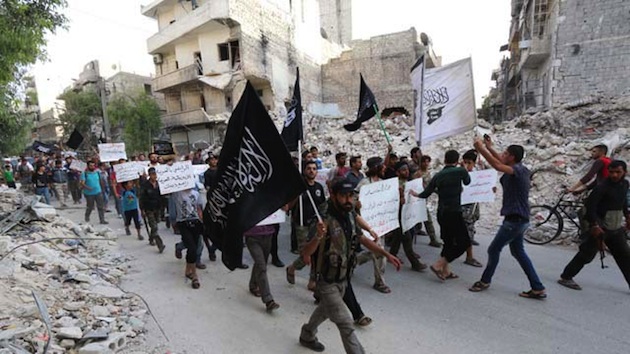 Federal prosecutors on Monday charged suburban Chicago teen Mohammed Hamza Khan, 19, with attempting to provide material support to a terrorist group. The arrest came after Khan told his parents he was going to Syria to join the Islamic State because he was upset about the "immoral" decay in Western society.
Khan, who resided in the southwest Chicago suburb of Bolingbrook, was arrested by the FBI's Chicago Joint Terrorism Task Force at 10:30 PM Saturday for allegedly attempting to travel overseas in support of terrorism. According to the criminal complaint viewable below — he bought a ticket to Istanbul and was scheduled to arrive in Turkey on Sunday. Particularly concerning is that the ticket was roundtrip, suggesting he attempted to return to the U.S. to carry out an act of terror.
"FIRST and FOREMOST, PLEASE MAKE SURE TO NOT TELL THE AUTHORITIES For if this were to happen it will jeopardize not only the safety of us but our family as well," read letter addressed to Khan's parents authorities say was found in a car used by Khan but owned by his father.
In the three-page letter, Kahn also said that he felt "an obligation" to go to the so-called Sharia law caliphate established by the terrorist group in Syria and Iraq. He said he was upset that, as an adult, he was obligated to pay taxes that would be used to kill his "Muslim brothers and sisters" and that he was angry with society.
"We are all witness that the western societies are getting more immoral day by day," Khan told his parents, according to the complaint. "I do not want my kids being exposed to filth like this."
Authorities detained Kahn at the airport while they raided the home after Austrian Airlines tipped them off regarding something suspicious in his itinerary. PPD was not able to uncover the details of the tip.
In addition to the note to his parents in the car, authorities found multiple handwritten documents in support of Islamic State and a list of contacts in Syria. The FBI said that Kahn was to meet an ISIS contact who would help him cross the Syria-Turkish border undetected.
"Islamic State in Iraq and Levant," Khan allegedly wrote in materials found at his parents' home when the FBI executed a search warrant. "Here to stay. We are the lions of the war [unintelligible]. My nation, the dawn has emerged."
FBI agents said he acknowledged making contact online with a person at the airport during interrogation, though the individual is unnamed in the complaint. That individual gave him the name of a contact who was to take him to ISIS in Syria after he arrived in Turkey. Khan told FBI agents he planned to assist ISIS in some type of public service such as a police force, humanitarian work or a combat role.
However, a roundtrip ticket was set for departure on Saturday Sep. 26 from Chicago to Istanbul, but listed the return date for later this week. That presumably would not be enough time to carry out his alleged duties.
Khan waived his Miranda rights and told agents he had no intention of returning to U.S., authorities said. Khan told FBI agents that an individual he met online provided him the phone number for a Turkish contact who would help him get to Islamic State territory.
FBI officials said no more arrests had been made in Khan's case but that it is still under investigation. According to FBI Director James Comey, there are some 100 Americans who have tried to leave America to join ISIS. He added that there were about 12 U.S. citizens who are in Syria fighting for the Islamic state.
"Ultimately, an American citizen, unless their passport's revoked, is entitled to come back," Comey said in a recent interview. "So, someone who's fought with ISIL, with American passport wants to come back, we will track them very carefully."
The slight, bearded Khan wore an orange jail uniform at his appearance and could be seen speaking with his attorney before his hearing started. The judge ordered that Khan be held at least until his detention hearing Oct. 9. Khan will appear again in court Thursday to determine whether he will be held in jail or released on bail.
If convicted, Khan could be sentenced to 15 years in prison and a $250,000 fine.
[scribd id=242088577 key=key-JVU77nIGtu3Jb6QcImNd mode=scroll]