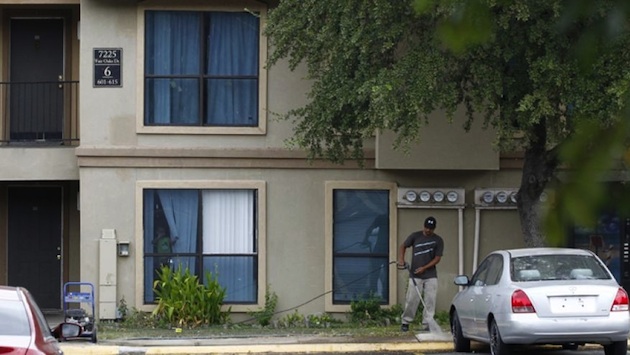 The family of Ebola patient Thomas Eric Duncan were legally quarantined Thursday after they did not comply with Dallas health officials requests that they stay home. The development comes as officials admit Duncan lied to examiners and on his questionnaire about having contact with individuals exposed or infected with the Ebola virus when he was being screened at the airport in Liberia.
Louise Troh said Thursday that she was tired of being locked up and had demanded health authorities decontaminate her home. Troh is now under a confinement order that also bans visitors, which was imposed after she the other family members decided they would come and go as they pleased. Texas State Health Commissioner David Lakey said the order would ensure Troh, her 13-year-old son and two nephews can be closely monitored for signs of the disease.
"If people leave, even though they're asymptomatic, if they're not at home when we go out to do our surveillance test on them, then that defeats the purpose of that surveillance test and that endangers them … if they were to be infected, they need to know that as quickly as possible," said Dallas County Judge Clay Jenkins. "So it's for their benefit and everyone else's."
Many community members are furiously bombarding Dallas school officials with statements of anger and concern over the potential exposure the younger family members might have presented. In total, upwards of five students reportedly were potentially exposed to Ebola attended public school afterward. Sally Nuran, manager of the Ivy Apartments where Duncan was visiting family, confirmed during a press conference Thursday that the lease for the apartment lists one adult and two children. However, she did not know how many people were currently occupying the space.
"Our nurses are making two rounds every school day to every classroom just to check to see if anyone has questions or if there are any symptoms," said Mike Miles, superintendent of Dallas Independent School District. He also said that additional custodial staff members were now on hand to further clean and disinfect the buildings the students had attended.
Meanwhile, Duncan's neighbors in the Liberian capital believe he become infected when he helped a sick pregnant neighbor a few weeks ago. Though reports suggest it was not clear if he had learned of the woman's diagnosis before traveling, she died shortly after, placing the timeline of events at a point when she would have already been symptomatic.
The Liberian authorities said they will prosecute Duncan if and when he returns for lying about not having any contact with an infected person.
Duncan filled out a form on September 19 about his health and recent travel activities before leaving on a plane trip to the U.S. that first made a stop in Brussels, then Reagan National Airport in Washington D.C., before finally stopping at Dulles Airport in Dallas, Texas. The Associated Press obtained the formed from officials, on which one question asked whether Duncan had cared for an Ebola patient or touched the body of anyone who had died in an area affected by Ebola. He answered no to all the questions.
"We expect people to do the honorable thing," said Binyah Kesselly, chairman of the board of directors of the Liberia Airport Authority in Monrovia.
Yet,CDC director Dr. Tom Frieden on Friday dismissed suggestions that people traveling from West Africa should not be allowed into the U.S., though several infectious disease doctors have come forward publicly to express their opposition to that position.
"The fact is that if we tried to seal the border, it would not work because people are allowed to travel," he said on "Good Morning America." "It would backfire because it would make it harder to stop the outbreak."
Duncan arrived in Dallas on September 20 and fell ill a few days later. The Dallas emergency room first sent Duncan home with antibiotics last week even though he told a nurse he had been in West Africa. He returned to the emergency room two days later via ambulance.