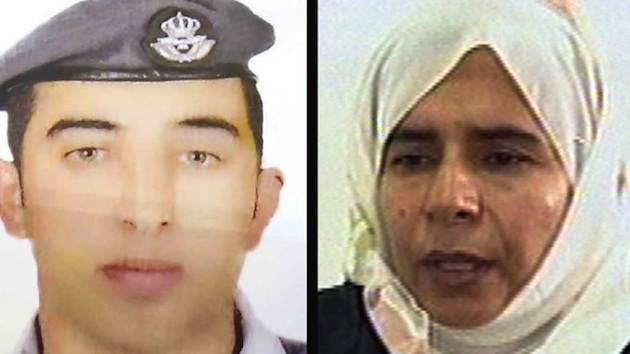 [wzslider transition="'slide'" info="true" lightbox="true"]
The Jordanian government said Wednesday that it would swap an imprisoned terrorist for one of its pilots held captive by the Islamic State.
The pilot, Moaz al-Kasasbeh, was captured in Syria in December, 2014, and in a video released Tuesday, militants holding him captive threatened to execute him within 24 hours unless the Jordanian government capitulated to their demands.
The price: ISIS demanded the release of Sajida al-Rishawi, a female Islamic terrorist convicted for her involvement in a 2005 terrorist attack on hotels in Amman, Jordan that killed 60 people. The attacks were orchestrated by al Qaeda, and al-Rishawi received the death penalty.
The militant group also threatened to kill a kidnapped Japanese journalist if their demands were not met. Also on Wednesday, Japanese Prime Minister Shinzo Abe requested Jordan's cooperation in securing the journalist's freedom. Although Jordanian government spokesman Mohammed al-Momani did not mention Japanese journalist Kenji Goto, a hostage audio message released by Islamic State a day earlier tied Goto's fate to that of Al-Rishawi, as well.
Safi al-Kaseasbeh, the Jordanian pilot's father, has been playing a key role in pressuring the government at home to negotiate his release. Alongside 200 protestors outside the prime minister's office in Amman, chanting anti-government slogans, al-Kaseasbeh was pleading with Jordan "to meet the demands" of the Islamic State group.
"All people must know, from the head of the regime to everybody else, that the safety of Mu'ath means the stability of Jordan, and the death of Mu'ath means chaos in Jordan," he told The Associated Press.
Earlier Wednesday, the mother of the Japanese hostage, Kenji Goto, appealed publicly to Japan's premier to save her son. The mother, Junko Ishido, read to reporters her plea to Prime Minister Shinzo Abe, which she said she sent after both Abe and Japan's main government spokesman declined to meet with her.
"Please save Kenji's life," Ishido said, begging Abe to work with the Jordanian government until the very end to try to save Goto.
"Kenji has only a little time left," she said.
Meanwhile, in a video released by ISIS, the Islamic terror army threatened to cut off the president's head, transform America into an Islamic State and issued a warning to Europe.
"Know, oh Obama, that will reach America," says one of the fighters, clad in black and wearing a balaclava, in a translation from Arabic provided by MEMRI. "Know also that we will cut off your head in the White House, and transform America into a Muslim Province."
The extremist also issued warnings to European nations.
"And this is my message to France and to its sister, Belgium," he said. "We advise you that we will come to you with car bombs and explosive charges, and will cut off your heads."
The video fades to black as one Islamic State fighter brings a knife up to the unidentified Kurdish fighter's throat.