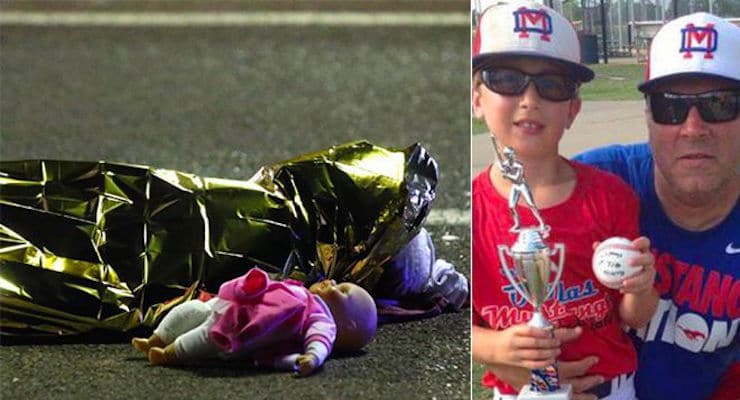 A father and son from Texas were among 84 people–including 10 children–murdered when a terrorist plowed into a crowd of people gathered in Nice, France. Sean Copeland, 51, and his 11-year-old son Brodie. They were from the Austin area and were vacationing with other family members, according to relatives.
An explosives- and weapons-laden truck drove full speed into a crowd of thousands gathered along a seaside promenade to watch the city's Bastille Day fireworks. Witnesses said the driver was mowing people down like "bowling pins" in the street.
Hill Country Baseball, an Austin-area Little League where the boy played, also mourned their deaths on its Facebook page.
"Nobody deserves this type of fate, especially not such a wonderful family," a memorial passage stated. "You are in our hearts, thoughts, and prayers. Rest in peace, Brodie and Sean, you will be remembered by many."
Sources have identified a 31-year-old Tunisian national and Nice resident Mohamed Bouhlel as the attacker. He was driving alone in a truck he had rented before being killed by police in an attack that was eerily similiar to an instructional outlined in a magazine published by al-Qaeda in 2010.
"Such a monstrosity," French President François Hollande said Friday morning. "France is deeply saddened, but it is also very strong. I can assure you we will always be stronger than the fanatics who are trying to attack us."
President Hollande also confirmed that 50 other people are in critical condition and  announced that he was extending the state of emergency for another three months, or until Oct. 26. France has been on its highest state of alert since ISIS terrorists killed 130 people in Paris on November 13, 2015.
"Why Nice?" he asked. "Because it is a city that is known through the world – it's one of the most beautiful cities in the world. Why Bastille Day? Because it is the celebration of liberty."
President Hollande said he was calling up "operational reserves" in addition to the 10,000 soldiers already involved in the Sentinel operation. Those who have served in the past and will be brought in to help police, particularly at French borders.
In France, July 14 is a national holiday that celebrates the storming of the Bastille prison in Paris, which sparked the beginning of the French Revolution. But flags were lowered to half-staff in Nice and in Paris Friday, while Marseille announced they had also canceled their fireworks celebrations.