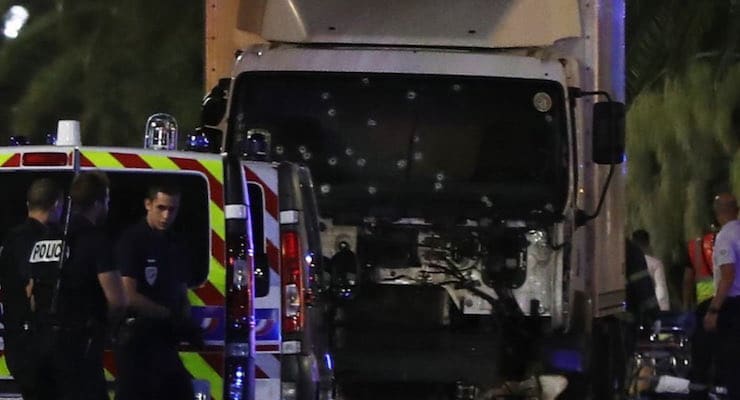 The terrorist attack in Nice, France that killed at least 77 gathered on Bastille Day sounds like an instructional straight out of an al-Qaeda magazine for jihadis. The truck that plowed into a crowd of people gathered to watch fireworks was a scene outlined on page 54 in a 2010 issue of "Inspire" magazine.
Pick your location and timing carefully. Go for the most crowed locations. Narrower spots are also better because it gives less chance for the people to run away. To achieve maximum carnage, you need to pick up as much speed as you can while still retaining good control of your vehicle in order to maximize your inertia and be able to strike as many people as possible in your first run."
Witnesses said the driver of the truck was moving at a high rate of speed and, as one journalist described, mowing people down like "bowling pins" in the street. The tragedy led jihadi social media accounts to celebrate on Twitter under certain hashtags.
It continues.
The ideal location is a place where there are a maximum number of pedestrians and the least number of vehicles. In fact if you can get through to "pedestrian only" locations that exist in some downtown (city center) areas, that would be fabulous. There are some places that are closed down for vehicles at certain times due to the swarms of people. If you have access to firearms, carry them with you so that you may use them to finish your work if your vehicle gets grounded during the attack.
Officials confirmed to People's Pundit Daily that grenades and guns were found in the truck. However, as bizarre as it may appear, the information indicates the grenades may be spent and some of the guns fake, though an exchange of gunfire was confirmed by officials and eyewitnesses. The suspect was reportedly 30 years-old, known to police and rented the truck used in the horrific attack, seemingly following the magazine's instructions.
This idea could be implemented in countries like Israel, the U.S., Britain, Canada, Australia, France, Germany, Denmark, Holland and other countries where the government and public sentiment is in support of the Israeli occupation of Palestine, the American invasion of Afghanistan and Iraq or countries that had a prominent role in the defamation of Muhammad صلى الله عليه وسلم (Peace be upon him). In such countries we may strike at the public at large. As long as they target our noncombatants, we will target theirs. This is one of many ways to implement this idea. You may modify it and add or subtract to it according to what is suitable for your particular conditions.
Whether the deceased was mentally ill or not, he was seemingly "inspired" and motivated by a jihadi magazine that bares that same name. If that turns out to be the case, as officials in both France and the U.S. at least suspect, then perhaps he will tell us.
"If Allah guides your heart to such a great operation please leave behind a note," the article concludes. "Tell the world why you did it."