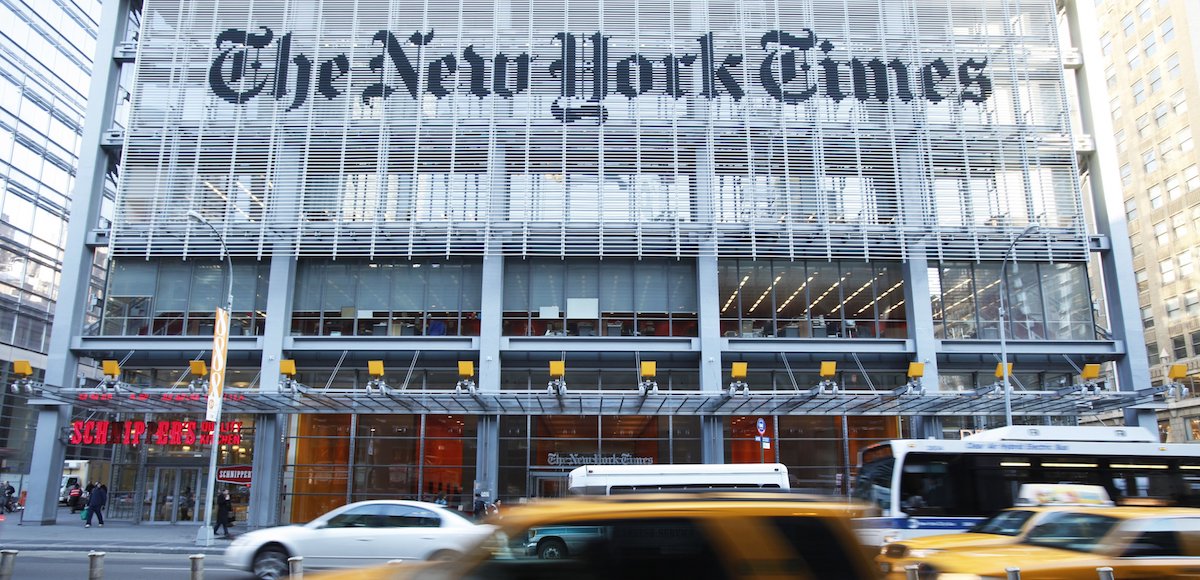 The New York Times is eliminating the public editor position held by Liz Spayd after she slammed Upshot and their coverage of the 2016 presidential election. Spayd, the paper's sixth public editor last year, was expected to remain in the position until summer 2018.
She was hard-hitting and frequently came under fire for her writings on the issues of diversity at The New York Times. The Washington Post, Ms. Spayd's old employer, also eliminated the position of public editor, and WaPo editor Marty Baron said the paper receives plenty of criticism from "all quarters, instantly, in this Internet age."
Spayd railed against Nate Cohen and Upshot, who gave Hillary Clinton an 84% chance of defeating President Donald J. Trump. In a post-election critique, she agreed with the readers sending them letters that she cited, underscoring how one said the paper should focus on the electorate instead of "pushing the limited agenda of your editors."
"Please come down from your New York City skyscraper and join the rest of us."
The accountability role of public editor was created in the wake of the Jayson Blair plagiarism scandal in 2013.
Arthur Sulzberger Jr., publisher at The New York Times, revealed the decision in a memo to staff on Wednesday:
Dear Colleagues,

Every one of us at The Times wakes up every day determined to help our audience better understand the world. In return, our subscribers provide much of the funding we need to support our deeply reported, on-the-ground journalism.

There is nothing more important to our mission, or our business, than strengthening our connection with our readers. A relationship that fundamental cannot be outsourced to a single intermediary.

The responsibility of the public editor – to serve as the reader's representative – has outgrown that one office. Our business requires that we must all seek to hold ourselves accountable to our readers. When our audience has questions or concerns, whether about current events or our coverage decisions, we must answer them ourselves.

To that end, we have decided to eliminate the position of the public editor, while introducing several new reader-focused efforts. We are grateful to Liz Spayd, who has served in the role since last summer, for her tough, passionate work and for raising issues of critical importance to our newsroom. Liz will leave The Times on Friday as our last public editor.

The public editor position, created in the aftermath of a grave journalistic scandal, played a crucial part in rebuilding our readers' trusts by acting as our in-house watchdog. We welcomed that criticism, even when it stung. But today, our followers on social media and our readers across the internet have come together to collectively serve as a modern watchdog, more vigilant and forceful than one person could ever be. Our responsibility is to empower all of those watchdogs, and to listen to them, rather than to channel their voice through a single office.

We are dramatically expanding our commenting platform. Currently, we open only 10 percent of our articles to reader comments. Soon, we will open up most of our articles to reader comments. This expansion, made possible by a collaboration with Google, marks a sea change in our ability to serve our readers, to hear from them, and to respond to them.

We will work hard to curate and respond to the thousands of daily comments, but comments will form just one bridge between The Times and our audience. We also, of course, engage with readers around the globe on social media, where we have tens of millions of followers. We publish behind-the-scenes dispatches describing the reporting process and demystifying why we made certain journalistic decisions. We hold our journalism to the highest standards, and we have dedicated significant resources to ensure that remains the case.

Phil Corbett, a masthead editor, is responsible for making sure that our report lives up to our standards of fairness, accuracy and journalistic excellence. His team listens and responds to reader concerns and investigates requests for corrections. Phil anchors a reader-focused operation intent on providing accountability that is already larger than any of our peers. And we are expanding this investment still further.

As the newsroom announced yesterday, we have created a Reader Center led by Hanna Ingber, a senior editor, who will work with Phil and many others to make our report ever more transparent and our journalists more responsive. The Reader Center is the central hub from which we engage readers about our journalism, but the work will be shared by all of us.

It's also worth noting that we welcome thoughtful criticism from our peers at other news outlets. Fortunately, there is no shortage of those independent critiques.

We are profoundly grateful to our six public editors ― Daniel Okrent, Byron Calame, Clark Hoyt, Arthur Brisbane, Margaret Sullivan and Liz Spayd. These remarkable advocates tirelessly fielded questions from readers all over the world and have held The Times to the highest standards of journalism.

Changes like these offer the strongest paths towards meaningfully engaging with our growing audience of loyal readers, which rightfully demands more of us than ever before. We are up to the challenge.

Arthur