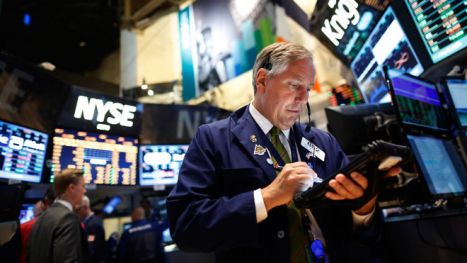 The Federal Reserve caused a market rally on Wall Street Wednesday after minutes from the policy-setting committee suggested the Fed likely won't be raising rates due to supposed worries over low inflation and slumping in the labor market.
Members of the policy-setting committee discussed how to message their plans for hiking short-term interest rates from their current record lows. Of concern, is what they view to be stubbornly low inflation, which "a couple" members are now debating whether the Fed is even funneling an "appropriate degree of monetary accommodation." The dovish report shows the dominant thought at the central bank lacks concern over the long-term hazards of printing money.
The news from the Fed did, however, reverse the recent drop in U.S. equities markets. As of 4:02 p.m. ET, the Dow Jones Industrial Average was up 181 points, or 1.1 percent to 16437, while the S&P 500 increased 20.2 points, or 1.1 percent to 1872. The Nasdaq Composite also increased by 70.9 points, or 1.7 percent to 4184.
It was the first gain in four days on Wall Street after four days of selling ended Tuesday, with good old fashion deal-buying moving toward growth stocks off of their yearly average. Alcoa (AA), the aluminum magnate, reported adjusted earnings that beat the street's expectations.
The Fed news comes after Janet Yellen recently suggested the Fed could start hiking short-term interest rates just as soon as six months following the completion of its bond-purchasing program, which sent markets spinning down.
Meanwhile, U.S. crude oil futures jumped 15 points, or 0.15 percent to $102.71 a barrel, while Wholesale New York Harbor gasoline rose 0.31 percent to $2.99 a gallon. As is the case with the oft-inverse relationship between equities and precious metals, Gold fell $5.30, or 0.39 percent to $1,304 a troy ounce.