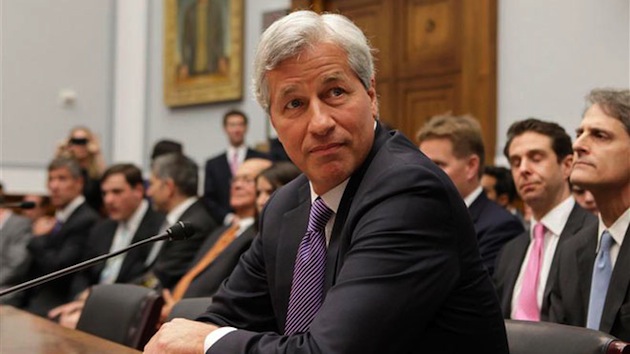 The markets learned last week that JPMorgan Chase CEO Jamie Dimon saw his total compensation fall a whopping 37 percent to $11.8 million in 2013, and the largest U.S. bank by assets reported weaker-than-expected first-quarter earnings and disappointing sales on Friday.
Whether or not JP Morgan's misfortunes are confined to the firm alone will be revealed this week when a slew of bank earnings are released. Dimon said the company's legal issues and a need to comply with new, burdensome regulations are to blame, one of which all U.S. banks will have to grapple with.
In addition to the 8,000 workers tasked to implement the firm's new anti-money laundering program, the company will have added 13,000 employees between 2012 and 2014 just to comply with a myriad of regulatory demands. The new positions had to offset somehow, and according to its securities filings, JPMorgan cut more than 8,900 employees over the past 12 months.
In large part due to high legal costs associated numerous financial crisis legal issues, the firm reported a net income of $5.3 billion, or $1.28 a share. The reported income was down from $6.5 billion, or $1.59 last year, and below the $1.40 a share experts had forecast in a Thomson Reuters poll.
Revenue fell a whole 8 percent to $23.9 billion, down from $25.1 billion last year and also missing Wall Street's estimate of $24.53 billion. While Dimon cited new regulations, much of the legal cost is confined to JPMorgan. JPMorgan was smacked with $8.6 billion in after-tax legal expenses in the year 2013 solely due to mortgage issues.
"The most painful, difficult and nerve-wracking experience that I have ever dealt with professionally was trying to resolve the legal issues we had this past year," Dimon said in his 2013 letter to shareholders that was just released Wednesday of last week.
Wall Street will be watching the impact of new Wall Street regulations on other big U.S. banks, with an eye toward the Obama administration's propensity to target specific companies in a post-crisis era. Dimon, consequently, was one of the few heads who were actually forced by Uncle Sam to take the bailout plan, though the company was certainly not clean from toxic debt. Dimon just chose to deal with that debt and, now the legal issues, in a different way.
"We thought the best option, perhaps the only sensible option — for our company, our clients and our shareholders — was to acknowledge our issues and settle as much as we could all at once, albeit at a high price," Dimon said.
Even though JPMorgan — the first of the banks to release their earnings report — missed expectations, Wells Fargo beat Wall Street's expectations. Bank of America, Citigroup, Morgan Stanley and Goldman Sachs, are among others who are set to release data during the upcoming market week.
Several other economic reports are due out next week, including retail sales on Monday, the consumer price index on Tuesday, as well as housing starts and industrial production on Thursday. Markets are closed on Friday for the Good Friday holiday.