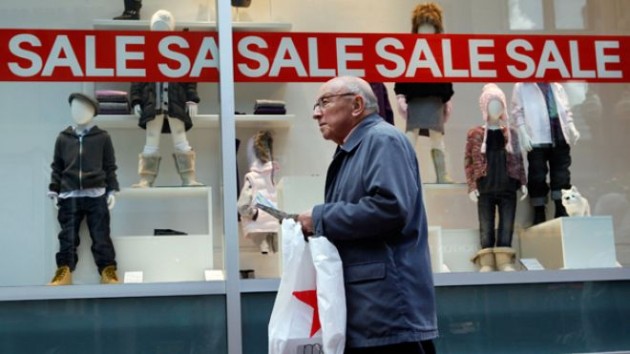 U.S. retail sales hardly even rose in the month of April and consumer spending actually fell, proving that the blaming of cold weather for the poor economy was bunk. The new data will certainly dash hopes of a sharp turn around in economic growth in the second quarter.
The U.S. economy was initially reported to have grown by just .1 percent in the first quarter, but recent data on the trade deficit showed the government's adjustments were off; the economy actually contracted.
The Commerce Department said on Tuesday retail sales edged up by just 0.1 percent in the month of April, with receipts for furniture, electronic abd appliance stores, restaurants, bars and online retailers all showing declines.
Retail sales, which account for a third of consumer spending, rose by a revised 1.5 percent in the month of March, when economists were also scapegoating the cold winter weather. That was the largest increase since March of 2010.
Economists polled by Reuters weren't expecting even modest growth , as they had forecast sales would increase by 0.4 percent last month after a previously reported 1.2 percent surge in March.
So-called core sales, which exclude automobiles, gasoline, building materials and food services, fell by 0.1 percent after a revised 1.3 percent increase in March. The measurement supposedly displays the closest relationship with the consumer spending component of gross domestic product.
Core retail sales had previously been reported to have risen 0.8 percent in March, but that wasn't the case.
Last month, retail sales were weighed down by a 2.3 percent drop in receipts at electronics and appliance stores, while sales at furniture stores fell 0.6 percent and receipts at food services and drinking places dropped 0.9 percent.
Sales at non-store retailers, which include online sales, also fell by a 0.9 percent-point.